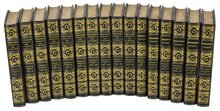 [ARABIAN NIGHTS]. BURTON, Richard F.
The book of the thousand nights and a night[:] a plain and literal translation of the Arabian nights entertainments.
With:
(2) BURTON, Richard F.
Supplemental nights.
(3) BURTON, Richard F.
[Autograph manuscript book review of an 1881 Panchatantra edition].
(Colophons: U.S.A. [Boston, MA?]), The Burton Club, [ca. 1940]. 16 volumes (incl. 6 supplements). 8vo. With an original manuscript leaf written by Burton (with the manuscript heading: "Proof to Sir R.F.B. Hotel des Bains, Aigle, Canton Vaud, Switzerland" and a note "Long Primer Pressig.") and each volume with a different frontispiece in two states (coloured and uncoloured). Contemporary richly gold-blocked green morocco, boards with Arabic script in gold, gold-tooled turn-ins.
Full description
€ 25,000