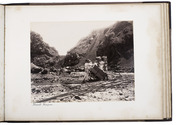 [AUSTRALIA - PHOTOGRAPHY]. PAINE, John & Steven SPURLING II.
[Photograph album containing pictures of New South Wales and Tasmania].
[Australia, 1870s-1880s]. 16.5 x 37 cm. With 34 mounted albumen prints, mostly between 10 x 15 cm and 18 x 23.5 cm, with the smallest ca. 7 x 10 cm, most of them captioned underneath in ink. Oblong half morocco photo album, titled "Queensland" on the front. 18 ll.
Full description
€ 1,850