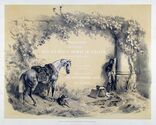 ADAM, [Eugen and Franz].
Erinnerungen an die Feldzüge der K. K. Oester. Armee in Italien in den Jahren 1848-49.
Munich, Cotta, [1851]. Royal oblong folio (62.5 x 45.5 cm). With tinted lithographed title, dedication leaf to Radetzky, preface and 24 lithographed plates. With 24 ll. of explanatory text printed on blue paper. Plates loose in a contemporary red cloth slipcase with a silk lining. [24] ll.
Full description
€ 5,000