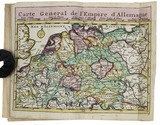 [ATLAS - EUROPE]. CLEYNHENS, Bernardus.
Accuraat geografisch kaart-boekje of zak-atlas van het keyzerryk en geheel Duytsland, de Oostenrykse Nederlanden, ...
Haarlem, Bernardus Cleynhens, [ca. 1747?]. Small 8vo (16 x 10 cm). With 25 double-page engraved maps (2 overview maps), and an engraved plate with 8 scales, all hand-coloured, partly in outline. Half textured red cloth (ca. 1860?). 40, 23, [1 blank] pp. plus maps and plate of scales.
Full description
€ 5,000