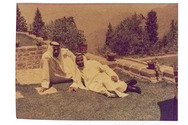 [ABU DHABI – ROYAL FAMILY].
[Photograph archive of Sheikh Zayed bin Sultan Al Nahyan's private life].
[Pakistan], [1968-1984]. An archive of 807 loose photographs, 541 in colour (including several duplicates, some printed in a different format), including 65 photos depicting falcons (3 duplicates, 36 in colour) and 14 photographs of camels (1 in colour).
Full description
€ 75,000