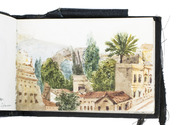 [ALGIERS & SPAIN]. J. M. (artist?).
[Views and people along the Mediterranean coasts of France, Spain and Algeria].
[London sketchbook used in the Mediterranean], 1881. Small oblong 8vo (8,5 x 13 cm). Album (sketchbook) containing 28 pencil drawings (1 double-page), 2 colored drawings and 4 watercolors (1 double-page ) with handwritten captions in English. Half checkered black morocco. With advertising label of "Lechertier, Barbe & Co. Artists colourmen and Stationers, Regent Street, London" with prices of the various sketchbooks for sale; at the head the artists(?) initials and date: "J.M. 1881". 70 pp.
Full description
€ 1,850