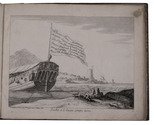 BEECQ, Jan Karel Donatus van (Jean-Charles-Donat).
Plusieurs pieces maritimes.
Paris, "rue St. Jacques aux 2 Piliers d'or" [= Gérard Audran, ca. 1683]. Oblong folio. Series of 6 numbered engraved plates after designs by Van Beecq, including title-page and 5 naval views with captions below. The title-page indicates that the series is engraved by Moyse Jean-Baptiste Fouard, but three of the other plates name Gérard Audran as the engraver.
With:
(2) POILLY, Nicolas
de
. Livre de plusieurs navires de guerre et vaisseaux marchands.
Paris, Nicolas de Poilly, [ca. 1683?]. Oblong 4to. Series of 6 plates, the first with the title as a caption below and the name and address of De Poilly, the others only note "NDePoilly ex C.P.R.", that is "cum privilegio regis". 2 works in 1 volume. Contemporary calf. [12] ll.
Full description
€ 19,000