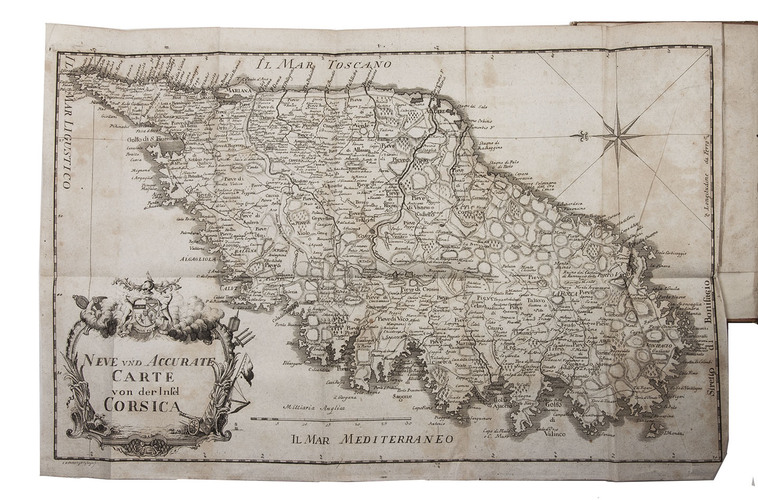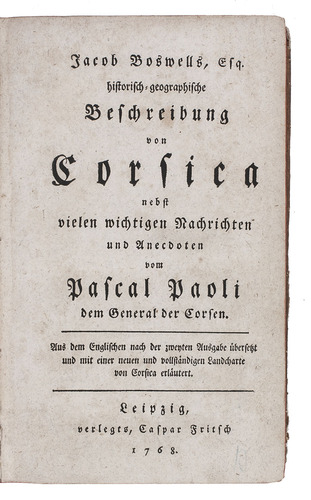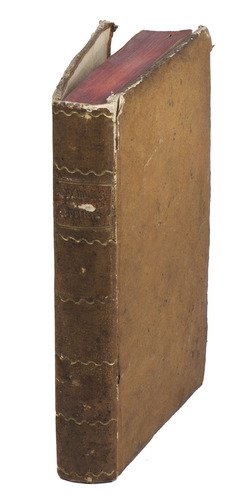 BOSWELL, James.
Beschreibung von Corsica nebst vielen wichtigen Nachrichten und Anecdoten vom Pascal Paoli dem General der Corsen.
Leipzig, Caspar Fritsch, 1768. 2 parts in 1 volume. 8vo. With an engraved folding map of Corsica (29 x 44 cm). Contemporary paper-covered boards, spine with red title label lettered in gold, red edges. [14], 346 pp.
€ 1,875
The first German edition of Boswell's Account of Corsica (1768), translated by Anton Ernst Klausing. In the first part Boswell recounts historical and geographical information about Corsica, while the second part includes a lively and detailed narrative of his journey to the island, interspersed with conversations with the Corsican patriot and leader Pasquale Paoli. The conversations with Paoli centre on democracy, social freedom, religion, and, of course, the Corsican Cause. Following Corsica's invasion by the French in 1768, Paoli took refuge in England, where he was feted by Samuel Johnson and his circle.
Boswell's account was very successful. First published in 1768, it was immediately reprinted several times and translated into French, Dutch, Italian and German.
The map with a small tear, binding chafed, corners bumped. A very good copy with the bookplate of Franz Pollack-Parnau on front pastedown. VD 18, 10550321; Watson II, col. 1211; cf. Cox I, pp. 138-9 (other eds).
Related Subjects: