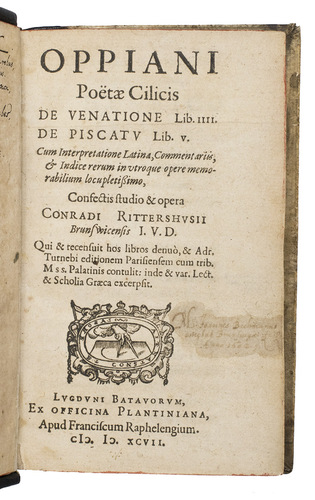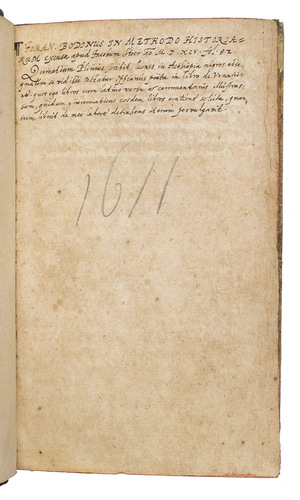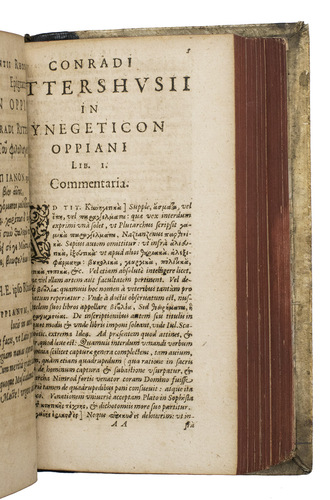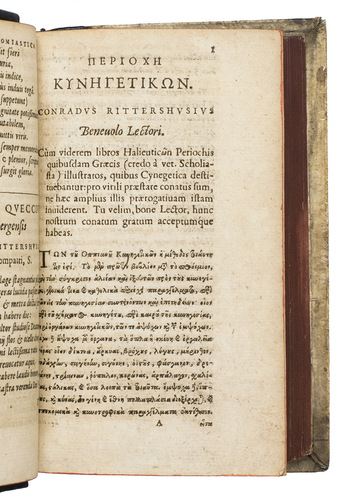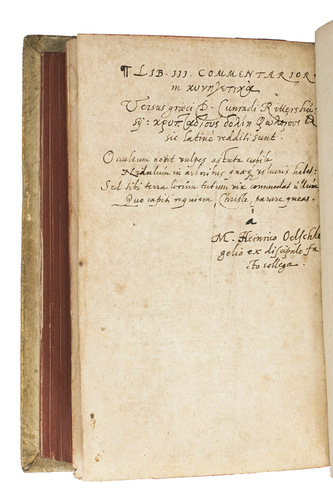 OPPIAN of Anazarbus and OPPIAN of Syria (C. RITTERSHUSIUS, translator).
Oppiani poetae Cilicis de venatione libri IV. De piscatu libri V.
Leiden, Fransiscus Raphelengium (Officina Plantiniana), 1597. 8vo. With Raphelengiuss woodcut compasses device on the title-page, an arabesque woodcut tailpies (plus repeats) and woodcut decorated initials. Near contemporary (1602) calf with the elaborately blind-tooled coat of arms and monogram of Johann Beckmann "I B M 1602", with later gold tooling and a red morocco spine label lettered in gold, red edges, modern endpapers. [88], 376, [40], 344 pp.
€ 2,750
A beautiful edition printed in Leiden, nominally published by Franciscus Raphelengius the elder, but in fact printed by his son Franciscus the younger and published by Christophe Raphelengius (1566-1600), grandsons of Christoffel Plantin, featuring parallel Latin and Greek texts, with commentary and translation by Konrad Rittershausen, a German publisher, jurist, and philologist. This work contains the Greek poems of Oppian of Anazarbus on fishing and those devoted to hunting by Oppian of Syria. The two poets were long confused. With the owners inscription of Johann August Bechmann (1570-1632) on the title page, partially erased but still legible. He bought it in 1602 from the bookseller Froben in Hamburg, as noted in the volume and on the binding. At the time of his death in 1632, Beckmann was the rector of the princely school of Meissen, which still exists today as the Sächsische Landesgymnasium Sankt Afra zu Meißen. Bechmann made annotations throughout the work, with a particular focus on the preface by Konrad Rittershausen. He dwells there in particular on a passage evoking Platos Republic. His handwritten notes on the endpapers provide valuable insights into his book buying and reading habits. Bechmann included an epigram by Salomon Frenzel von Friedenthal (1564-1605) at the beginning of the title, and also cites Jean Bodin's Methodus ad facilem historiarum cognitionem, comparing passages on the colour of lions in Ethiopia to Pliny and Oppian. As Bechmann notes at the end, it lacks the Scholia by Konrad Rittershausen that are normally included in this edition. He writes: "Hunc exemplari meo desunt, quod mihi comparabam Hamburgi apud M. Frobenium."
Lacking Rittershausens Scholia, as noted, but otherwise in very good condition, some light browning, binding somewhat worn. STCN 840293046; Typographia Batava 3873.
Related Subjects: