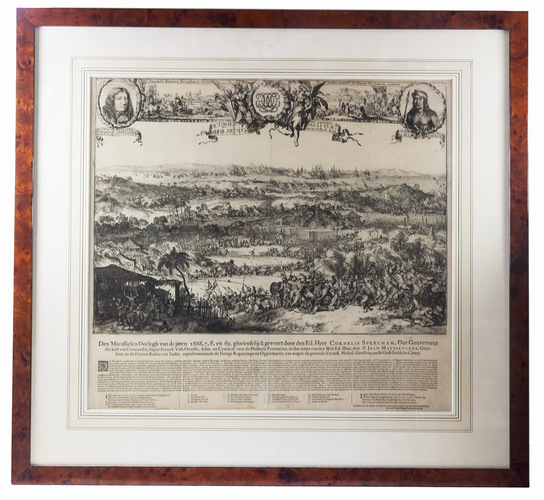 HOOGHE, Romeyn de.
Victorien der Nederl. Geoct. O. Compagnie op het Koninkryck van Macasser door den Ed. heer C. Speelman.
[Amsterdam?, 1669]. Engraved view (40 x 54.5 cm), with two battle scenes on top, flanked by portraits of Speelman and Radjah Palacca, with in the centre a laurel wreath with the monogram of the VOC, surrounded by Mars and Mercury, and a banderole with the title; and with letterpress text below the view (11 x 54.5 cm), including two poems by the famous Dutch poet Joost van den Vondel and numbered keys referring to the plate. Framed (75 x 81 cm).
€ 2,950
A magnificent engraving, in its second state, depicting the victory of the Dutch East India Company over the Kingdom of Makassar. It shows the victories of Cornelis Speelman and his ally, Radjah Palacca, King of the Bougainese, in the years 1666 to 1669, with their portraits together at the head, flanked by two battle scenes: the left showing the victory over the capital Samboupo and the right showing the capture of the fortified settlements Glisson, Batta, etc. The view was engraved by Romeyn de Hooghe, one of the greatest artists to come out of the late Dutch Golden Age. In its present second state, it includes numbers referring to the numbers in the letterpress key. The plate itself depicts various events from the war, including the siege of Bouton, the island called Makassar's churchyard, the surrender of the King of Makassar, houses, farms, etc.
Edges of the plate have been strengthened with some tiny repairs to the corners and outer edges of the fold, mostly covered by the passepartout. A very good copy. Landwehr, R. de Hooghe, p. 59; Landwehr & V.d. Krogt, VOC 236; cf. Muller, Historieprenten 2294.
Related Subjects: