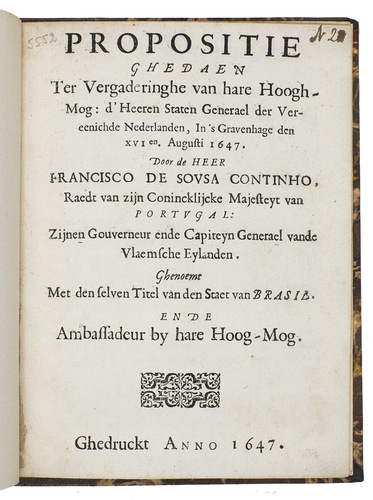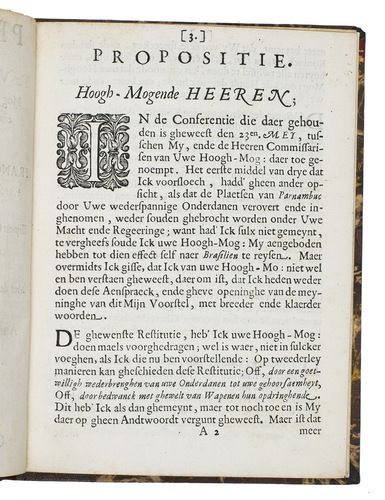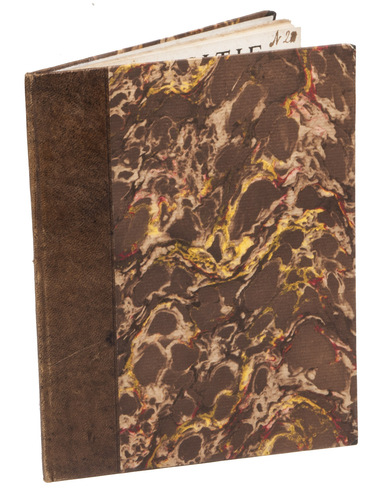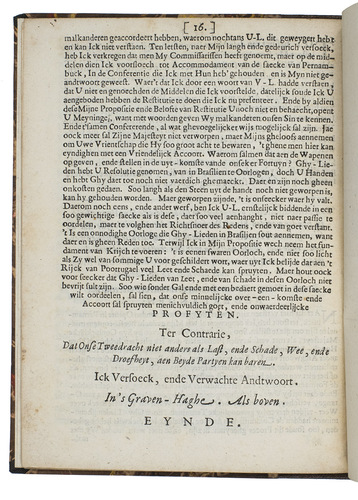 COUTINHO, Francisco de Sousa.
Propositie ghedaen ter vergaderinghe van hare hoogh-mog: d'heeren Staten Generael der Vereenichde Nederlanden, in 's Gravenhage den XVIen. Augusti 1647.
[Netherlands], 1647. 4to. With a woodcut decoration built up from arabesque typographic ornaments on title-page and a woodcut decorated initial. Modern half calf, marbled sides. 16 pp.
€ 3,750
First edition in Dutch of the official Portuguese proposal for allegiance with the Dutch against Spain, submitted to the Dutch States General on 16 August 1647. The important Portuguese Restoration diplomat Francisco de Sousa Coutinho (1597-1660), "Gouvernor and Captain General of the Flemish Islands and Brazil" proposed the deal, which included the return of the Brazilian Captaincy of Pernambuco (New Lusitania) to the Dutch West India Company (WIC) in exchange for the forming of a united front against Spain, which would have had major implications for the history of the slave trade and the history of Brazil. However, the Dutch eventually brokered peace with Spain in 1648, ending the Eighty Years War.
The proposal was first published in Latin (The Hague, Johannes Breeckevelt, 1647) with the title Propositio facta celsis præpotentibus dominis Ordinibus Generalibus in concessu publico 16. augusti 1647. In the same year 2 Dutch editions appeared. A French translation appeared in the same year. On 15 October 1647 De Sousa Countinho presented a new proposal to the Dutch States General, which was published in Dutch with the title Naerdere propositie ..., also in 1647. The present text is signed from The Hague.
Numbered in ink on the top right corner of the title-page. In very good condition. Alden & Landis 647/169; Borba de Moraes I, p. 227; Knuttel 5552; J.H. Rodrigues, Domínio Holandês 641; STCN (6 copies); USTC 1034334 (9 copies), cf. 1034333 (other Dutch ed.), 1031183 (Latin ed.), 1034330 (Dutch ed. of second proposal).
Related Subjects: