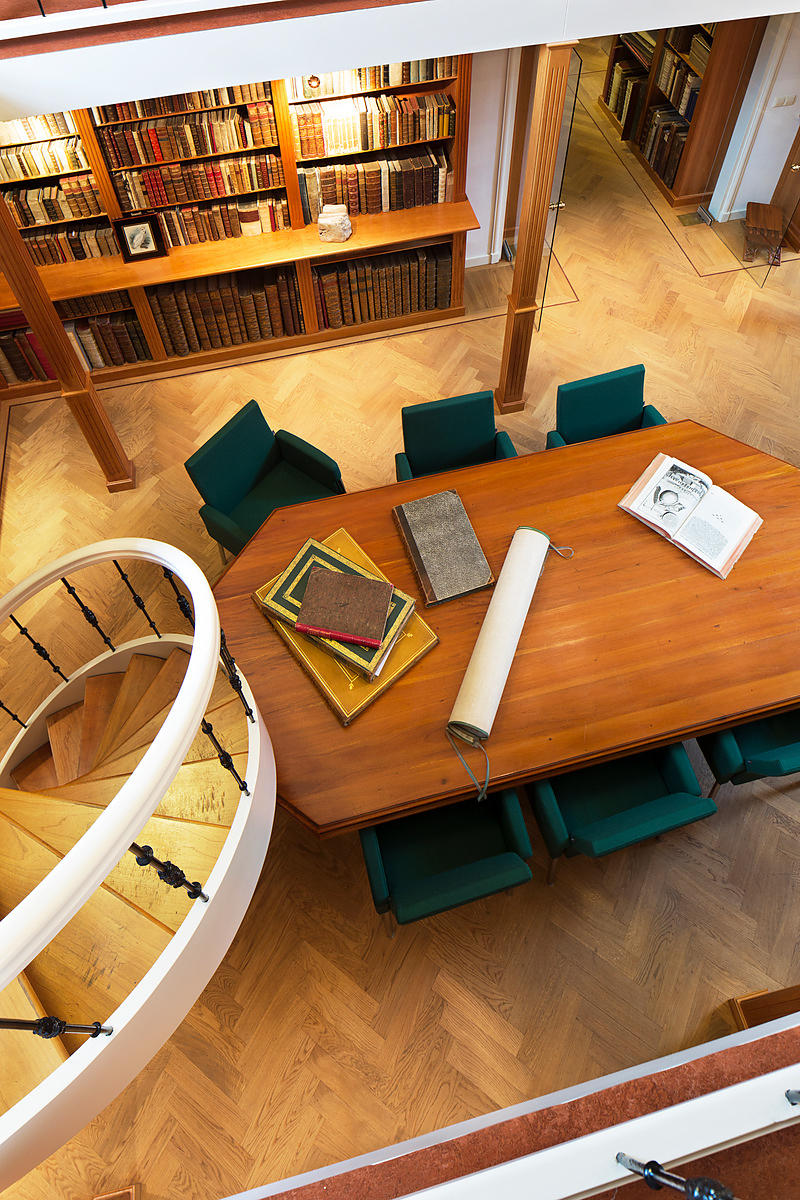 [MAURITS, Prince of Orange].
Clare verthooninghe, ofte af-beeldinghe des gantschen handels deser schrickelijcke ende moordadighe conspirateurs, (jeghens den heere Prince van Orangien, mitsgaders den staet ende wel-varen van 't land) vervaetende het begin , totten eynde haerder justitien toe.
Utrecht, Jan Amelissz., 1623. 1mo. Broadsheet (40 x 31.5 cm), with engraved illustration (15 x 25.5 cm) below the title, and a letterpress dialogue in verse in three columns plus and explanation of the plate, below.
€ 1,250
Rare broadsheet on the failed attempt to assassinate Maurits of Nassau, Prince of Orange, in 1623, with a spectacular engraving showing the main conspirators (Hendrick Danielsz. Slatius, Reinier van Oldenbarnevelt and Adriaen Adriaensz. van Dijck), with four medallion portraits of other conspirators (Abraham Blansaert, Jan Blansaert, Willem Perty and Davidt Coornwinder), two insets showing their gruesome beheadings (and one spectator falling fatally from a tree), a view of Slatius on an execution wheel and gallows in the back, and other scenes related to the assassination attempt. The engraving is here in its second revised state.
A heated theological and political conflict had raged in the Low Countries between the Arminians (from 1610 also called Remonstrants) and Gomarists for more than a decade when it came to a head with the Synod of Dort (1618/19), which decided in favour of the Gomarists. The Synod led to the 1619 execution of the Republic's greatest statesman Johan van Oldenbarnevelt, who had supported the Arminian cause. In revenge his sons Reinier and Willem conspired to assassinate the (Gomarist) Dutch stadholder Maurits of Nassau, Prince of Orange. Other prominent members of Dutch society who had political, religious or personal grudges against the Prince lent their support. The plot was betrayed in February 1623, and the conspirators arrested and executed from March to May.
In very good condition, with paper trimmed close to the left of the letterpress text, shaving off one letter.
Atlas van Stolk 1561; Knuttel 3456; Muller, Historieplaten 1481; NCC (2 copies).
Related Subjects: