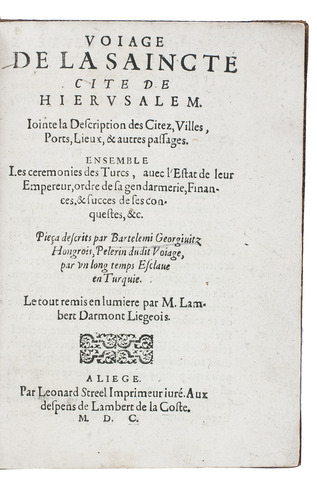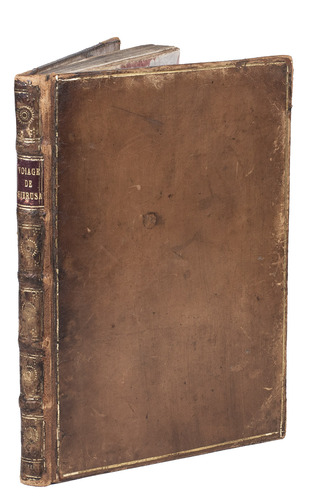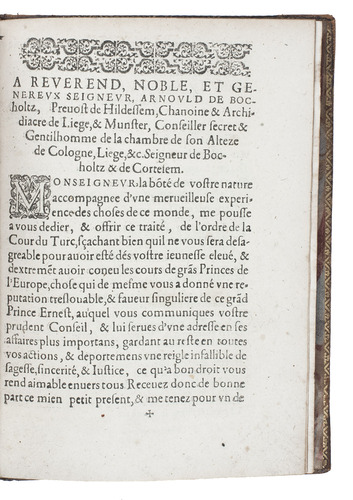 DJURDJEVIC, Bartol (Bartholomeus GEORGIEVITZ)
Voiage de la saincte cite de Hierusalem. Jointe la description des citez, villes, ports, lieux, & autres passages. Ensemble les ceremonies des Turcs ...
Liège, printed by Leonard Streel for Lambert de la Coste, 1600. 2 parts in 1 volume. 4to. 18th-century calf, gold-tooled spine. [32], [32] lvs.
€ 17,500
Rare edition, in French, of "one of the most frequently reprinted accounts of all Turkish life and customs" (Atabey). The first part details a pilgrimage from Paris to Jerusalem, the second is devoted to the Ottoman Empire. Bartolomej Djurdjevic (or Georgievitz, ca. 1506-1566) was captured at the battle of Mohács (1526), Hungary, and spent 13 years in Turkish captivity. He describes the miseries of Christian slaves in the Ottoman Empire, as well as Turkish ceremonies, traditions, religion, agriculture, etc. It includes a Turkish-French vocabulary.
The second part is mentioned on the title-page of the first part, but has its own title-page, pagination and signatures, so that it could also be sold separately. The two parts are rarely found together. Atkinson 407; Tobler, p. 73; USTC 34773, 34774; cf. Atabey 488 (other ed.); not in Belg. Typ.
Related Subjects: