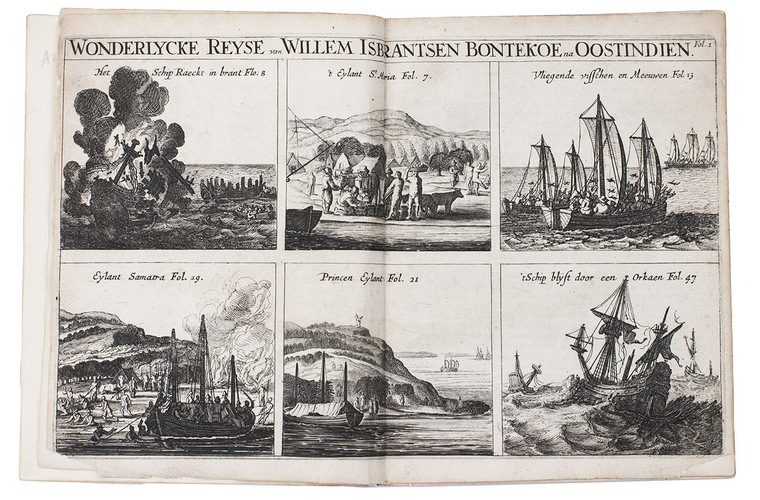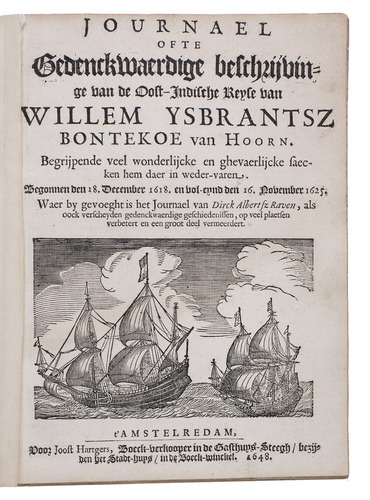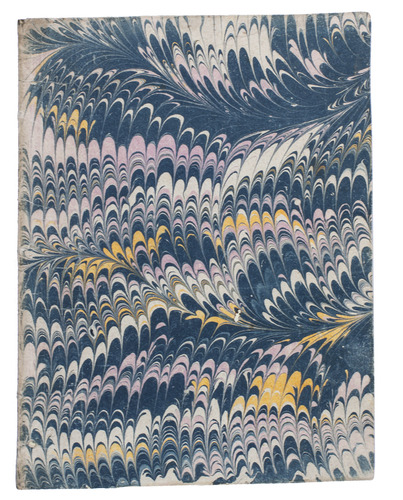 BONTEKOE, Willem Ysbrantsz.
Journael ofte gedenckwaerdige beschrijvinge van de Oost-Indische reyse. Begrijpende veel wonderlijcke en ghevaerlijcke saecken hem daer in weder-varen. Begonnen den 18. December 1618. en vol-eynd den 16. November 1625. Waer by gevoegd is het Journael van Dirck Albertsz Raven, als oock verscheyden gedenckwaerdige geschiedenissen, op veel plaetsen verbetert en een groot deel vermeerdert.
Amsterdam, Joost Hartgers, 1648. 2 parts in 1 volume. 4to. With a double-page engraved plate with 6 views of the ship at fire and in a storm, the islands St. Mary, Samatra and Princes Eyland, and an image of flying fishes. Modern marbled wrappers. [4], 76 pp.
€ 6,500
One of the most compelling and entertaining travel accounts of Dutch literature, in one of the earliest and most important editions, the first to be published by Hartgers. Bontekoe details his eventful 8-year voyage to the East Indies. The vivid description of his ship accidently exploding in the Sunda Strait, killing almost a third of the crew, no doubt made a huge impression on his readers. Bontekoe returned in 1625, but his travelogue was not published until 1646. It was an immediate success and went through numerous editions. From the beginning Raven's short account of a voyage to Greenland, during which he too suffered shipwreck, was added to Bontekoe's voyage.
Almost all editions of Bontekoe's narrative are rare. Jan Jansz. Deutel, who published the first edition in 1646, also published the first significantly revised edition in 1648, in part to better compete with the pirated edition with new and better illustrations by Salomon Saverij. Hartgers took the best of both, following Deutels revised text but Saverijs illustrations, establishing one of the two principal branches in the lineage of editions.
Trimmed close to the text, slightly shaving an occasional shoulder note, the two corners at the foot of the plate are torn off, one just touching the corner of the image, and a dark stain on 2 facing pages, but still generally in good condition. Important early edition of the vivid description of Bontekoe's voyage to the East Indies. Landwehr & V.d. Krogt, VOC 381; Tiele, Bibl. 159; Verkruijsse & Verhoeven 1648-03.
Related Subjects: