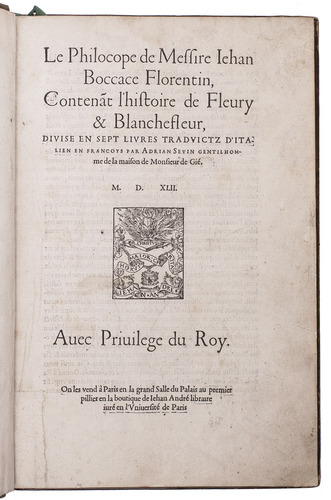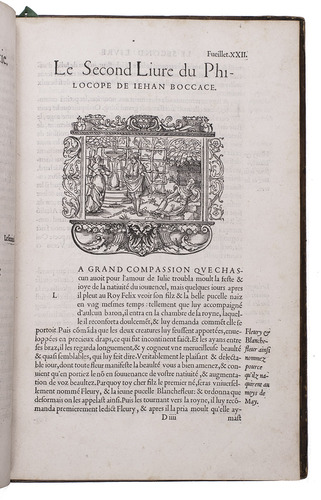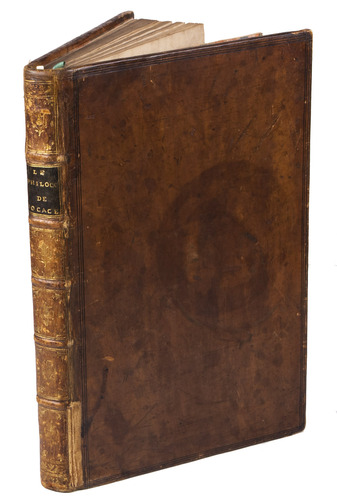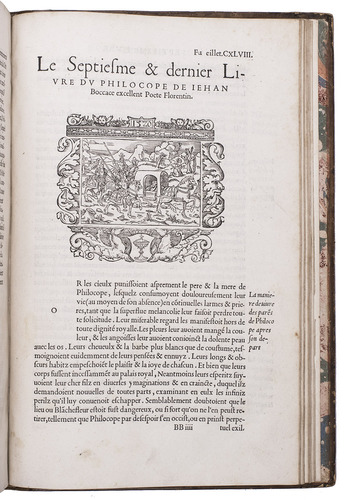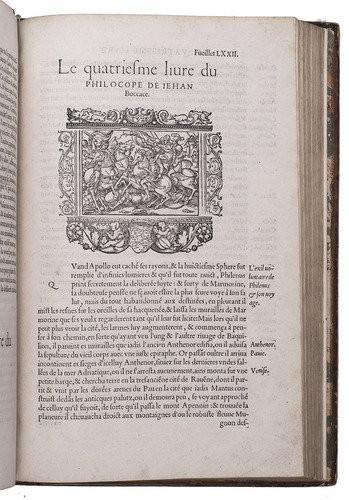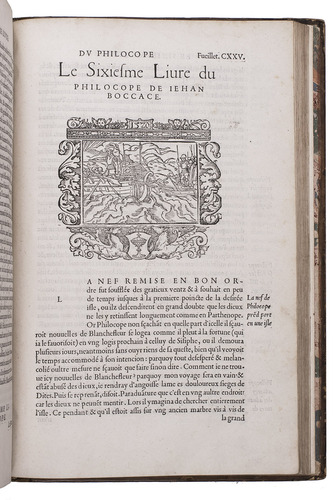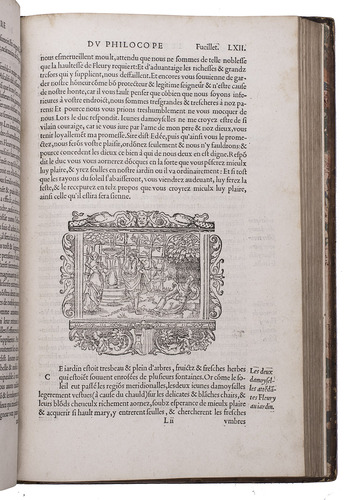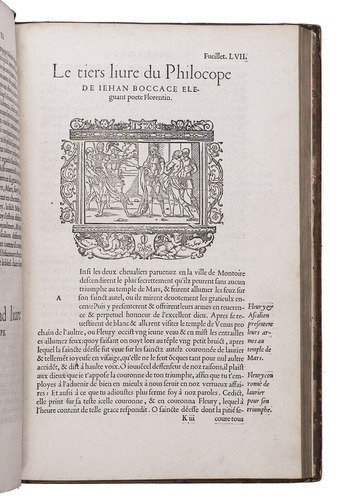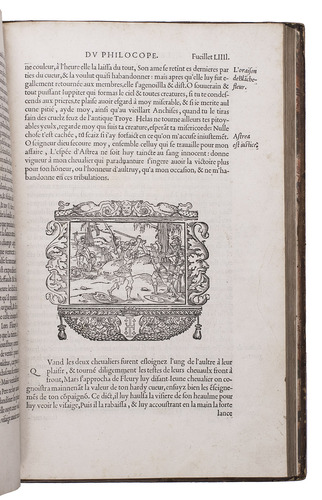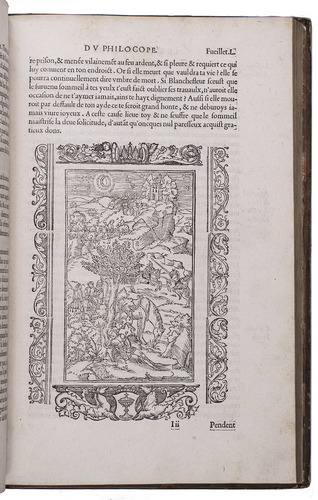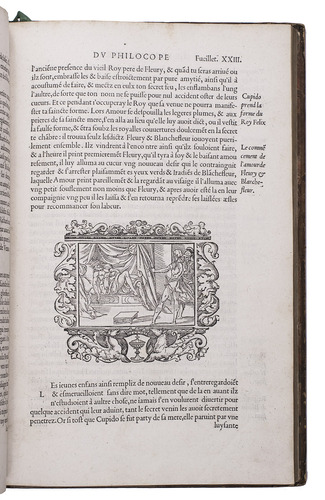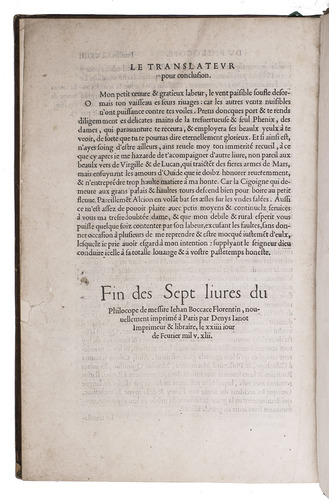 BOCCACCIO, Giovanni.
Le philocope ..., contena[n]t l'histoire de Fleury & Blanchefleur, divise en sept livres traduictz d'Italien en Francoys par Adrian Sevin ...
Paris, Jean André, bookseller to the University (colophon: printed by Denis Janot), 1542 (colophon: 24 February 1542). Folio (31.5 x 21.5 cm). With Jean André's woodcut device on the title-page and 15 woodcut illustrations plus 21 repeats in the text (mostly 5.5 x 8 cm, each in any of several 4-piece decorative borders, including 8 foot pieces, each with a different coat of arms; one illustration 13.5 x 8.5 cm with an 8-piece decorative border), 5 woodcut decorated initials (2 series) plus 1 repeat, and many spaces with guide-letters for manuscript initials (not filled in). French calf (ca. 1760?), richly gold-tooled spine, gilt edges. VI, CLXXIIII ll.
€ 12,500
Jean André issue of the extremely influential first French-language edition (by Adrien Sevin) of Boccaccio's first major work, Il filocolo (ca. 1336), a prose tale detailing the romantic love and adventures of Florio and Biancafiore (based on the ca. 1160 French verse romance Floire et Blancheflor), written at the request of Boccaccio's muse "Fiammetta". Boccaccio's version served as the model for Chaucer's more than fifty years later, but it is a reworking rather than a translation, so it was largely through the present printed translation that Il philocope, a precursor of the better known Decameron, became known north of the Alps. The fine woodcut illustrations first appeared in Janot's 1540 edition of Amadis de Gaula, and after the Philocope also for several other romances. The borders used with them in these works are apparently older, for two of the head borders are dated 1520.
King François I of France, who reigned from 1515 to 1547, greatly admired the Italian Renaissance and encouraged Italian influences in many aspects of French culture. The present book reflects that movement both as a model of French Renaissance prose under Italian influence and as an example of book production, using new roman and italic types in the new style introduced under Italian influence in the 1530s.
With the small letterpress bookplate and the armorial bookplate of Charles Bouchelet de Vendegies, Comte d'Hust (1772- 1851), and a later bookplate of the Swiss collector Albert Natural. With a few mostly marginal defects and early repairs, but with three repaired tears in the text (one also in a woodcut, but so skilfully repaired that it is barely visible in the woodcut). One of the repeated woodcuts has a small abrasion. Otherwise in good condition. The binding has restorations to the hinges and corners and the spine shows some superficial cracks and flaking, but nearly all of the tooling remains clear. The very influential first French edition of Boccaccio's first major work, with excellent woodcut illustrations. BMC STC French, p. 71 (Janot issue); Brun, Le livre français illustré, p. 158; Mortimer (French) 105 (Janot issue); Rawles, Denis Janot ... (1976 PhD thesis) 164; Renouard, Imprimeurs Parisiens 155; USTC 37796 & 92444 (8 copies; see 37799, 65503 & 92444 for the other issues); cf. Adams B2169-2171 (Italian eds.).
Related Subjects: