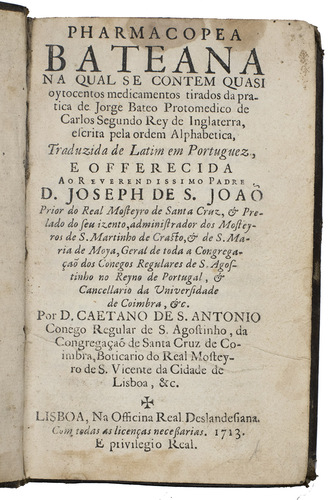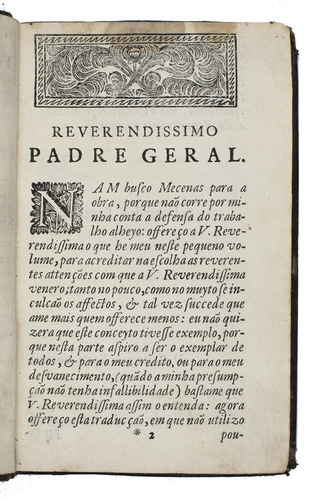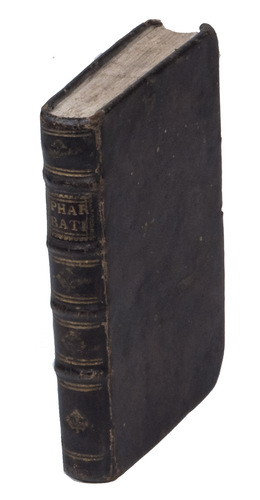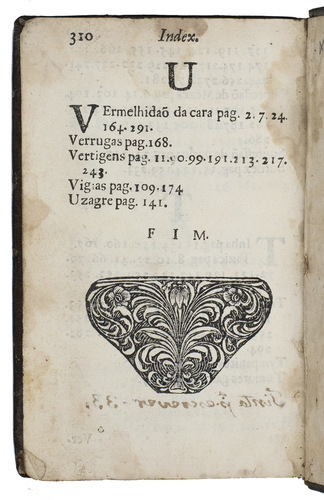 BATE, Georgius.
Pharmacopea Bateana, na qual se contem quasi oytocentos medicamentos tirados da pratica de Jorge Batea ... escrita pela ordem alphabetica, Traduzida de Lati mem Portuguez ... por D. Caetano de S. Antonio ...
Lisbon, Officina real Deslandesiana, 1713. 8vo. With woodcut head- and tailpieces and initials. Calf over boards. (8), 310 pp.
€ 675
First and only edition of the translation into Portuguese of the famous Pharmacopoeia Bateana by D. Caetano de Santa Antonio, the author of the first Portuguese Pharmacology, the Pharmacopeia Lusitana (1704, 17112), used in teaching pharmacy to practitioners until far into the 19th century.The Pharmacopoeia Bateana is a nationally as well as internationally authoritative pharmacology consisting of the medical recipes and prescriptions collected by the British physician George Bate (1608-1668), originally published in Latin in 1688. It contains recipe's, their names, compositions, preparations, virtues, uses, and doses, as they are applicable to the whole practice of physick and chirurgery.
Marginal staining in the first leaves and wormhole in some leaves. slightly affecting the text. Schelenz 498; Waller 769; Wellcome II, 113; Not in Lesky and Osler.
Related Subjects: