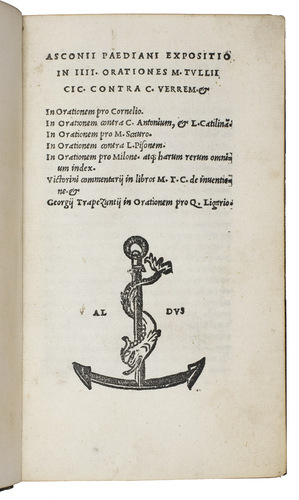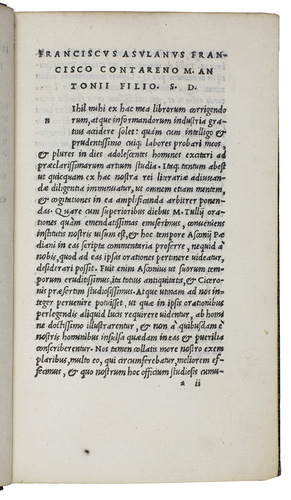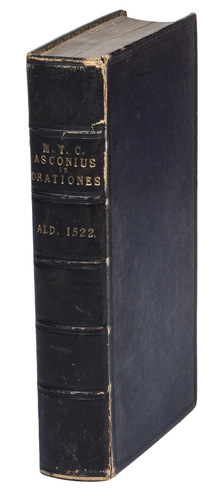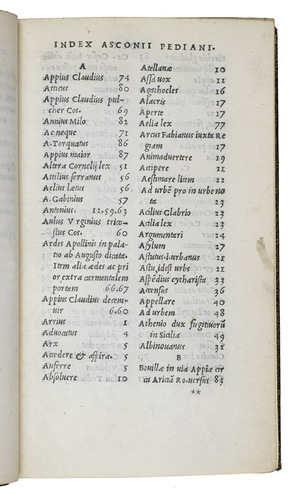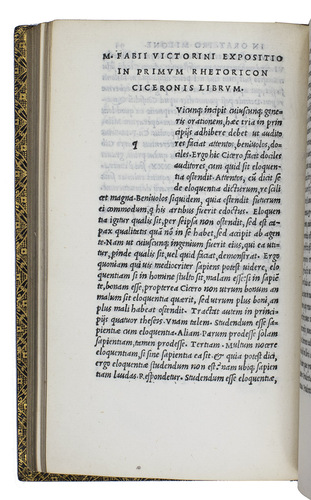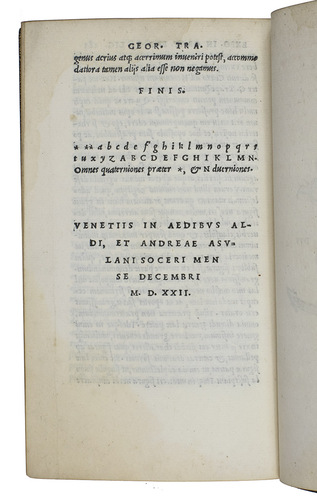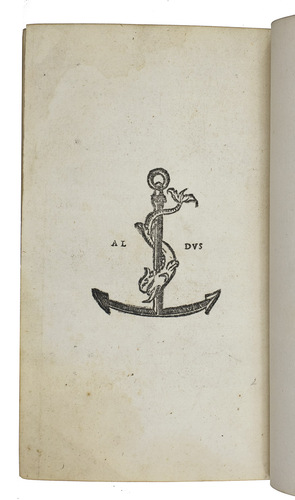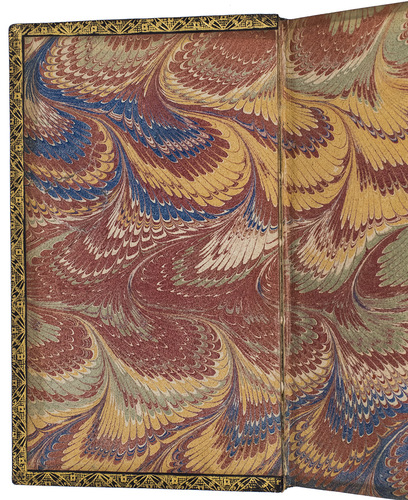 ASCONIUS PEDANIUS, Quintus.
Expositio in IIII orationes M.T. Cic. contra C. Verrem [&c.]
(colophon:) Venice, heirs of Aldo I Manuzio & Andrea Torresano, December 1522. 8vo. With Aldos woodcut anchor and dolphin device on the title-page, repeated on the verso of the last otherwise blank leaf (each with letterpress "AL ... DVS" flanking the device), with spaces (with guide letters) left for manuscript initials, not filled in. Set in Aldos famous italic (with upright capitals), the worlds first italic printing type, first used in 1501 (showing the alphabet a-z and A-N in the register of quires above the colophon). Dark purple sheepskin (ca. 1880?). [12], 283, [1] ll.
€ 4,500
First Aldine edition, in the original Latin, of a collection of commentaries on orations by Cicero by one of the most important Roman Cicero commentators of his time, Quintus Asconius Pedanius (9/3 BCE - 76/88 CE). The present edition was edited by Franciscus Asulanus, also known as Gian Francesco Torresani d'Asola, Aldo Manutios brother-in-law (Francescos father Andrea had been Aldos partner and later his father-in-law, then ran the printing and publishing house from Aldos death in 1515 to his own death in 1529). Pedanius's commentaries on the rhetorical works of Cicero were long lost until Poggio Bracciolini found a manuscript in 1416. Although that manuscript has since been lost, the commentaries found their way to the printing press and would eventually find their way to the general public in light of the humanist tradition, famously upheld by the Aldine press. Franceso Griffo cut Aldos famous 1501 italic, which the press continued to use for many decades with minor revisions. The register of quires at the end of the present book conveniently shows a complete lowercase alphabet and the capitals from A-N. Since many passages are set entirely in capitals (sometimes half a page), the letters O-Z, not shown in the register, can easily be found in the text, except perhaps Y and Z. Aldos heirs published a second edition in 1547 and Paolo Manutio published a third in 1550.
Binding slightly worn around the spine and corners, with some cracks in the hinges and a tear into the backstrip. Internally with only a few spots throughout and some slight marginal water stains in the last quires. Otherwise in very good condition. Adams A2054; Ahmanson-Murphy 188; BM STC Italian, p. 59; EDIT16 3254; Renouard 96:8; USTC 811219.
Related Subjects: