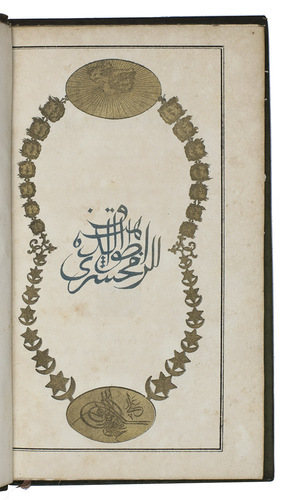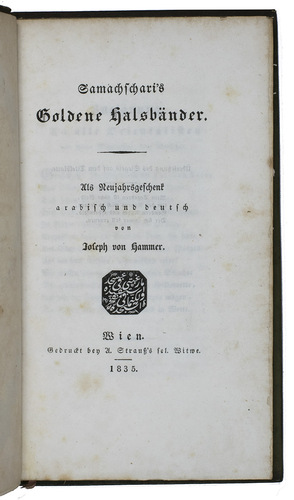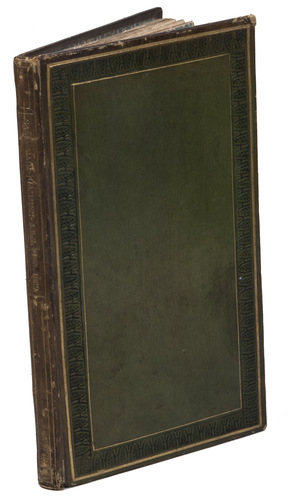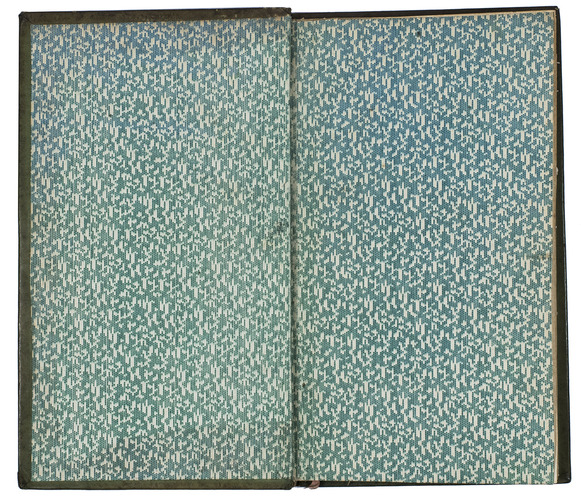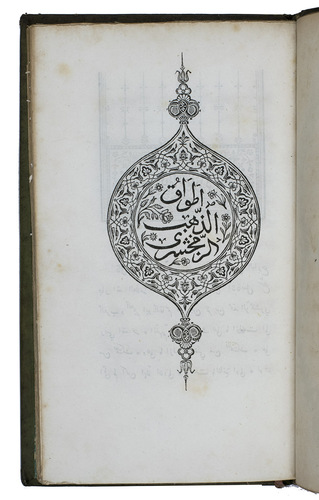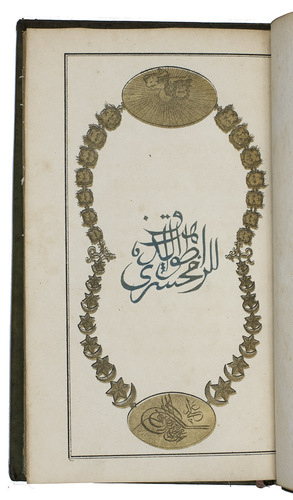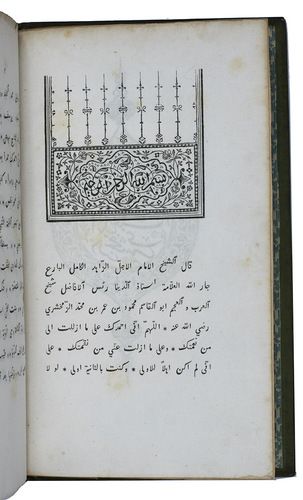 AL-ZAMAKHSHARI, Abu al Qasim Mahmoud ibn Omar (Joseph von HAMMER-PURGSTALL, ed.).
Samachschari's Goldene Halsbänder. Als Neujahrsgeschenk arabisch und deutsch.
Vienna, widow of A. Strauss, 1835. 8vo. With two identical plates showing the golden necklace around a calligraphic Arabic inscription, the necklace hand-coloured in gold and the inscription in blue, as a frontispiece for both the Arabic and the German text (on the first and the last page). The Arabic title is incorporated into a printed circular medallion with decorative points at the head and foot on the first page, and the main Arabic text opens on the back of the same leaf with an elaborate headpiece. Text set in German and Arabic. Contemporary green calf (spine faded to brown), with a gold- and blind-stamped frame on each board. [1], [1 blank], 54 pp. (German text); 27, [1] ll. (Arabic text).
€ 2,500
First edition of a collection of proverbs written by Abu al Qasim Mahmoud ibn Omar al-Zamakhshari (1074-1143), a medieval Muslim theologian, linguist, poet and interpreter of the Quran from a region in Central Asia, present-day southwest Turkmenistan, in the original Arabic with a German translation. He was nicknamed "Jar Allah" (God's neighbour) and is best known for his work Al-Kashshaf, an interpretation and linguistic analysis of Quranic expressions. Al-Zamakhshari was a Mu'tazilite scholar of the Islamic Golden Age. The present first edition of his work was published as a New Year's gift for the friends and fellow orientalists of the editor-translator, Freiherr Joseph von Hammer-Purgstall. His translation of the text also appeared in two annotated editions, published in Leipzig in 1835 and in Stuttgart in 1836.
"[His] contributions to oriental studies were extraordinary, not only through their sheer volume, but also because he was often the first to deal with the subjects on which he wrote so extensively. Although most of his works are outdated now, he played a major role in the development of Western knowledge about the classical civilizations of the Middle East during the Islamic period." (Encyclopaedia Iranica XI, pp. 644-646).
Binding shows minor signs of wear around the spine and corners of the boards, slightly foxed throughout. Otherwise in good condition. Catalogue of Arabic printed books in the British Museum (vol 1, 1894), 14578.a.2; Goedeke vol. 7, p. 766, no. 90; Zenker vol. 1, 1347. About the author: J. T. P. de Bruijn, "Hammer-Purgstall, Joseph Freiherr von", Encyclopaedia Iranica, XI/6, pp. 644-646 (http://www.iranicaonline.org/articles/hammer-purgstall).
Related Subjects: