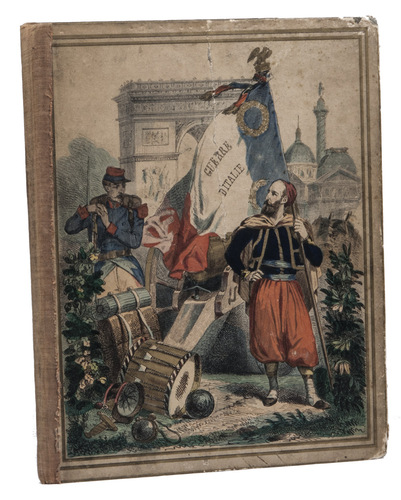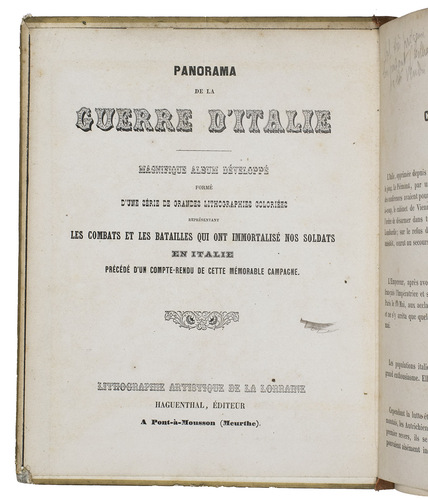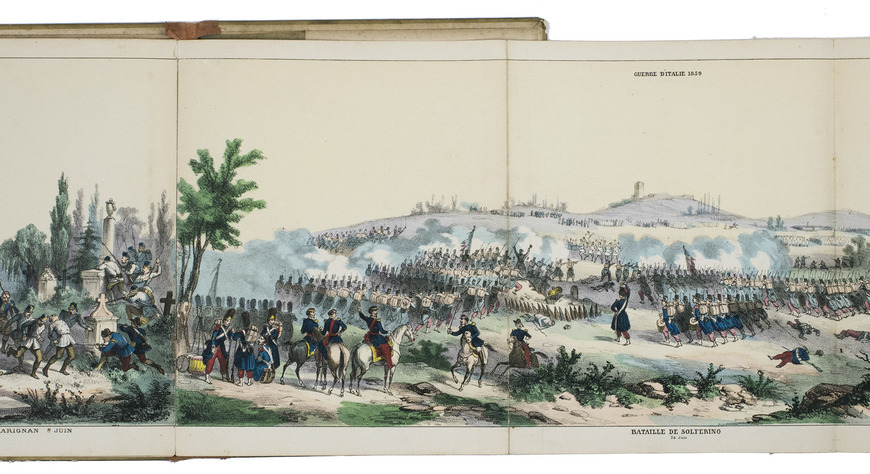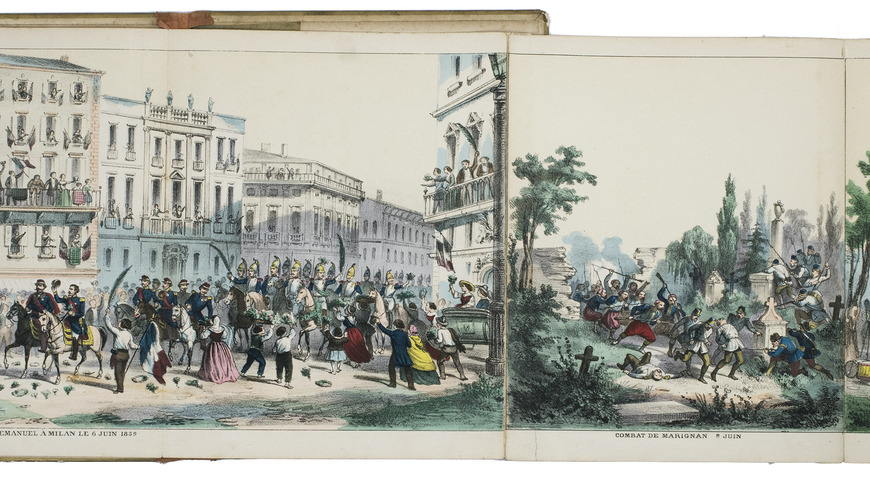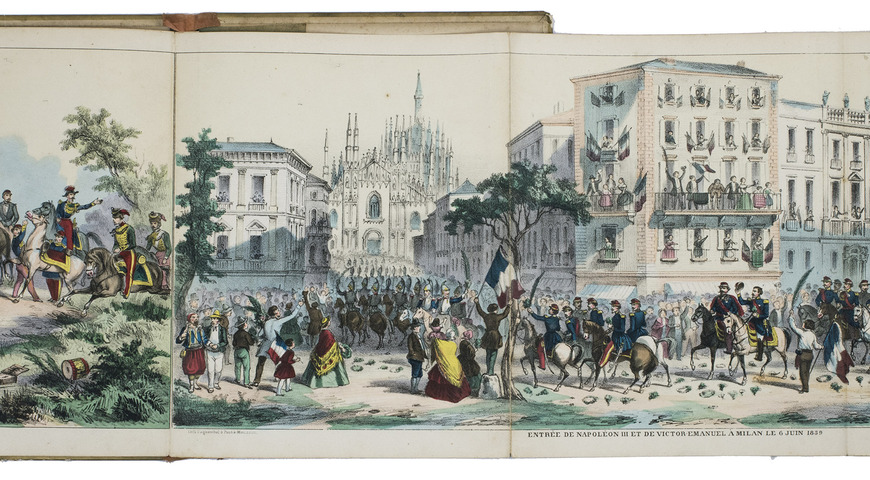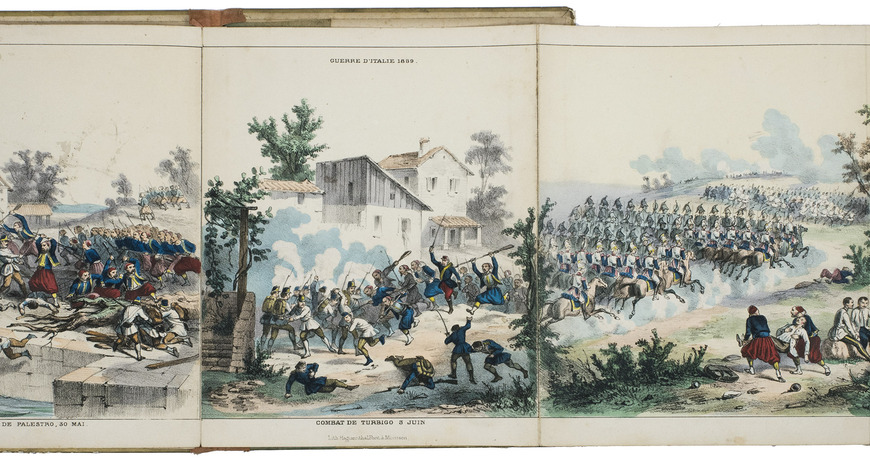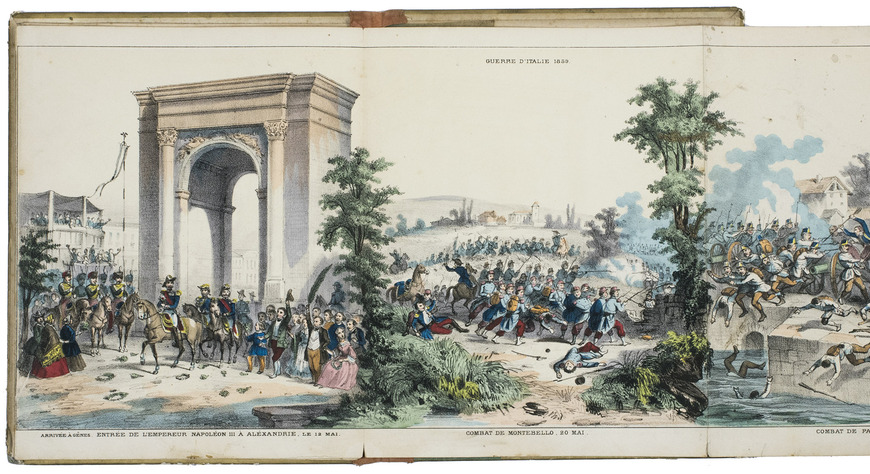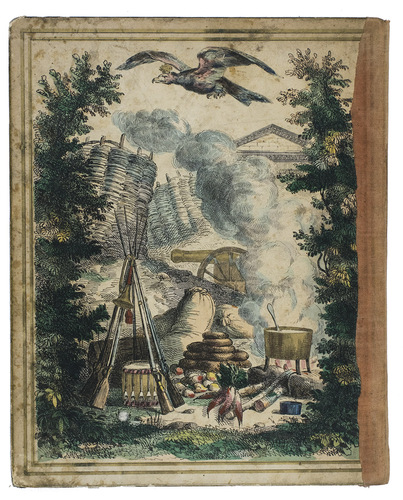 [PANORAMA - ITALIAN WAR 1859].
Panorama de la guerre d'Italie. Magnifique album développé formé d'une série de grandes lithographies coloriées représentant les combats et les batailles qui ont immortalisé nos soldats en Italie précédé d'un compte-rendu de cette mémorable campagne.
Pont-à-Mousson (France), Élie Haguenthal (colophon: Paul Toussaint), [1860/65]. (Size of the whole when folded and closed:) 22.5 x 18 cm. Lithographed folding panorama, showing 8 different lithographed scenes, captioned in and beneath the illustrations, of the Italian War of 1859 from the French-Italian perspective. The 8 scenes (5 3-leaf scenes and 3 single leaf scenes) are assembled to make a single long foldout (as assembled with the text: 21.5 x 395 cm; image size 19 x ca. 310 cm), coloured by a contemporary hand. Half red cloth and hand coloured, lithographed paper sides. [5] ll. of letterpress text and the lithographed folding panorama.
€ 3,250
Second known copy of a lithographic panorama of the Italian War of 1859, also known as the Second Italian War of Independence. This war was fought in the northwest Piedmont region of Italy pitting the Second French Empire and Savoy-Piedmont-Sardinia against the Austrian Empire and it proved crucial in the process of Italian unification. The text and following hand-coloured lithographs describe and depict eight stages of the war, from the departure of French troops for Italy to their return some months later, and highlighting several important battles, including those at Magenta and Solferino. As a result, the influence of the Austrian Empire in Italy was greatly reduced.
The present work is extremely rare: we have located only one other copy, at the Bibliothèque Nationale de France, and it, moreover, differs slightly from the present one.
The title-page functions as the front paste-down, the text and illustration of the panorama fold out from there. The text and illustration have been printed on one side of the paper. With a French inscription in pencil at the head of the first page. The binding is somewhat foxed and browned, the front board is slightly cracked, the red cloth around the spine is slightly faded, the back hinge is weakened, some occasional staining and very slight foxing throughout. Otherwise in good condition. Cf. WorldCat 461406796 (1 copy of a later(?) ed.: Bibliothèque Nationale de France); for the publisher Haguenthal: Dictionnaire des imprimeurs-lithographes du XIXe siècle, http://elec.enc.sorbonne.fr/imprimeurs/node/25785.
Related Subjects: