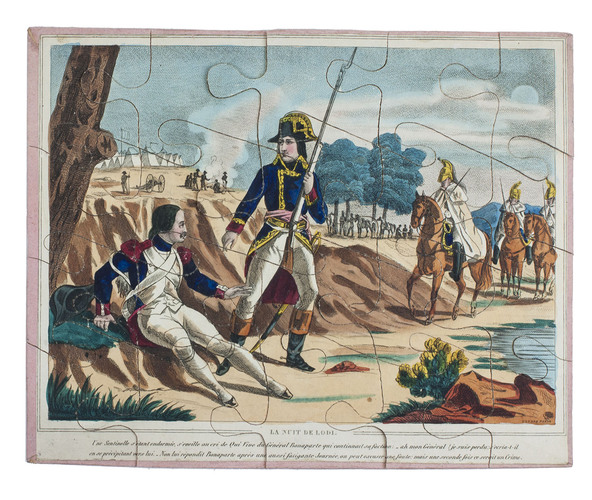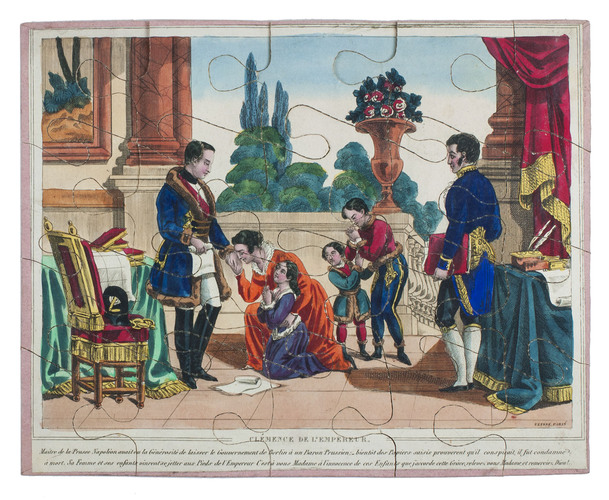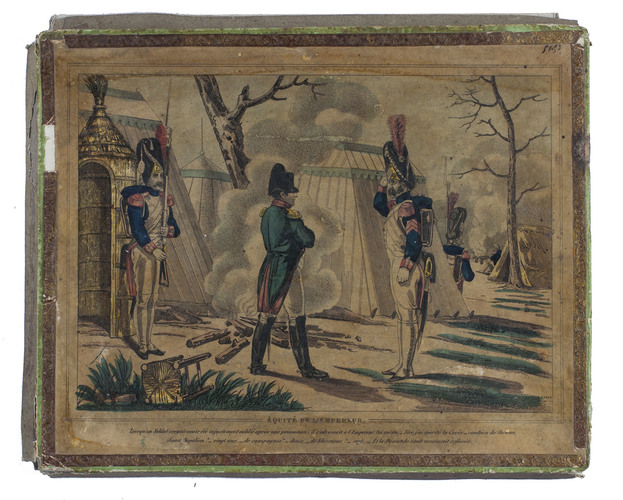 [NAPOLEON BONAPARTE - PUZZLES].
La veille d'Austerlitz.
With:
(2) La Nuit de Lodi.
(3) Clémence de l'empéreur.
Paris, Ulysse, [1814 or 1815]. Three (from a set of four?) jigsaw puzzles (each 19.5 x 24.5 cm), each comprising an engraved print mounted on thin wood, coloured by a contemporary hand and cut to form a jigsaw puzzle, with an engraved caption and short description below the image. Kept in the original publishers paperboard box covered with green paper, with an etched and engraved sample print for a fourth puzzle (with a caption headed "Équité de l'empereur") mounted on the top, coloured by a contemporary hand and framed with strips of gilt paper embossed with a decorative pattern. Each puzzle with the original pink paper wrap-around slip preserved.
€ 3,000
A nice and colourful set of jigsaw puzzles depicting scenes from the life of Napoleon Bonaparte (1769-1821), 2 of the puzzles and the sample plate with address «Ulysse Paris» engraved in the image. Each puzzle has 20 pieces. The first depicts Napoleon Bonaparte calmly sleeping in a chair after having given orders to his generals on the eve of the battle of Austerlitz (1 Dec. 1805). The second shows a still fresh Napoleon addressing an exhausted soldier, a scene from the terrible battle at Lodi, Italy, 10 May 1796, between French forces under Napoleon Bonaparte and the Austrian rear guard led by Johann Beaulieu. The third shows Napoleon as merciful Emperor, receiving the thankful wife and children of a Prussian lord accused of conspiracy, but whom he nonetheless pardoned.
The puzzle matching the scene mounted on the top of the box is not included; a few pieces cracked at thin spots; box slightly defective with traces of use and browned. A good set.
Related Subjects: