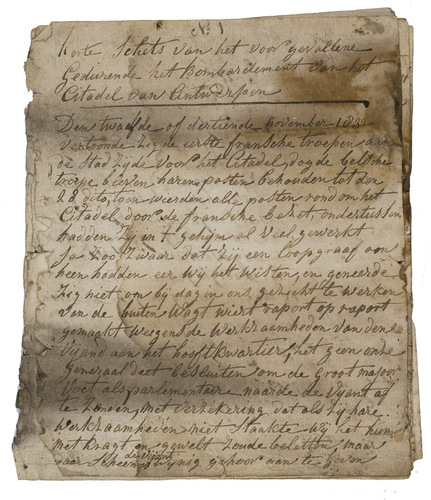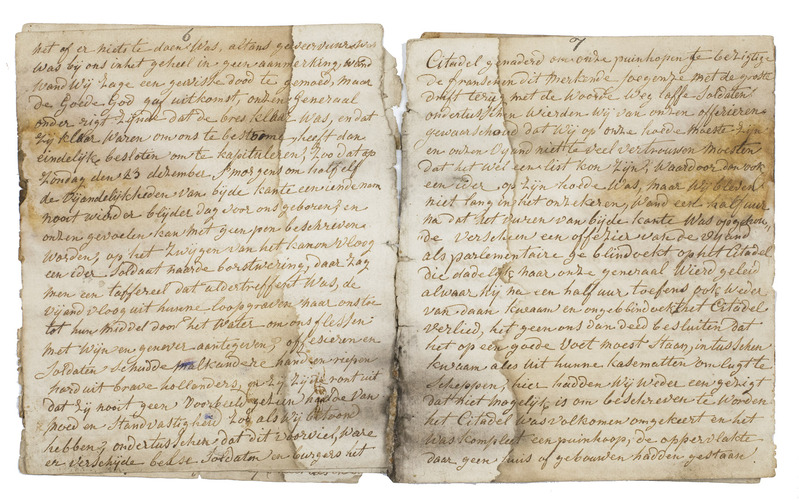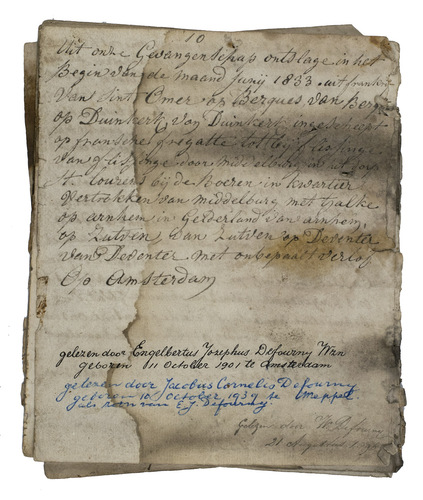 [MANUSCRIPT]. [DEFOURNY, Pierre Josephus?].
Korte schets van het voor gevallene gedurende het bombardement van het citadel van Antwerpen.
Saint Omer, 24 April 1833. 4to (19.5 x 16.5 cm). Manuscript in Dutch, written in ink on laid paper with no watermark. 10 pp.
€ 1,750
A very lively day-to-day eyewitness account of the siege of the Antwerp citadel from 12 November 1832 to the authors imprisonment in St. Omer as a result of the 23 December 1832 surrender. He remained in prison until June 1833, when he returned to Amsterdam. The account testifies to the intensity of the bombardments and exhausting battles as well as to the good treatment of prisoners by the French troops after surrender. The manuscript is written in Dutch in a legible hand of, apparently, a Dutch soldier possibly named Defourny. At the end of the letter, three members of the Defourny family testify that they have read the text: W[illem]. Defourny on 21 August 1897 (1864-1922), his son Engelbertus Jozephus Defourny W[illem]zn. (1901-1957), and E.J.s son Jacobus Cornelis Defourny (b. 1939). They may have been the grandson, great- and great-great grandson of Pierre Josephus Defourny (1808-pre 1880), a gunmaker who lived in Amsterdam after 1833, possibly the author of this account.
The 5 separate, loose leaves are somewhat browned and soiled with frayed edges. Nevertheless, the text is clearly legible.
Related Subjects: