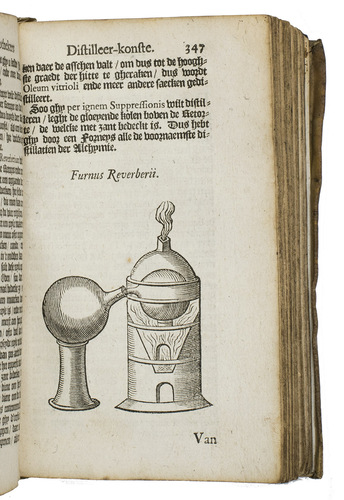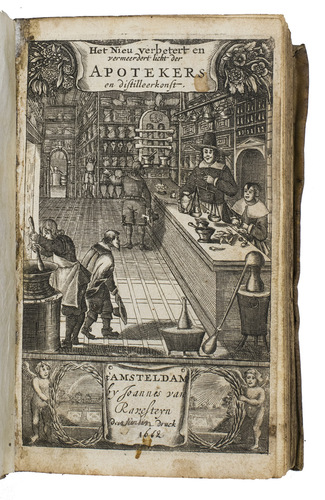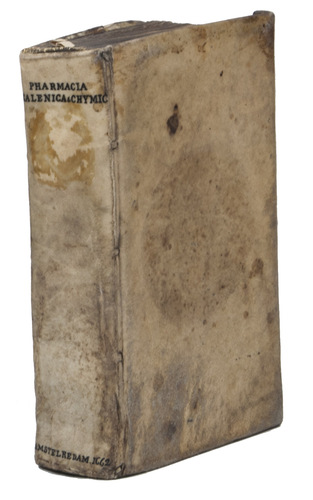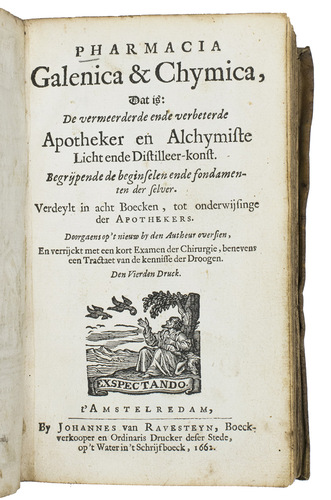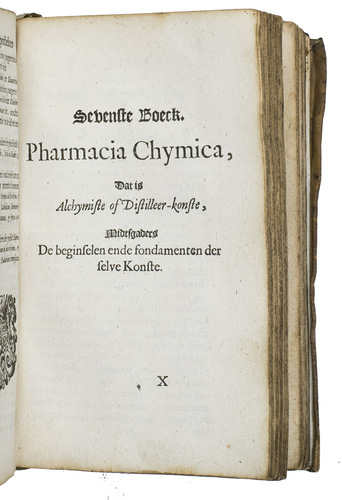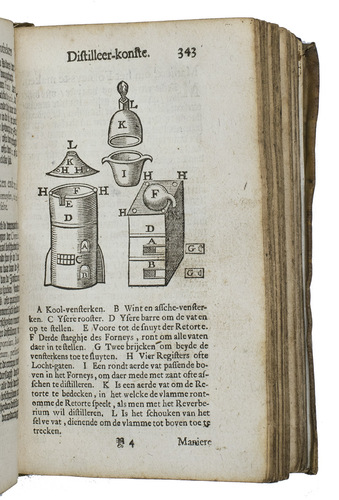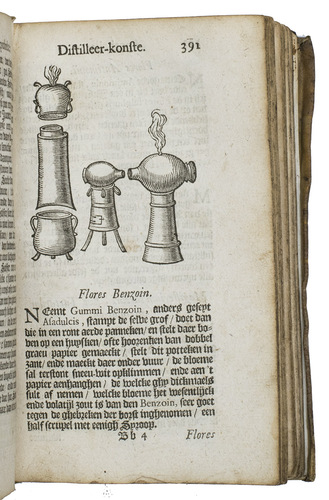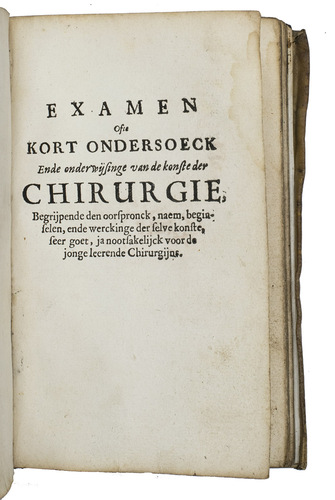 [BISSCHOP, Jan].
Pharmacia Galenica & Chymica, dat is: de vermeerderde ende verbeterde Apotheker en Alchymiste licht ende distilleer-konst. Begrijpende de beginselen ende fondamenten der selver. ... en verrijckt met een kort Examen der Chirurgie, benevens een tractaet van de kennisse der Droogen. Den vierden druck.
Amsterdam, Johannes van Ravesteyn, 1662. 8vo. With engraved frontispiece of the interior of an apothecarys shop: Het Nieu verbetert en vermeerdert licht der Apothekers en distilleerkonst. TAmsteldam by Joannes van Ravesteyn den [...in ink: tienden] druck 16[.. in ink: 1662]; woodcut printers device on title; 3 half-page woodcut illustrations of distilling equipment (pp. 343, 347 and 391); woodcut initials and endpieces. Contemporary overlapping vellum over boards with title in ink on spine. [16], 466, [14], 54 pp.
€ 1,650
The second edition of a successful apothecarys manual for students, mirroring the general knowledge of pharmacy in the middle of the 17th century. The author of this intriguing book long remained unidentified until his initials I.B.S.I (see fol.*3v) gave him away: Jan Bisschop Soc. Jesu. Jan Bisschop (1590-1664) worked in Bruges as a pharmacist before he moved to Ghent in 1613 to join the Jesuit order. He trained numerous apprentice pharmacists and served later as official pharmacist at the Vienna Court of Emperor Ferdinand II. His book owed its success above all to its extremely practical approach, containing also a vast collection of medical (distillery) recipes.
Bisschops book probably was first published anonymously at Ghent in 1653, but no copy is known. The first edition was published by Joannes van Ravesteyn at Amsterdam in 1657, followed by two editions in 1661: one in Amsterdam by Van Ravesteyn and one in Rotterdam by P. and A. van Waesberge. The text of the main part of our edition - the fourth as is stated on the title - is in fact a re-issue of Ravesteyns1661 edition, including the frontispiece (de tweeden druck Ao 1661; in our copy corrected by hand in: den tienden (sic) druck 1662). In 1667 an edition was published in Antwerp by Reynier Seghers.
Spine a little damaged, some soiling and browning in the text, with a wormhole affecting the text at some places. Still in good condition. BMN I, p. 372; Boeymans, Broeder Jan Bisschop en zijn "Pharmacia Galenica", in: Pharmaceutisch tijdschr. voor België, 33,9 (1956), pp. 197-201; Hoogendoorn, p. 104, nr. BIS01, 2.2; Krivatsy 8900; Vandewiele, Enige nieuwe gegevens over apotheker Jan Bisschop, Jezuïet, in: Pharmaceutisch tijdschr, voor België, 51, 9 (1974), pp. 443-449; cf. Hoogendoorn, p. 104 no. 4 (1657 ed.); Jesuit Books in the Dutch Republic, p. 52 (1657 ed.); Notaker 409 (1657 ed).
Related Subjects: