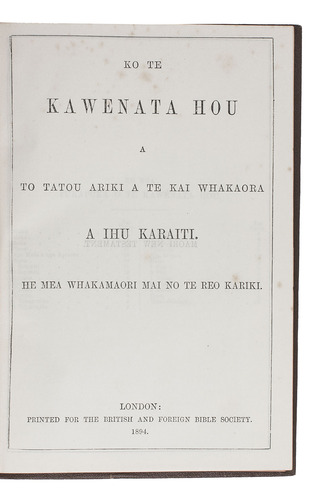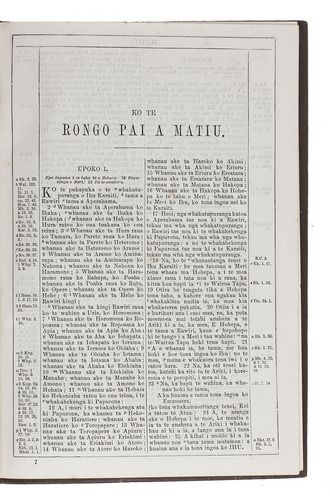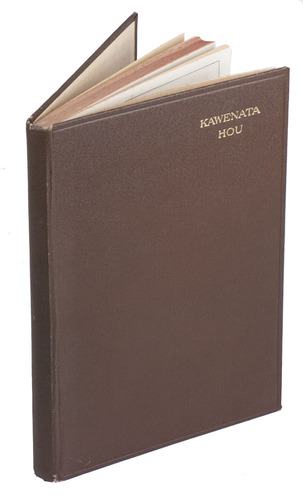 [BIBLE – NEW TESTAMENT – MAORI].
Ko te Kawenata Hou a to tatou Ariki a te Kai Whakaora a Ihu Karaiti. He mea whakamaori mai no te Reo Kariki.
London, printed for the British and Foreign Bible Society, 1894. 8vo. Publisher's brown cloth. 250, [2 blank] pp.
€ 350
Eighth edition of the New Testament in Maori and a slightly corrected edition of the controversial revision of 1887. The first serious edition of the New Testament in Maori translation, had appeared in 1837. Subsequent editions followed until a large revision was made in the fifth edition of 1852. By 1884 it was felt that a new revision should be made to correct the numerous misprints and incorrect translations. The resulting edition appeared in 1887 and is considered "the finest Maori book of the 19th century" (Lineham) but was highly unpopular with its intended audience because for most of the Maori the older Bible text had a spiritual status and memorization of the Bible was highly respected. Despite the objections, a new edition appeared in 1894 and together with the 1887-edition this is considered to be one of the "greatest Maori publications of the 19th century" (Lineham). The publication of this eighth edition was overseen by the same scholars who had prepared the 1887-edition. The text was supplied by William Leonard Williams, future bishop of Waiapu and an eminent scholar of Maori, who also corrected the proofs as far as signature H. The remainder of the text was corrected by Robert Maunsell, a missionary and authority on the Maori language.
With a library stamp and an owner's inscription on the front endpaper. Some pages near the endpapers slightly foxed, otherwise in very good condition. Darlow & Moule 6657; Williams 876; cf. Lineham, "Tampering with the sacred text", in: "A book in the hand", pp. 26-45.
Related Subjects: