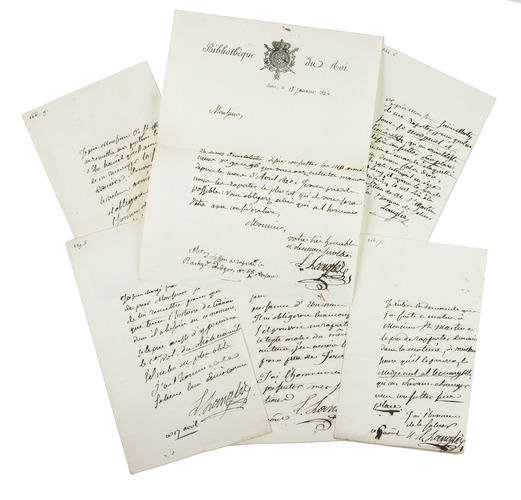 [AUTOGRAPH]. LANGLÈS, Louis Mathieu.
[6 autograph letters, signed, mostly to Antoine-Jean de Saint-Martin].
[Paris], 7 April [1820?]-13 January 1824. 8vo & 4to. Signed autograph letters in brown ink on laid paper, the 1824 letter on a letterpress "Bibliothèque du Roi" letterhead with the royal arms. 7 letters, each written on 1 side of a single leaf.
€ 3,500
Six short letters written by Louis Mathieu Langlès (1763-1824), leading French orientalist and conservator of oriental manuscripts at the Bibliothèque Royale, mostly to the leading orientalist and Armenologist Antoine-Jean de Saint-Martin (1791-1832), arranging for him to see certain Armenian and Arabic manuscripts at the Bibliothèque Royale. The letter of 17 April mentions both Saint-Martin and "Mr. [Jacques Chahan de] Cirbied", a leading Armenian scholar in Paris also known by his Armenian name, Hakob Sahan Jrpetean (1772-1834).
In very good condition, with the foot of 1 letter slightly tattered (not approaching the text) and a couple very minor spots. Primary sources on the preparatory research of the leading Armenologist Saint-Martin and his relations with Langlès and Cirbied.
Related Subjects: