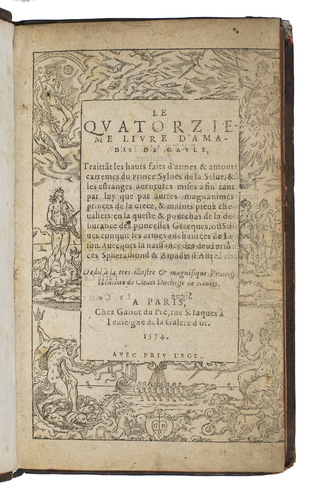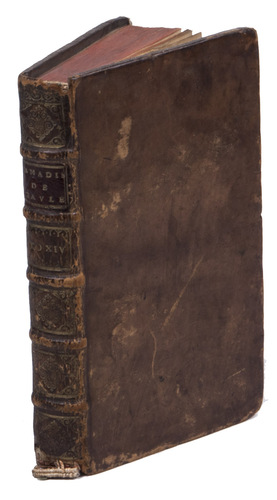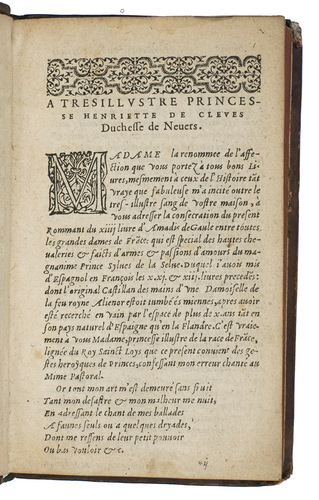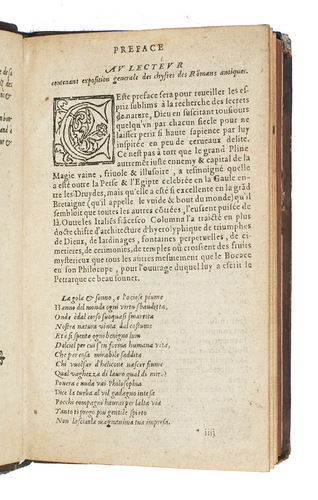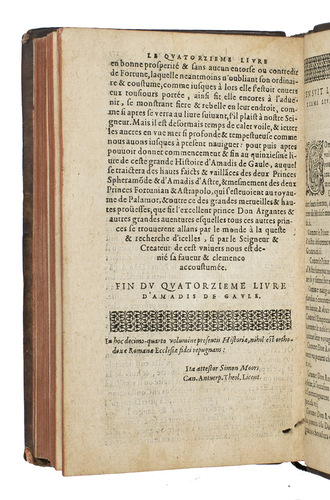 [AMADIS DE GAULE].
Le quatorzieme livre d'Amadis de Gaule, traittant les hauts faits d'armes & amours extremes du Prince Sylves de la Selve, & les estranges aventures mises a fin tant par luy que par autres magnanimes princes de la Grece, & maints preux chevaliers: en la queste & pourchas de la delivrance des princesses Grecques, ou Silves conquit les armes enchantées de la son. Avecques la naissance des deux princes Spheramond & Amadis d'Astre.
Paris, Galliot du Pré, 1574. Small 8vo. With the title within richly illustrated woodcut borders, incorporating the printer's monogram in the lower border. 18th century calf, gold-tooled spine with red label, red edges. [8], 176, [3] ll.
€ 2,500
Extremely rare early French edition of book 14 of Amadis de Gaule, one of five French editions published in the year 1574, including the first, printed by Jan van Waesberge in Antwerp. Amadis de Gaule, an originally Castilian Spanish or possibly Portuguese chivalric romance that evolved beginning in the 13th or 14th century, was expanded with additional books up to about 1595. Book 14 of the French version, first published in 1574, is based on book 12 of the Spanish edition, first published in 1546. Van Waesberges first edition (4to), often issued with Willem Silviuss 1572 editions of books 12 and 13, has a 2 October 1571 privilege, but its title-page and colophon are dated 1574. The present 8vo edition has Galliot du Prés 1574 privilege on the back of the title-page, but includes a Roman Catholic approbation granted by Simon Moors, Canon of Antwerp,
The USTC records only a copy in Troyes and another in private hands, but the latter may be the present copy. The fact that five or possibly even six editions appeared in 1574 attests to the extraordinary popularity of the text.
Binding slightly rubbed, with small defects at the head and foot of the spine, lacking the final blank leaf (Z4), a small corner of one leaf worn off and some minor stains, but still in good condition. One of the earliest and rarest editions of book 14 of Amadis de Gaule, published in the same year as the first edition. Pettegree, French vernacular books 981 (1 copy); USTC 29150 (2 copies, possibly including the present one); cf. Adams A896 (1574 Claude Gautier 16mo Paris ed.) & A897 (1574 Van Waesberge 12mo Antwerp ed.); Brunet I, cols. 216-217 (4 other 1574 eds.); STC French, p. 13 (1575 & 1577 eds.); not in Index Aureliensis.
Related Subjects: