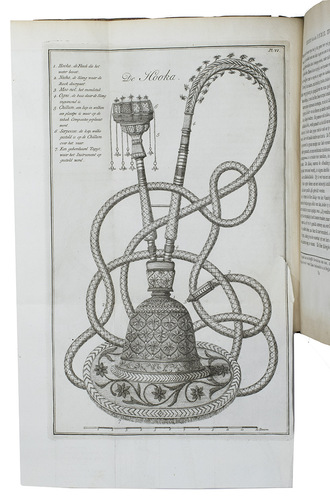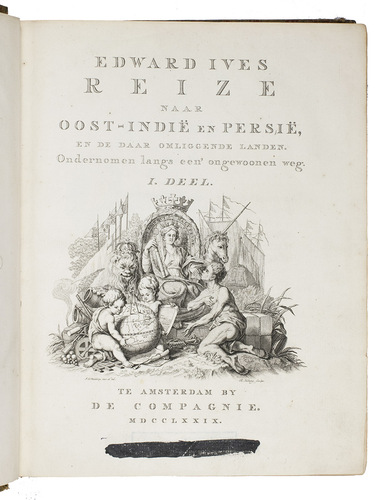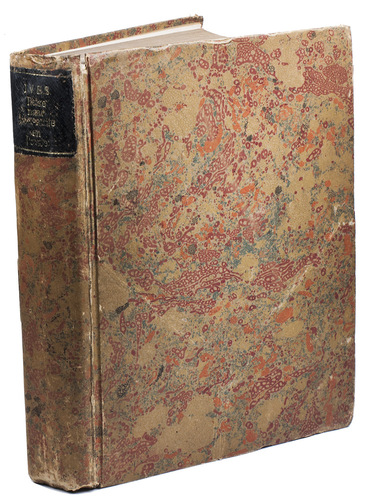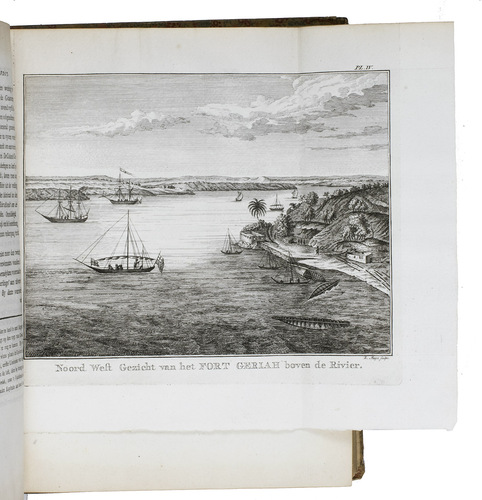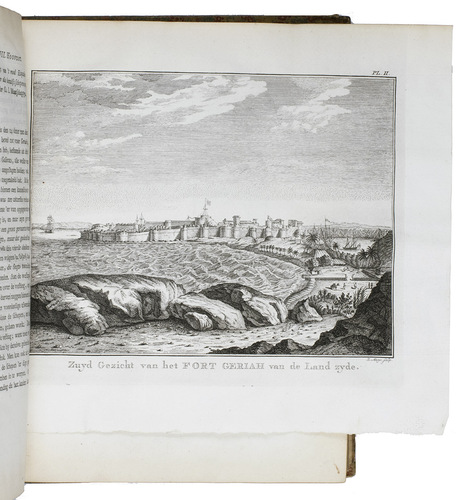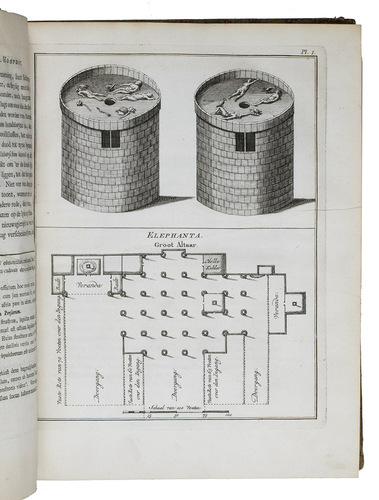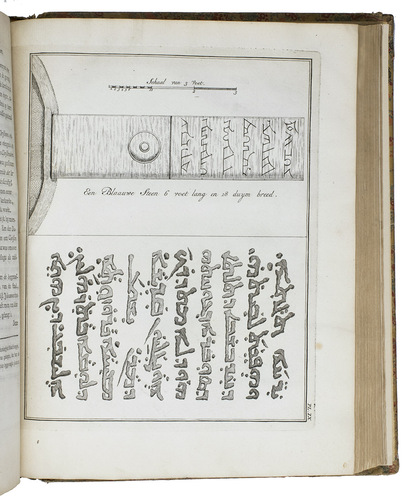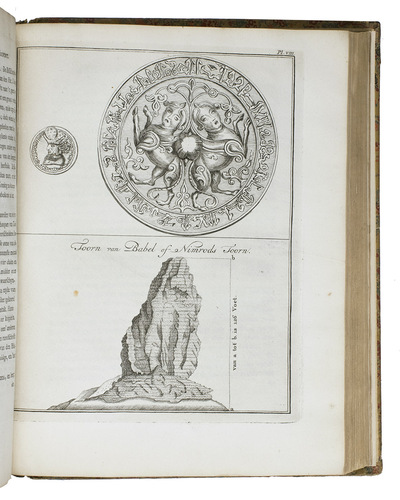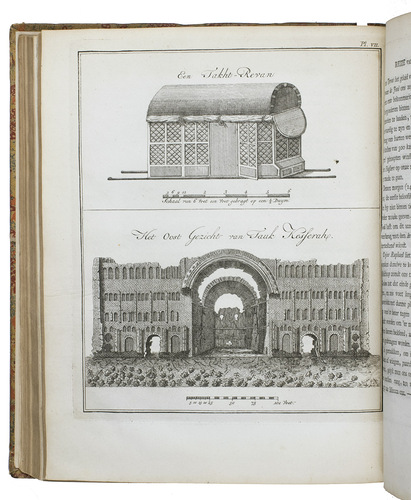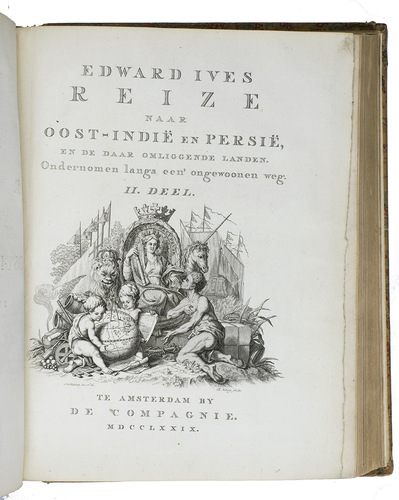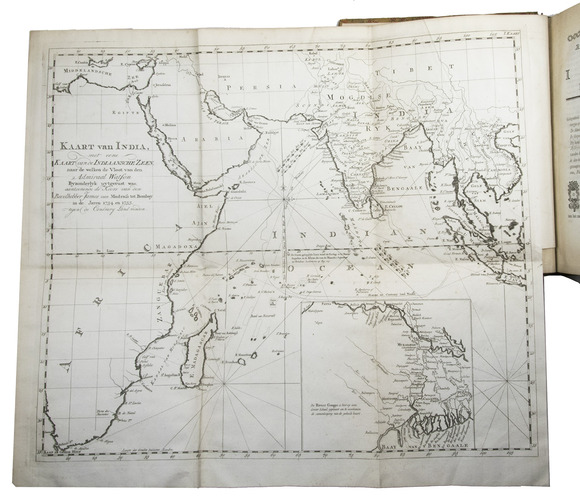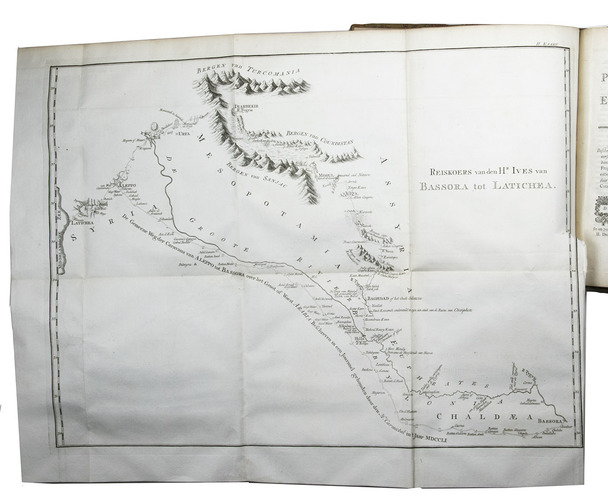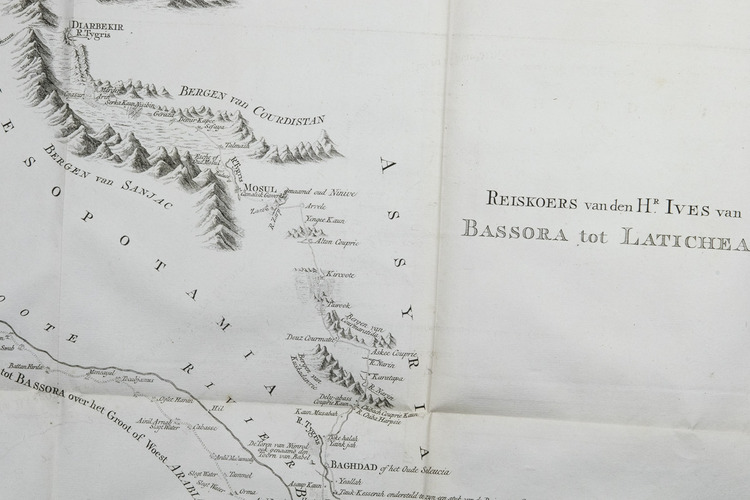 IVES, Edward.
Reize naar Oost-Indië en Persië, en de daar omliggende landen. Ondernomen langs een' ongewoonen weg.
Amsterdam, De Compagnie, 1779. 2 volumes bound as 1. 4to. With 2 engraved title-pages, 2 folding engraved maps, one of India (44 x 51 cm), the other tracking Ives's journey from Basra to Latakia (ca. 42 x 56 cm), and 9 engraved plates (including 1 large folding). Early 20th-century boards. [16], 324; [1], [1 blank], [1], [1 blank], 379, [1] pp.
€ 2,950
First Dutch edition (second issue) of Ives's account of his voyage from England to India and his journey from Persia to England. From 1753 to 1757 the naval surgeon and traveller Edward Ives (1719-1786) was surgeon of the Kent, the flagship of Vice-Admiral Charles Watson, commander-in-chief in the East Indies. The squadron sailed via the Cape of Good Hope and Madagascar to India, where they visited the chief English settlements and major cities, Ives attending the company hospitals and staff in each place. When Admiral Watson died in August 1757, Ives's own health was also somewhat impaired and he resigned his appointment, travelling home overland from Basra, through Baghdad, Mosul and Aleppo, via Cyprus to Livorno and Venice, and finally through Germany and the Netherlands, arriving in England in March 1759 (ODNB). The plates include depictions of an altar, a Hooka (a Persian tobacco water-pipe, in the large folding plate), the tower of Babel, views of the forts St. David and Geriah, and an amulet with Arabic inscriptions, together with Dutch translations.
Small marginal tear in 1 map and the folding plate, vol. 2 with loss of some paper in lower blank part of C4 and the last 3 quires browned. A wide-margined copy of Ives's narrative in good condition. Tiele, Bibl. 22; cf. Cox I, p. 299 (English ed.); on the author: ODNB online ed.
Related Subjects: