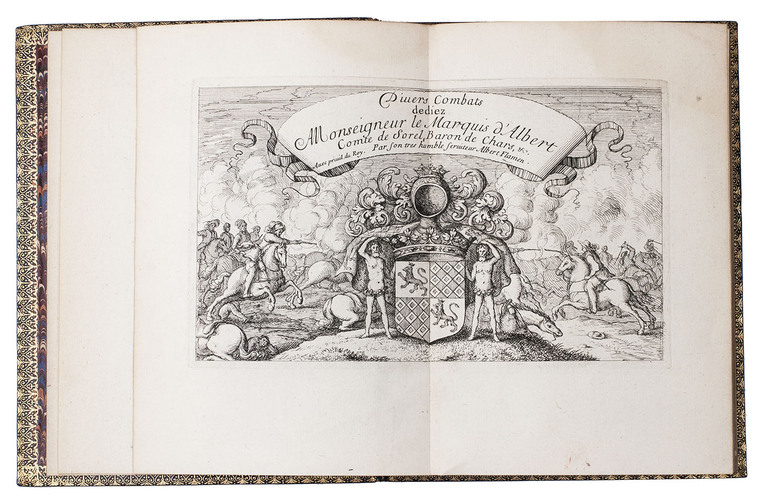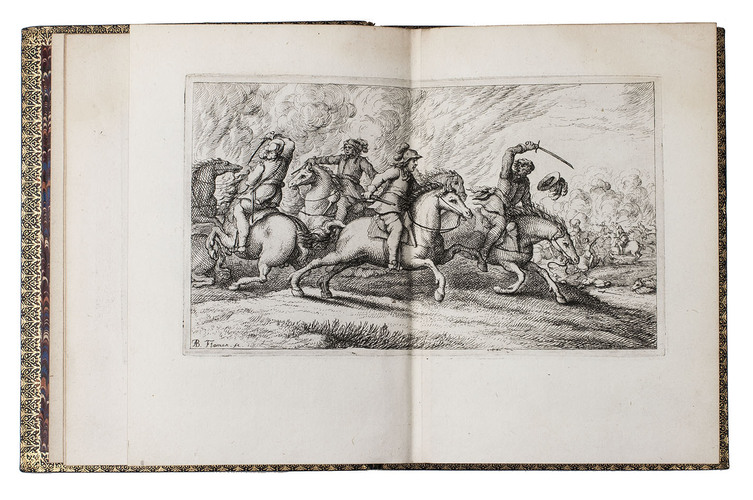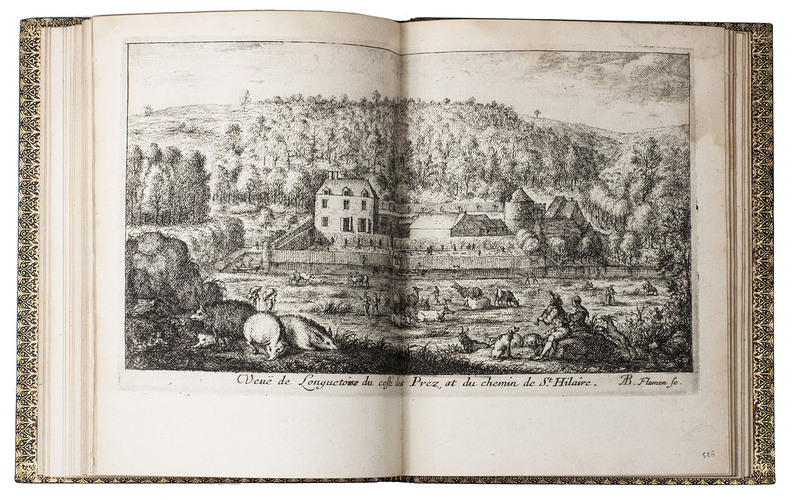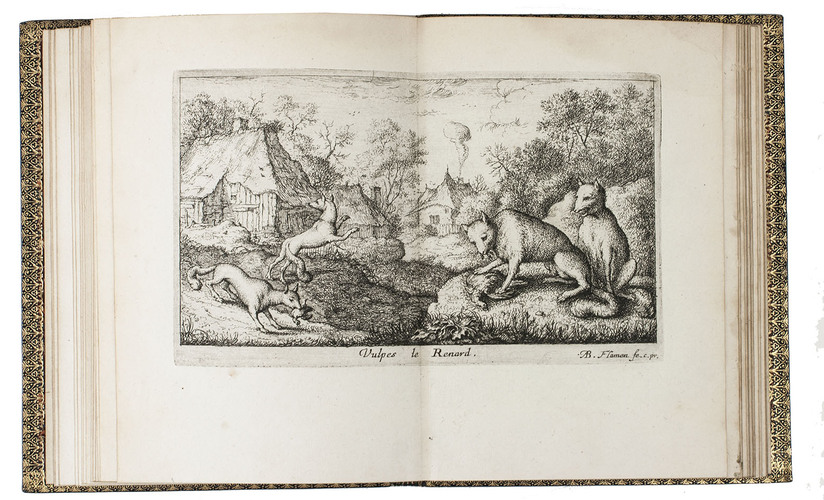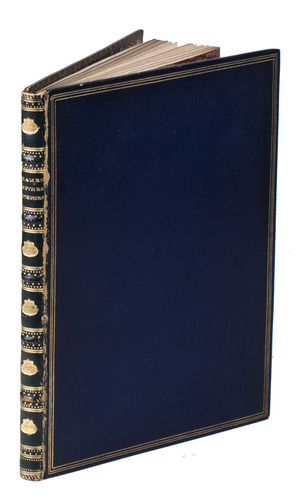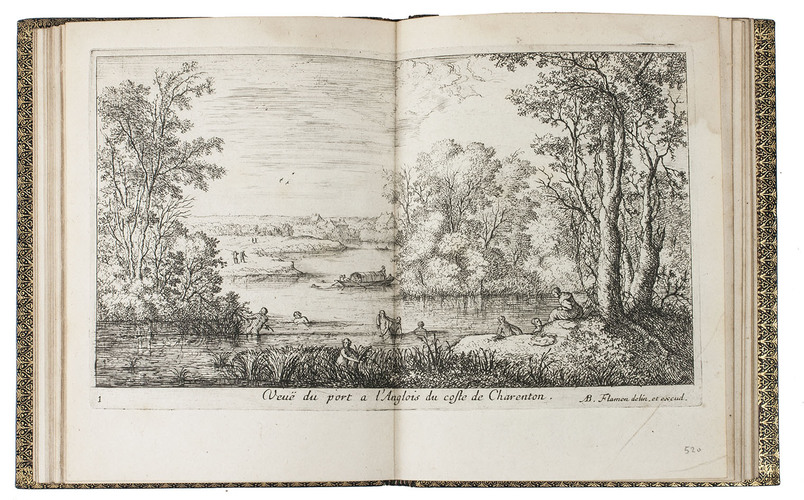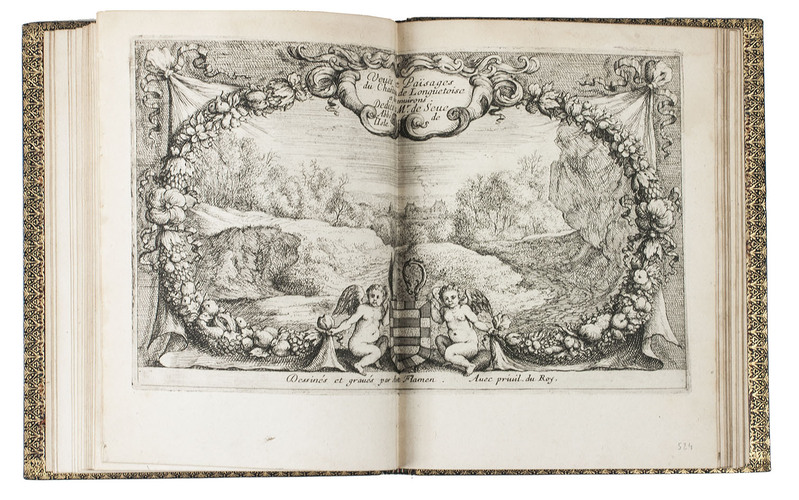 FLAMEN, Albert.
[5 etched print series:]
1) Divers combats.
Series of 6 unnumbered prints including title-print.
2) Diverses especes d[']animaus faits apres nature.
Series of 7 unnumbered prints including title-print.
3) Veuës et païsages du Chasteau de Longuetoise et des environs.
6 unnumbered prints, including title-print, from a series of 12.
4) [Views near Paris].
Series of 4 numbered prints, published without title.
5) [Pastoral views].
Series(?) of 2 unnumbered prints without title.
Paris, [Jacques Lagniet (ads 1, 3), Jacques van Merlen (ad 4), unknown publisher (ads 2, 5)], [ca. 1660]. Small 4to (16.5 x 13 cm). Five series of small oblong folio etched views (16 x 21.5-23 cm; plate size: 10 x 17 to 12.5 x 21.5 cm), 3 complete, 1 incomplete and 1 documented only as separate prints. Each print folded to form a double leaf and mounted on a stub so that it can open flat. Gold-tooled, dark green goatskin morocco (ca. 1890). [6]; [7]; [6 of 12]; 4; [2] etched ll.
€ 7,500
Five series of finely executed and well-printed etchings by Albert Flamen, mostly in their first states and all in early states, the five series showing: 1) cavalry fighting viewed from the thick of the battle; 2) wild and domestic animals on or around a farm; 3) views of Château de Longuetoise and its surroundings in Chalo-Saint-Mars, southwest of Paris; 4) views of several areas near Paris; and 5) pastoral views in an unidentified location. Flamen (ca. 1620?-1693 or soon after), a painter, draughtsman and etcher born in Bruges, worked in Paris from 1648 to 1692. He belonged to the French school of Callot and worked mostly after his own designs.
With two gold-stamped morocco bookplates. With a faint stain in the upper right corner of the prints in series 3 and 4, but still in very good condition. The hinges are worn, but the binding is otherwise very good. Lovely and rare etchings, mostly in their earliest states, including three complete series. Bartsch V, Flamen 112-117 (ad 1), 093-095, 099-100, 103 (ad 3), 105-108 (ad 4), 110-111 (ad 5) and supp. 520-526 (ad 2); Robert-Dumesnil, Flamen 365-370 (ad 1); 382-388 (ad 2); 524-526, 530, 531, 534 (ad 3); 520-523 (ad 4); 561-562 (ad 5).
Related Subjects: