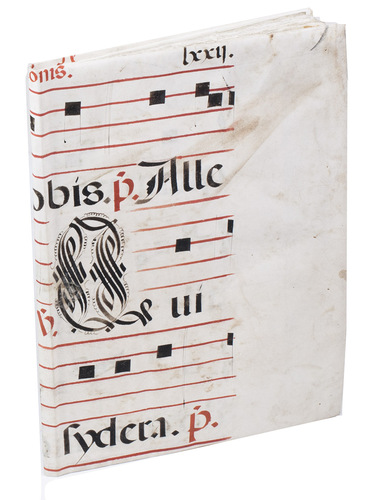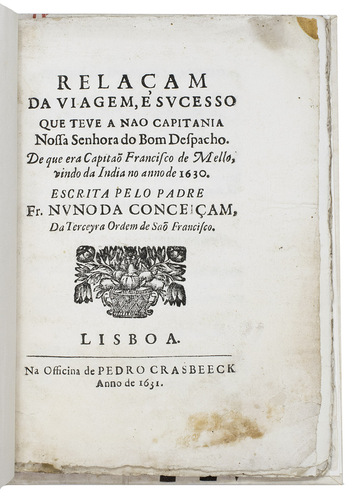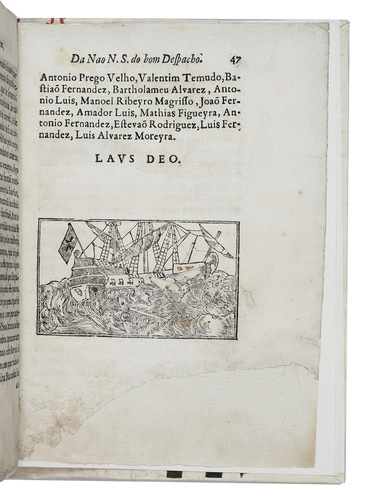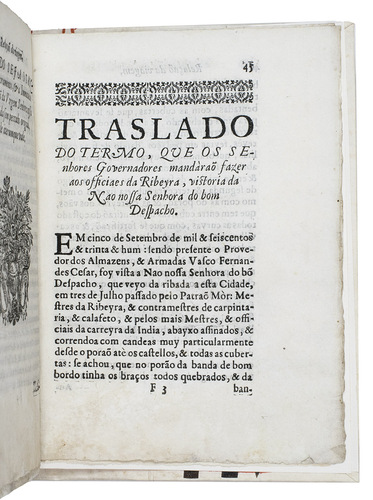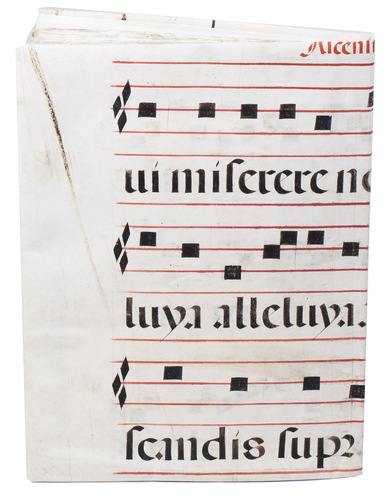 CONCEIÇÃO, Frei Nuno da.
Relaçam da viagem, e sucesso que teve a nao capitania Nossa Senhora do Bom Despacho. De que era Capitaô Francisco de Mello, vindo da India no anno de 1630.
Lisbon, "P. Craesbeeck" [= Antonio Pedrozo Galram?], "1631" [= ca. 1710/20?]. 4to. With woodcut of a ship in heavy seas on the last page, a woodcut basket of flowers on title-page and a large woodcut vase of flowers tailpiece.
Earlier vellum with a manuscript cantochon in red and black, new endpapers. [8], 47, [1 blank] pp.
€ 3,500
Rare early 18th-century counterfeit edition of a Portuguese narrative of an Indian voyage, shipwreck and return in 1630. The story is based on the diary of helmsman Luís Alvares Mocarra (cf. p. 2), on board the ship Nossa Senhora do Bom Despacho under the command of captain Francisco de Mello de Castro (ca. 1600-1664).
Wholly untrimmed. First few pages slightly thumbed. Last leaf repaired. Vellum slightly soiled. Otherwise in good condition. Arouca, C536; Boxer, Introduction to the história trágico-maritima, p. 40 ed. B; IB 26262?; Innocencio II, p. 91; VI, p. 312?; Palau 197569?; Payan, Livros clandestinos, 273-278; Porbase 714752; South African bibliography III, p. 563; USTC 5023411?.
Related Subjects: