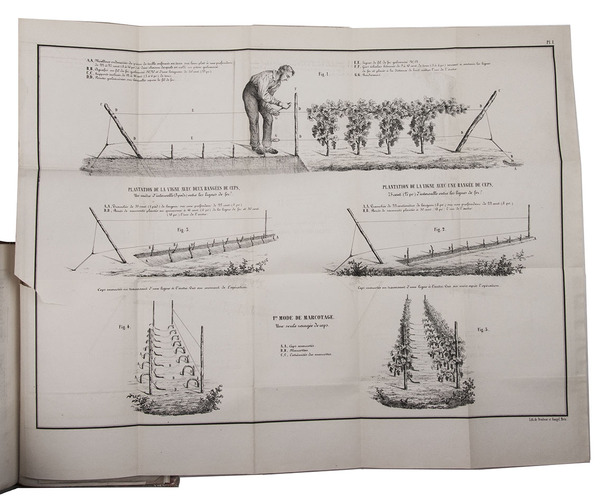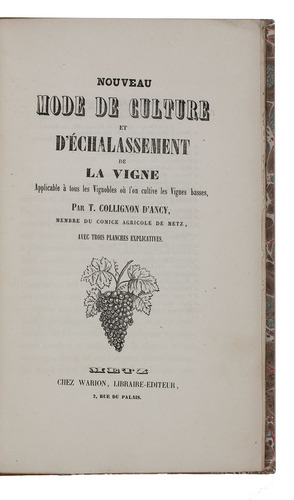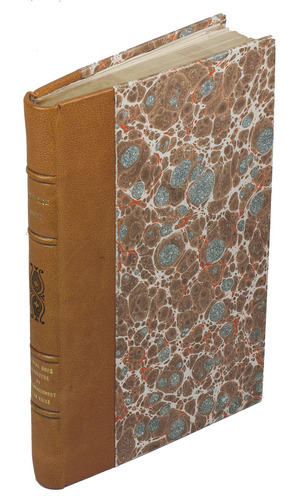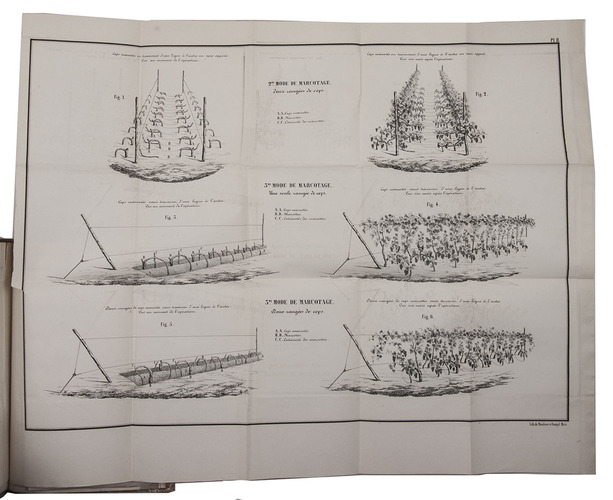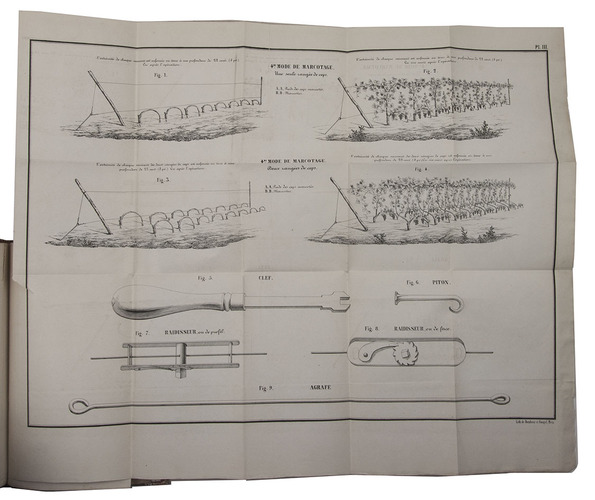 COLLIGNON D'ANCY, Théodore.
Nouveau mode de culture et d'echalassement de la vigne, applicable à tous les vignobles où l'on cultive les vignes basses.
Metz, printed by Dembour and Gangel for Warion, [1847]. 8vo. With woodcut vignette on the title-page, and 3 large folding plates, lithographed by Dembours and Gangel. Modern half morocco, preserving the original illustrated wrappers. VI, [2], 191, [1 blank] pp.
€ 3,950
First edition of an excellent treatise on viticulture, presenting a new and economical method of cultivating grapes and producing wine. The first part describes the various grapes cultivated in the Moselle department, as well as methods of cultivation, and introduces a new system of marcotting using iron wire instead of stakes. The subsequent parts are devoted to different steps in the winemaking process, from the picking of grapes to fertilization, with suggestions for improvement. In three tables the author shows the (financial) benefits of his system, and the plates depict his improved method of marcotting. The treatise includes a history of viticulture in the Moselle départment (Lorraine, France).
Collignon d'Ancy was a member of the "comice agricole" at Metz.
Good copy, with the author's autograph signature on the back of the half-title. Oberlé, Fastes 976; Simon, Vinaria 53; WorldCat (4 copies); not in Oberlé, Bibl. Bachique; Schoene, Bibliogr. Geschichte des Weines.
Related Subjects: