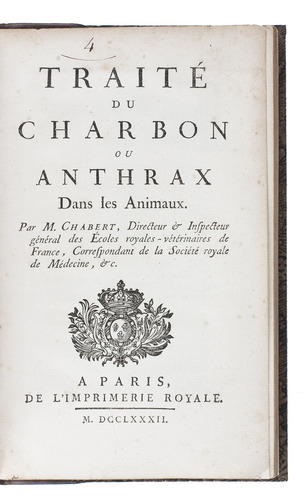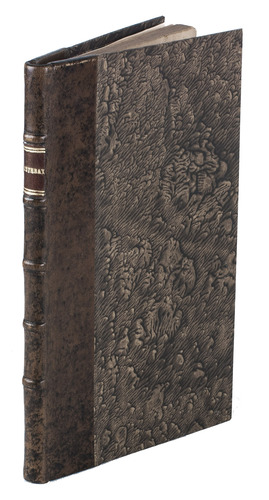 CHABERT, Philibert.
Traité du charbon ou anthrax dans les animaux.
Paris, Imprimerie Royale, 1782. 8vo. With woodcut crowned French royal coat of arms on title-page and a woodcut headpiece (signed "B."). 19th-century(?) half tanned, mottled sheepskin. 109, [1 blank] pp.
€ 1,250
Second, considerably enlarged edition of a work on veterinary medicine dealing with the livestock disease anthrax or splenic fever, by the French veterinarian Philibert Chabert (1737-1814), director and general inspector of the school of veterinary medicine. In this treatise Chabert warns of the deplorable hygienic conditions in which many farm animals live and tries to illuminate the causes of the epidemics that decimated French livestock in the eighteenth-century. It discusses not only sheep, cattle and horses, but even dogs (the first paragraph already notes that it attacks "animaux domestiques").
In very good condition, with only occasional minor foxing. An interesting treatise on anthrax. Blake, p. 83; Mennessier de la Lance I, p.243; cf. Wellcome II, p. 321 (1783 ed.).
Related Subjects: