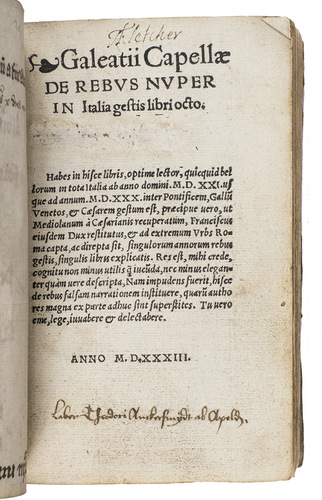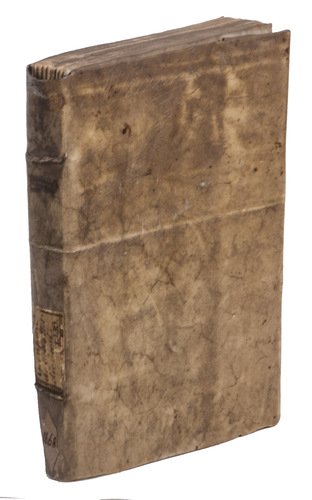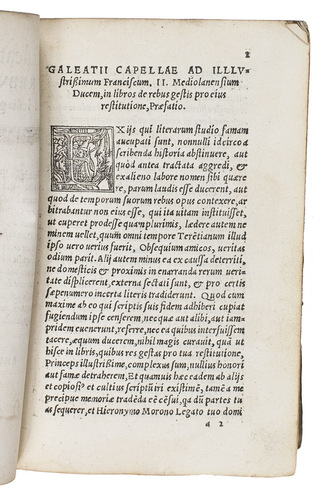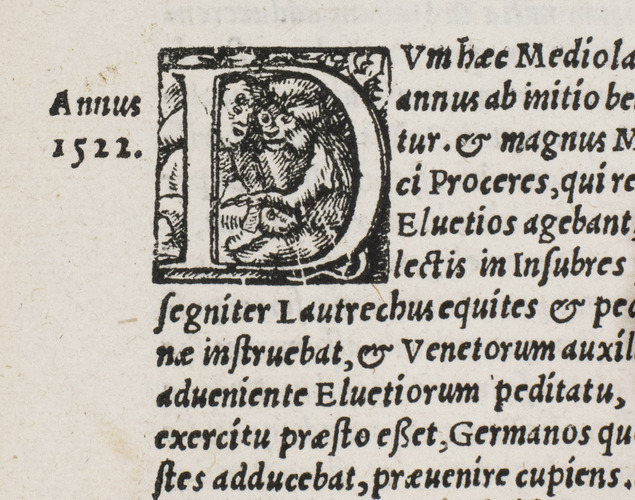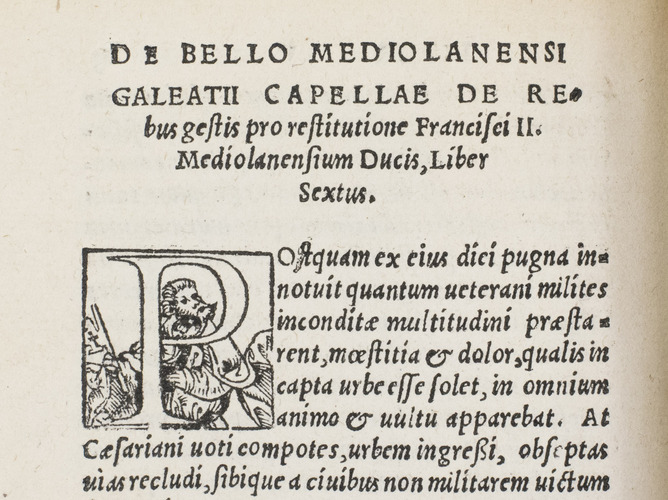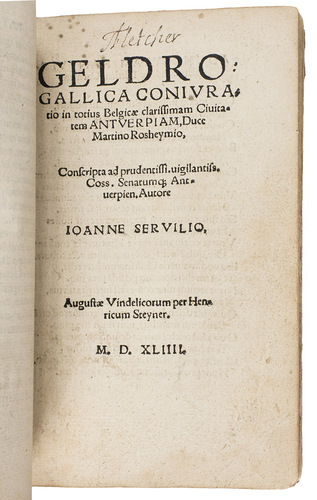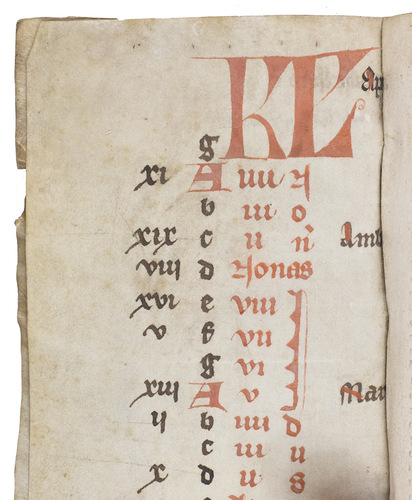 CAPELLA, Galeazzo Flavio.
De rebus nuper in Italia gestis [in the running heads: "De bello Mediolanensi"] libro octo ...
(Colophon: Antwerp, Maarten de Keyser), 1533.
With: (2) SERVILIUS, Johannes (Jan KNAAP). Geldrogallica conjuratio in totius Belgicae clarissimam civitatem Antverpiam, duce Martino Rosheymio, ...
Augsburg, Heinrich Steiner, 1544. 2 works in 1 volume. Small 8vo (15 x 10 cm). Contemporary vellum wrappers, with 2 fragments of the March and April calendar leaf (in red and black) of a manuscript Missale romanum (ca. 1475/1500?) used as end leaves. 96; [44] ll.
€ 4,500
Contemporary accounts of two political and military power struggles, written in Latin and bound together at an early date.
Ad 1: First edition of an important contemporary account of what the running heads and the titles of some later editions call the Milanese Wars (in English more often known as the Italian Wars) of 1521 to 1530, written by Galeazzo Capella (1487-1537).
Ad 2: Second edition of an exciting contemporary account of the rebellious war by Maarten van Rossum in Brabant and Guelders in 1542, generally successful in spite of his failed surprise attempt to capture Antwerp, first published at Antwerp in 1542. The present account remains an important source for Van Rossum's exploits, for the author gathered much of his information from eye-witnesses to the events he relates and was sometimes even an eye-witness himself.
With a contemporary owner's inscription at the foot of the first title-page ("Liber Theodori Am...smydt ab Apeld...[?]"), another erased in the space below the third line of the title, and a later owner's name "Fletcher" at the head of each title-page, probably the Scottish politician Andrew Fletcher of Saltoun (1655-1716). First title-page somewhat dirty, faint water stains in the foot of the last quire, but otherwise in good condition. From the surviving tranchefiles the book appears to have been only slightly trimmed, leaving margins of 13 to 20 mm around the text block. Binding slightly soiled, wrinkled and with a small tear. Two contemporary accounts of political struggles in Italy and the Low Countries. Ad 1: Adams C583; Machiels 96; Nijhoff-Kronenberg 518; ad 2: Machiels S 310; VD16, K1366.
Related Subjects: