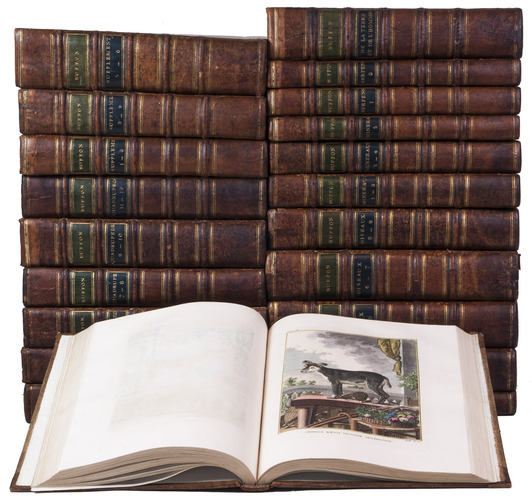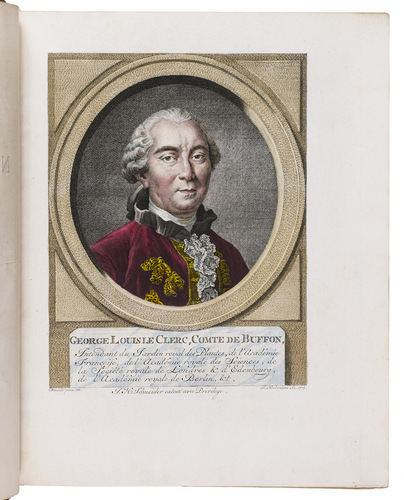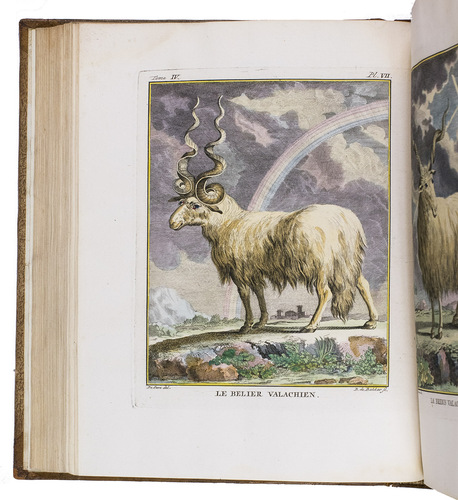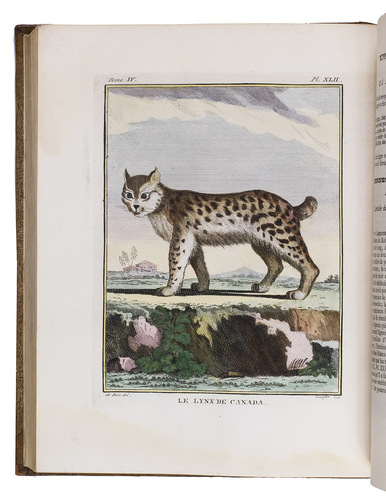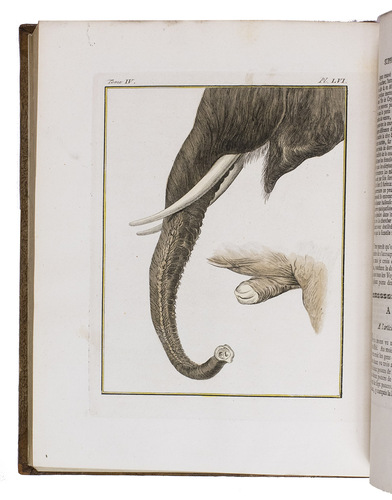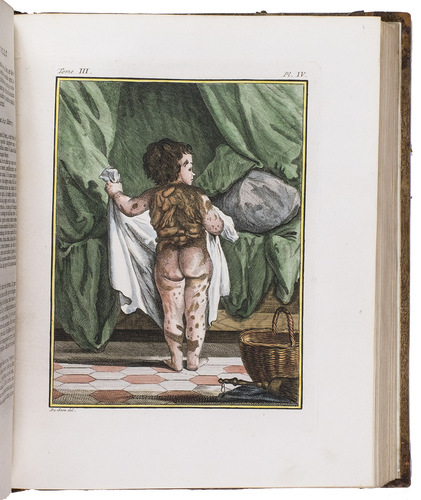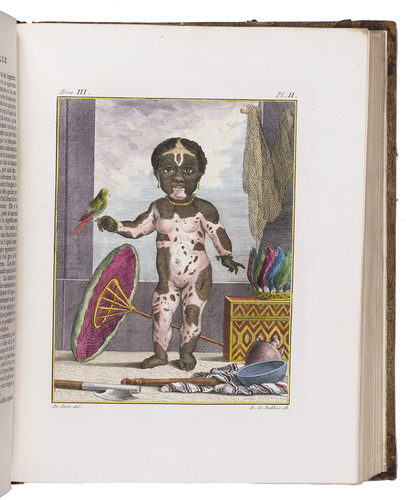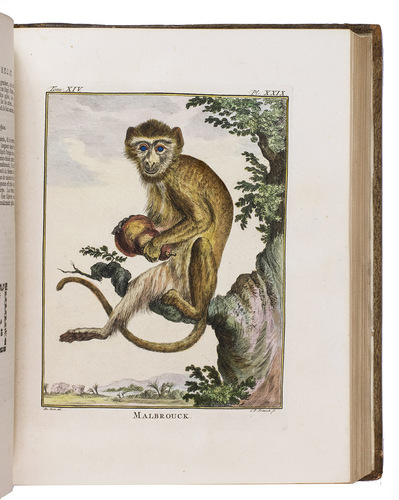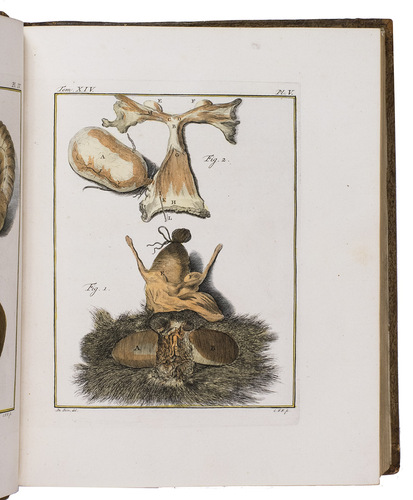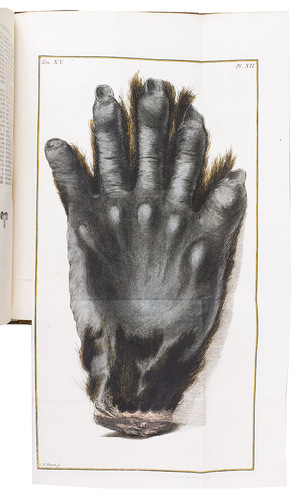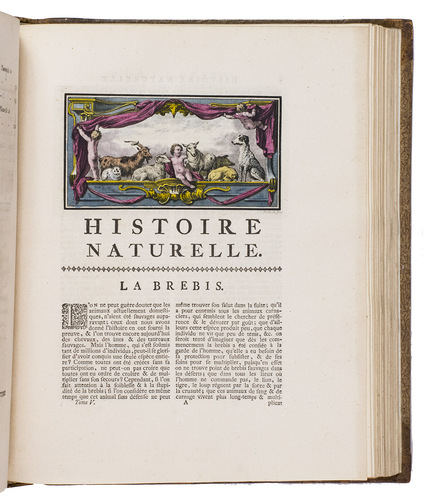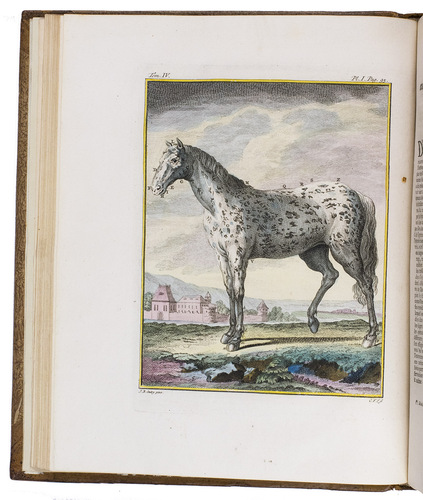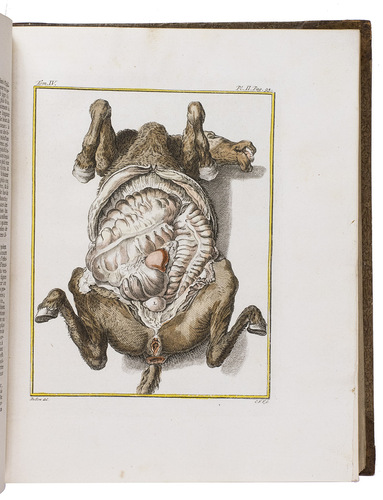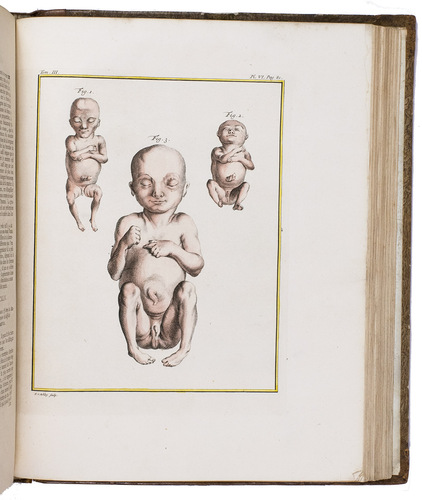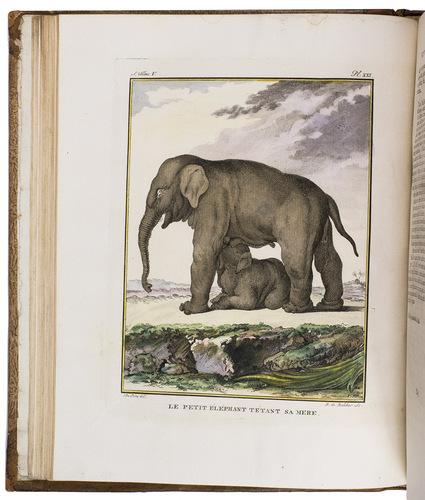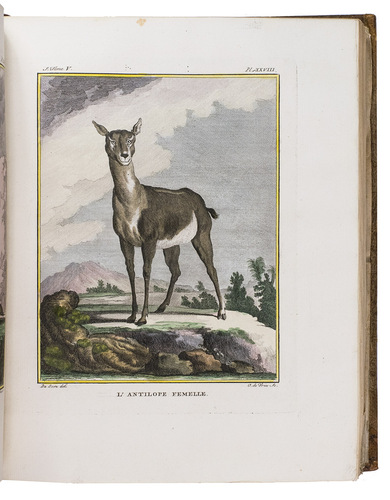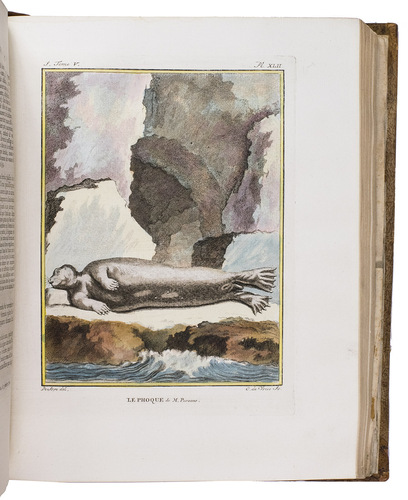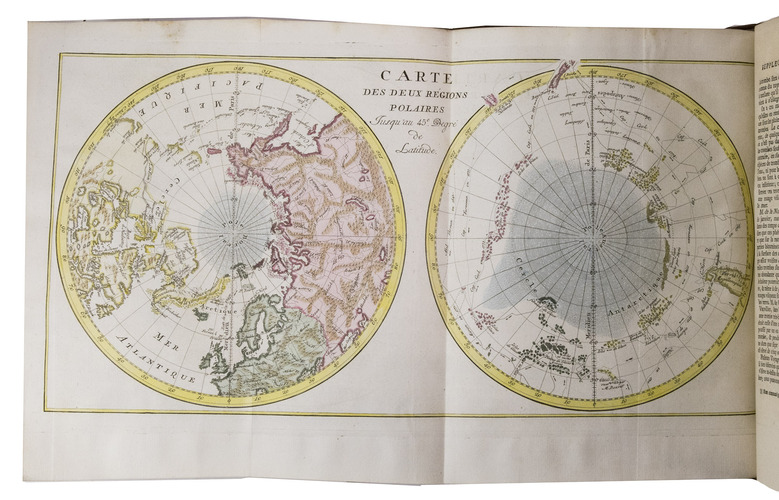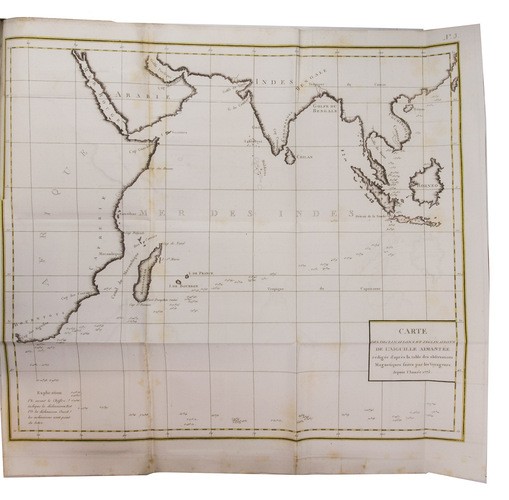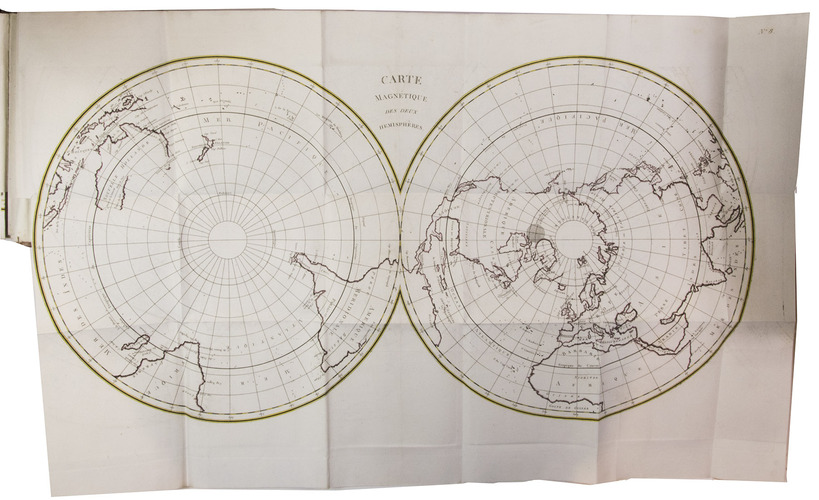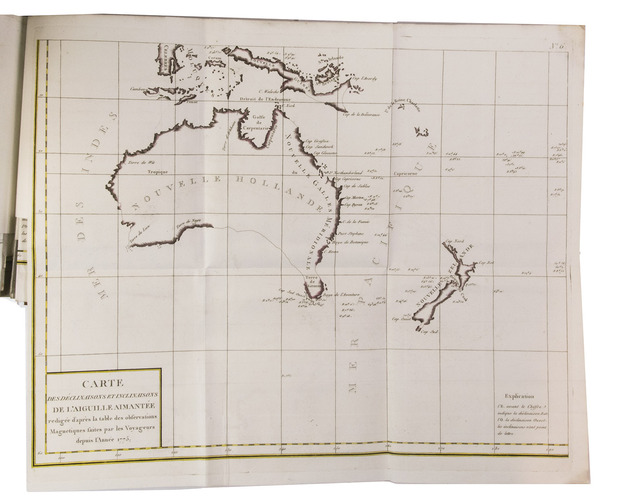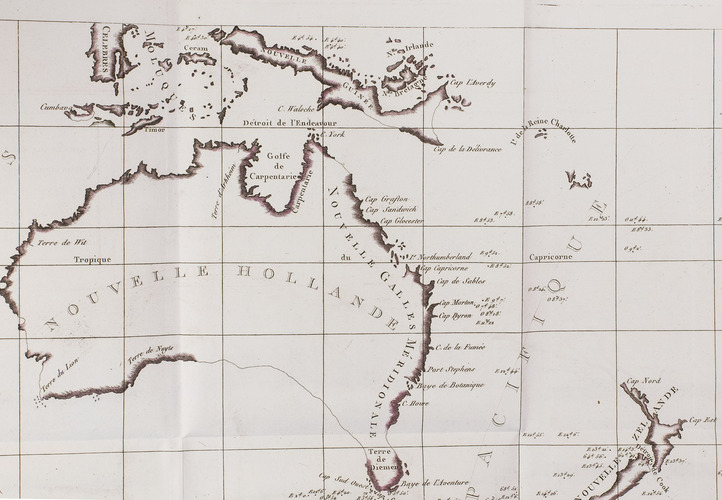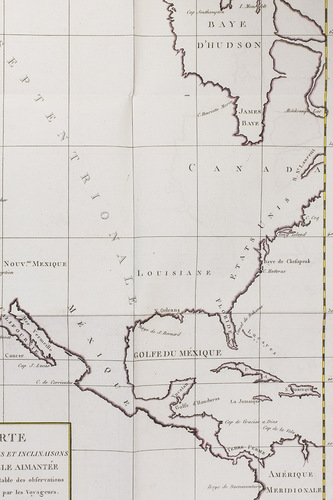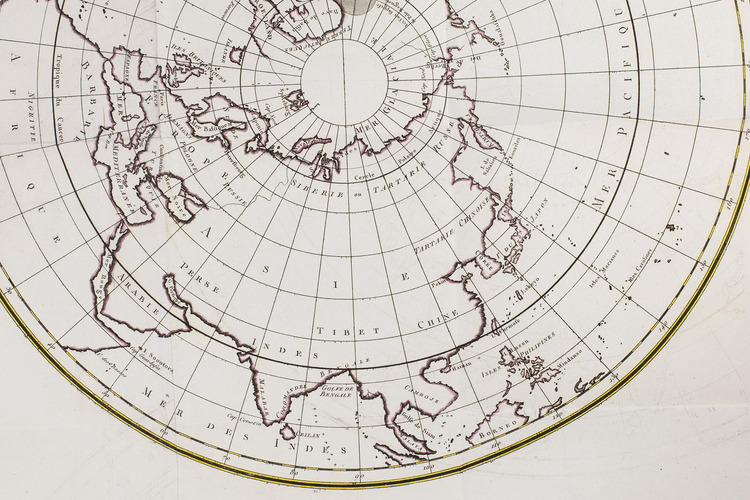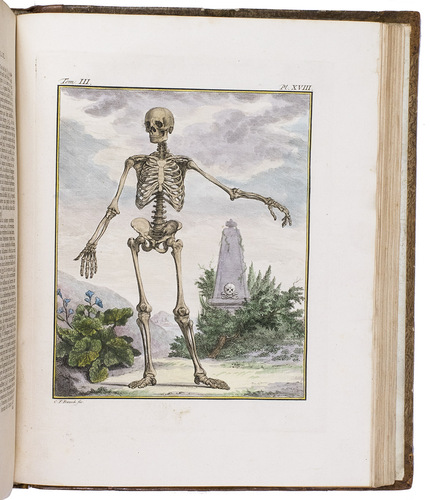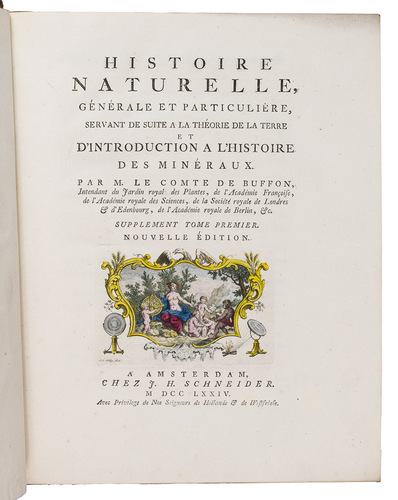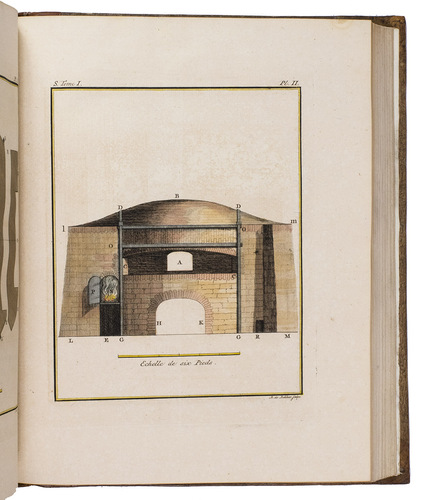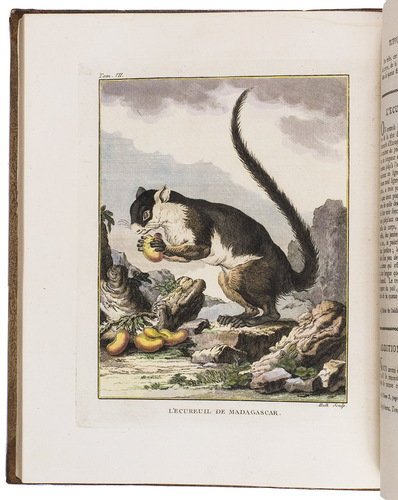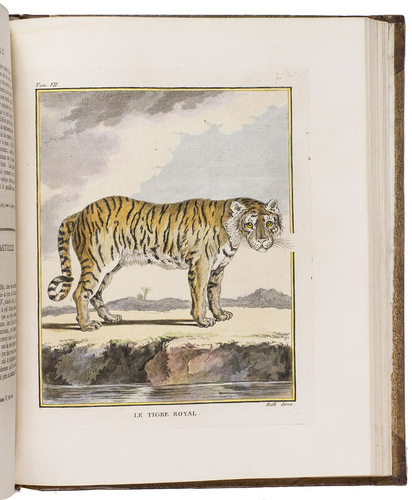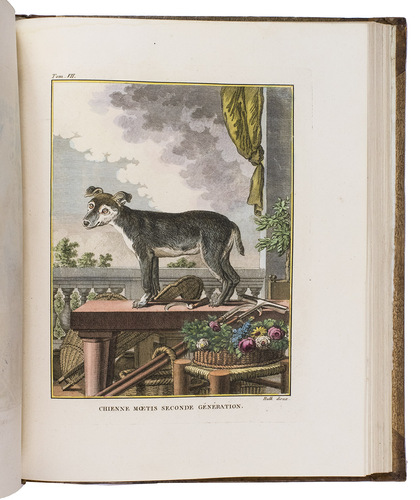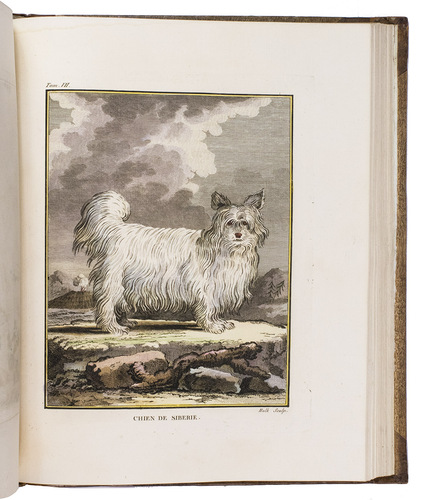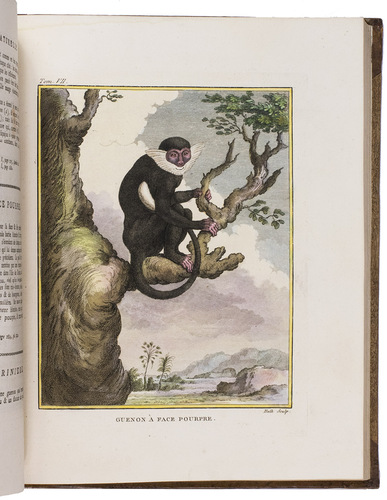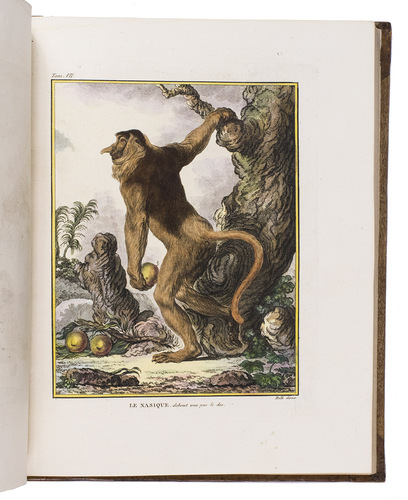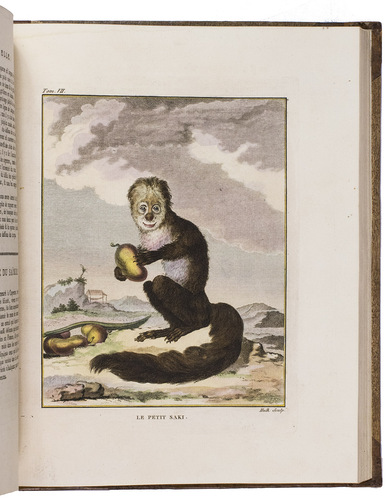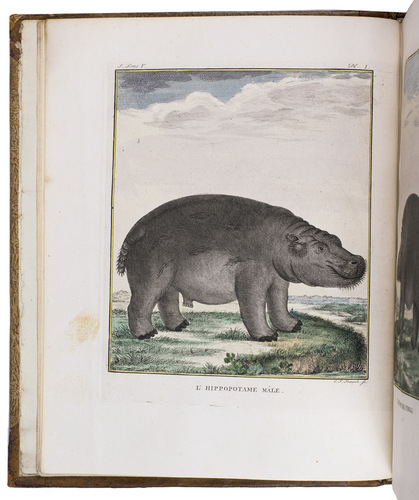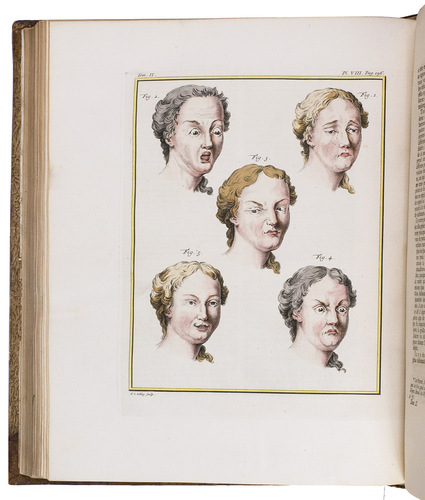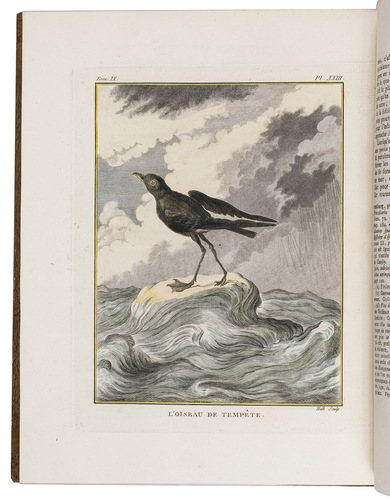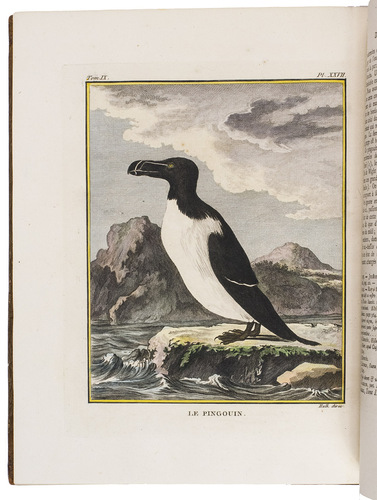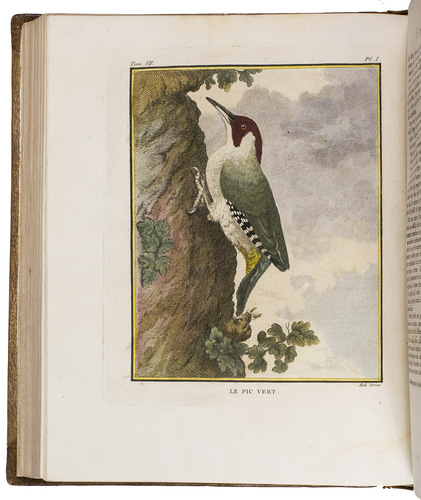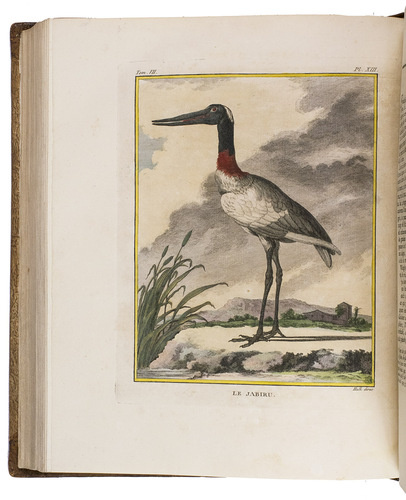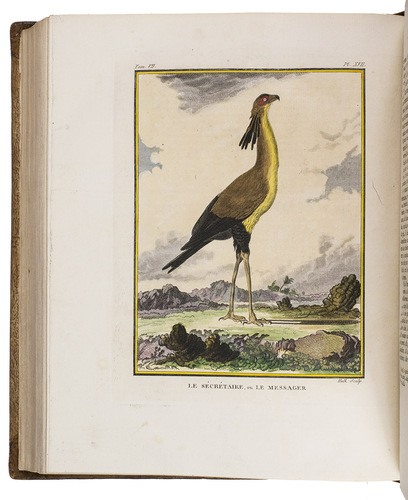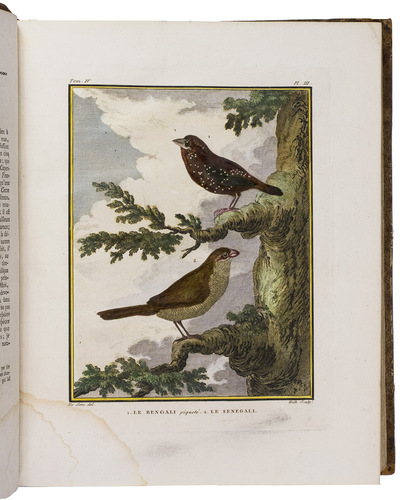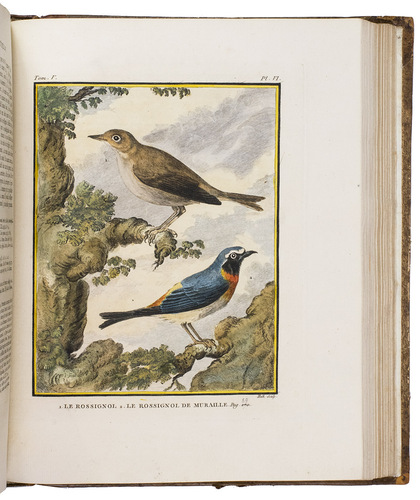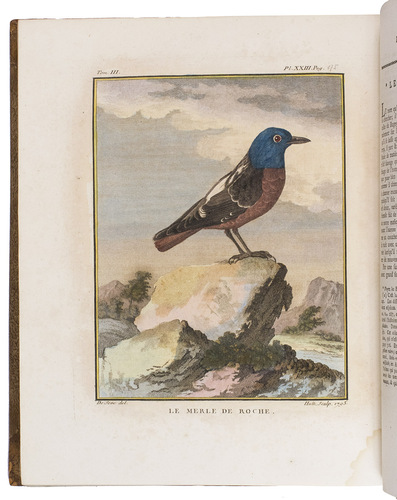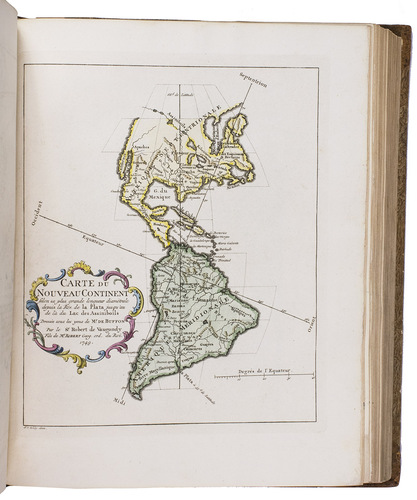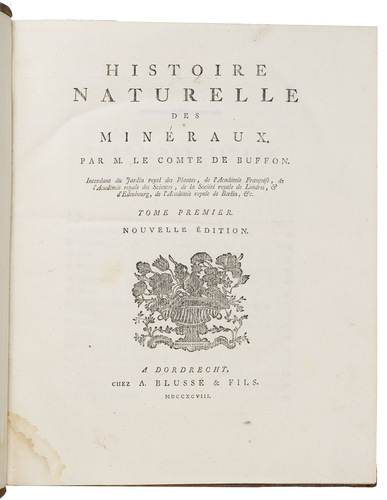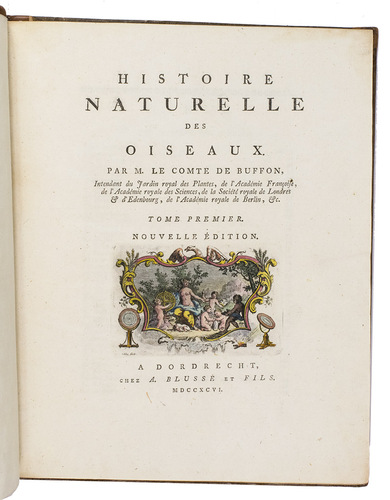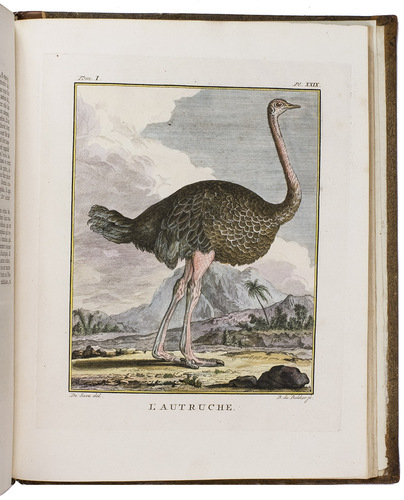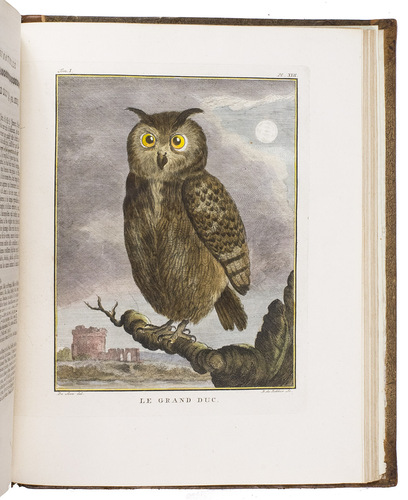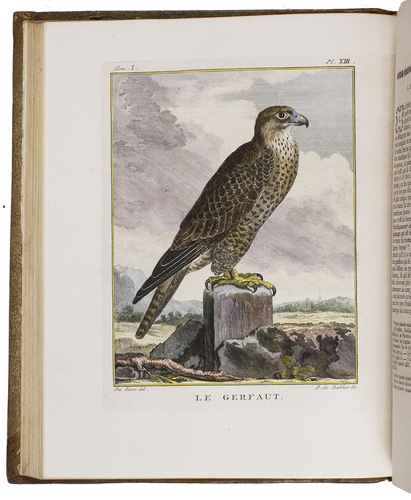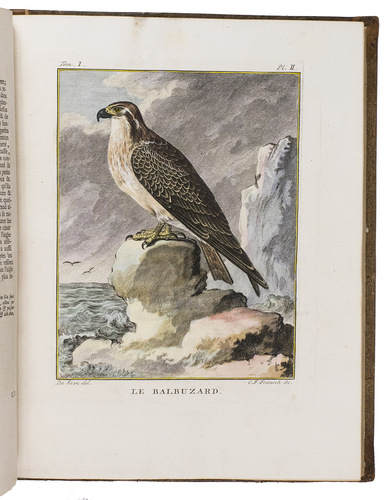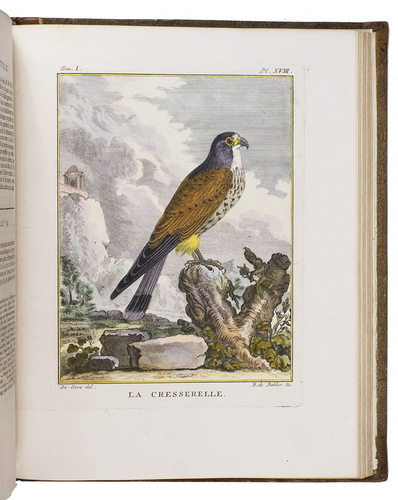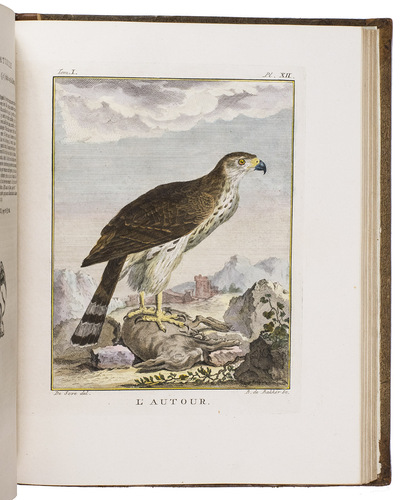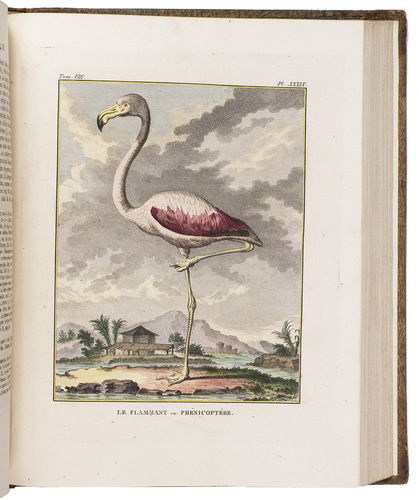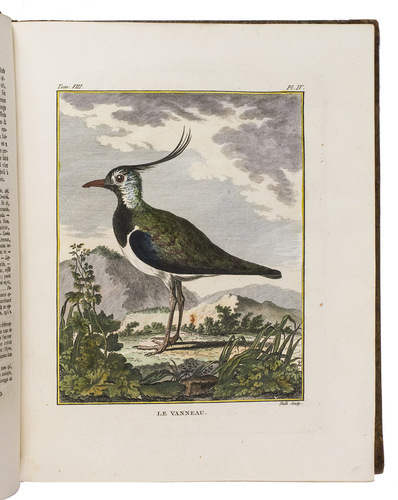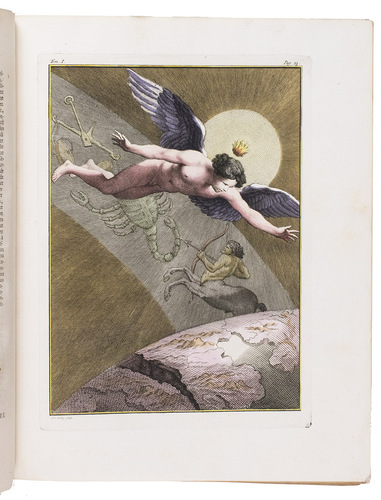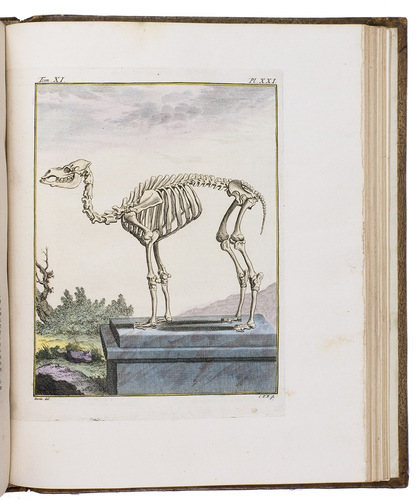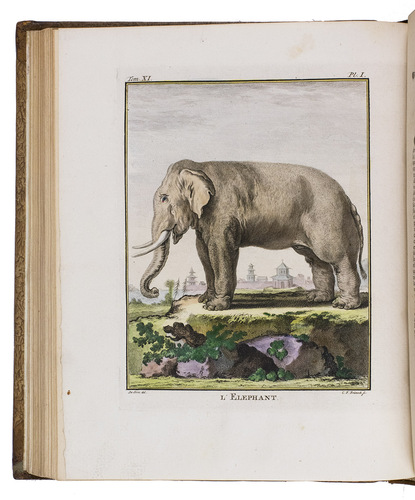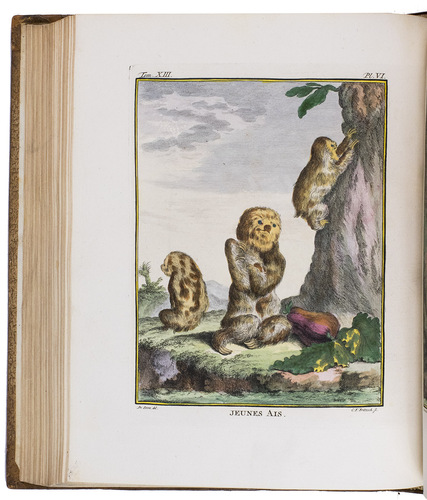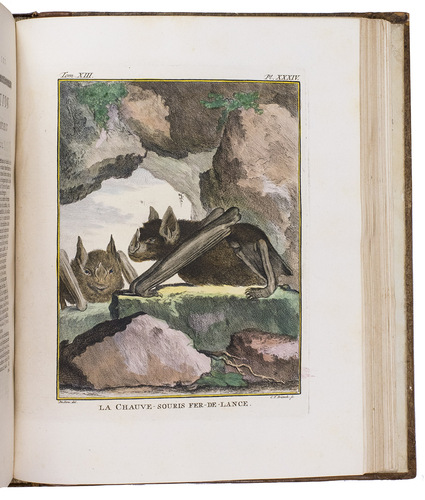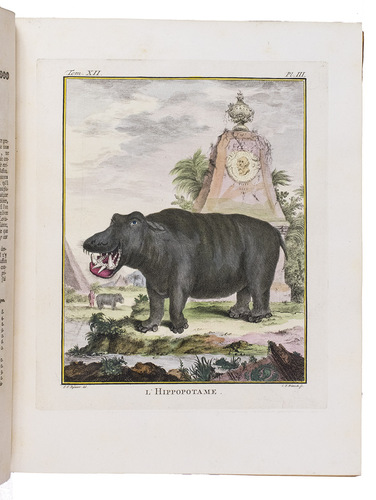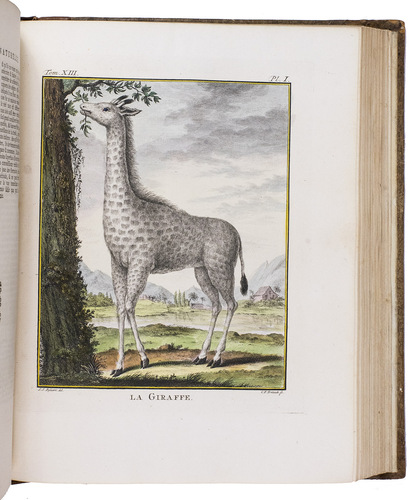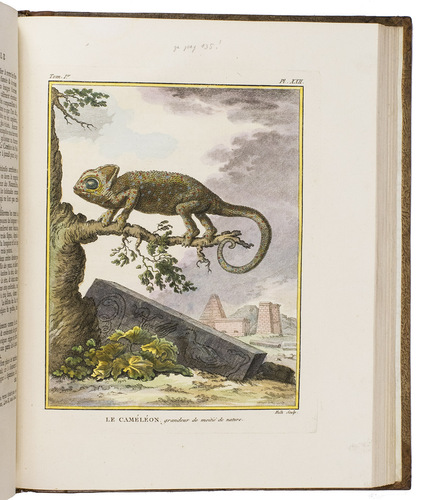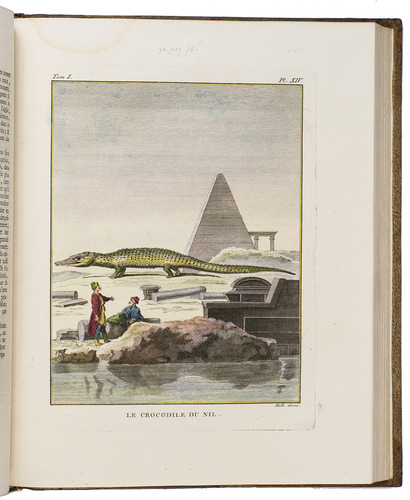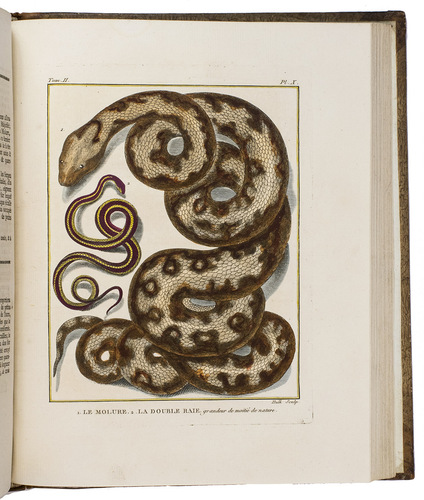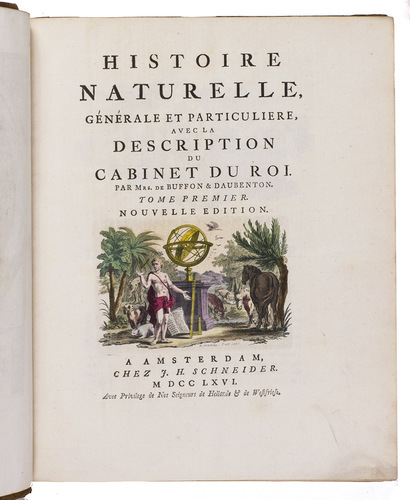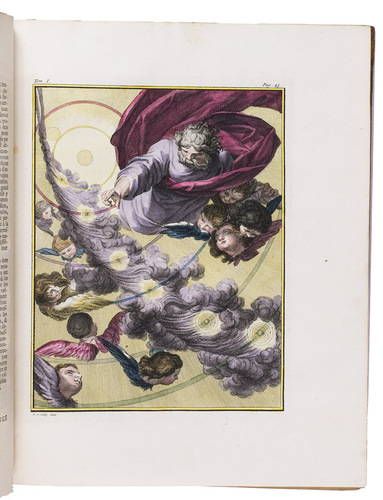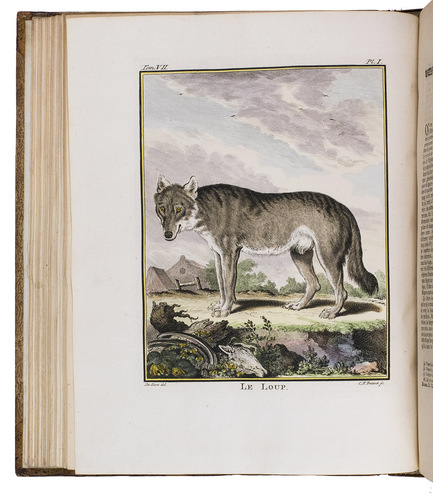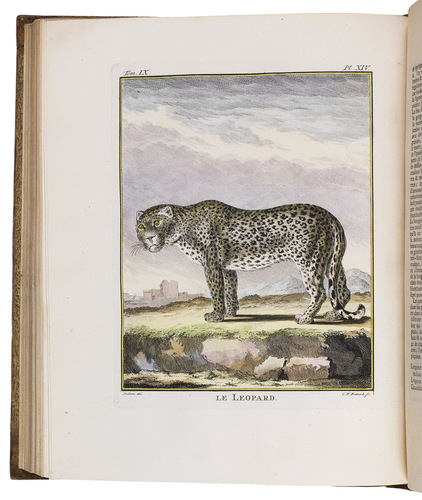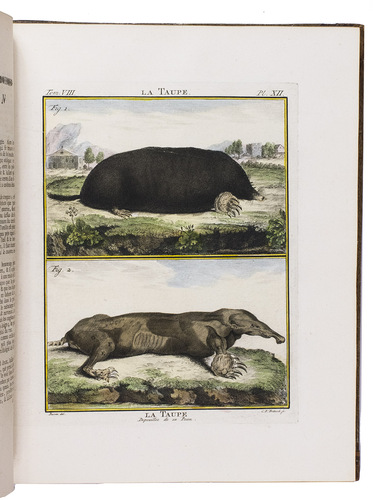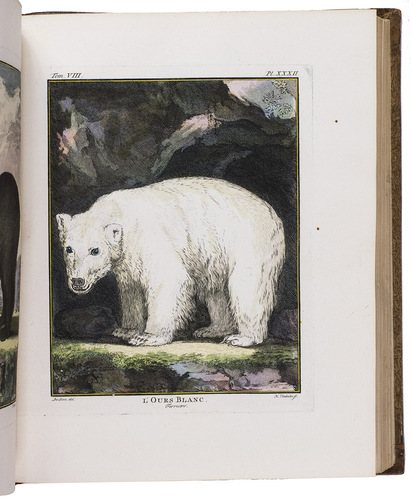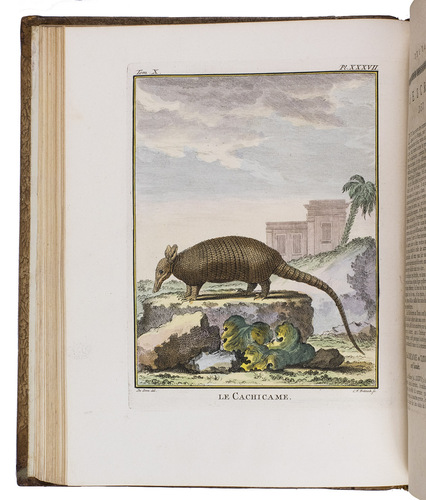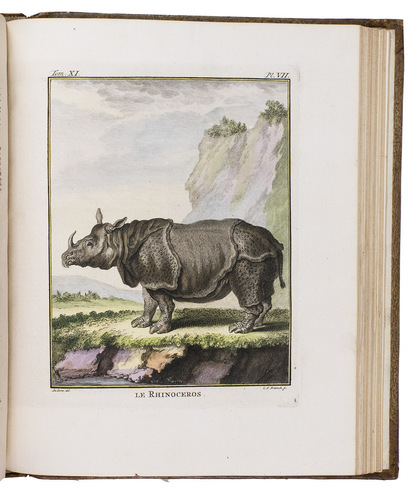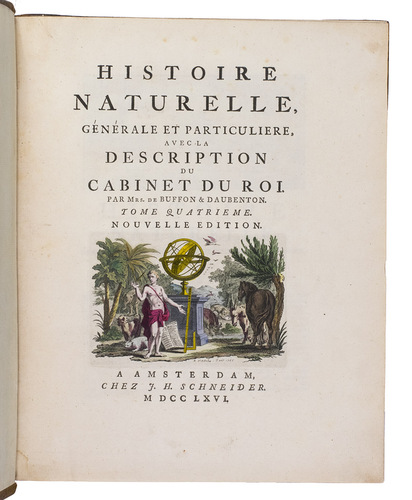 BUFFON, Georges-Louis Leclerc de.
Histoire naturelle, générale et particulière, avec la description du cabinet du roi. Nouvelle édition.
Dordrecht, Abraham Blussé, 1766-1799. 38 parts in 21 volumes. Large 4to. With more than 1100 hand-coloured engraved plates, 10 maps, 1 folding engraved table, and an engraved portrait of Buffon (by Houbraken, with an extra-added uncoloured portrait pasted on the verso). Contemporary, uniform half tanned sheepskin.
€ 125,000
Finely hand-coloured copy of the 1766-1799 Netherlands edition (in French) of Buffon's justly famous Histoire naturelle, the complete first series, covering the formation of the earth, humans, mammalian quadrupeds and apes, reptiles and amphibians, birds, fishes and even minerals, also describing the royal collection of Louis XV. Buffon's work presents ''for the first time a complete survey of natural history in popular form'' (PMM). The present set, in the works rarest and most expensive form, is exquisite. The subscription notices periodically mention copies printed on fine paper, but they do not mention hand-coloured copies. Landwehr, discussing the first Dutch-language edition (no. 46, by the same publisher) cites contemporary sources referring to four forms of publication: on regular paper, on large paper, with hand-coloured plates and (most expensive of all) with hand-coloured plates and vignettes.
Buffon opens the first volume with an essay called "Théorie de la terre", where "for the first time he outlines a satisfactory account of the history of our globe and of its development as a fitting home for living things. In his view the earth had been originally part of the sun which was broken off by the impact of a comet. It gradually condensed from its gaseous state, and the forces shaping its continents and mountains are still active'' (PMM).
From his exhaustive research for the Histoire naturelle des quadrupèdes, Buffon came to the conclusion that it was necessary to reintroduce the notion of family. Breaking with the spirit of his time, Buffon attempted to separate science from metaphysical and religious ideas. As a disciple of Locke he denied idealistic metaphysics, stating that mental abstractions can never become principles of either existence or real knowledge; these can come only as the results of sensation'' (DSB).
Buffon did not believe in the fixity of species but proposed that nature is constantly changing. For instance, in the case of quadrupeds he stated that there were 38 basic types that degenerated over the centuries. According to Buffon, the monkey is a degenerated man, the ass a degenerated horse. His interest in the precise connection between groups of animals that are obviously related prompted Buffon to devote much attention to comparative anatomy in the Histoire naturelle. He also stressed the importance of the study of earth sciences for botany and zoology. "Life and animation, instead of being a metaphysical point in being, is a physical property of matter" (DSB). Buffon's views on the origin and development of species and the history of the earth show how he tried to describe natural phenomena by means of science, discarding metaphysical and religious explanations. "He was the first to create an autonomous science, free of any theological influence ... [and] establish[ed] the intellectual framework within which most naturalists up to Darwin worked" (DSB).
Buffon was assisted by the anatomist Louis Daubenton and others, and the final volumes were completed after his death under the direction of Comte de Lacépède.
With the owners name "Sir G[eorge]. Murray" (1772-1846) on the half-title of most volumes. He was a Scottish soldier from a noble family, who served in Flanders, the West Indies, Egypt and elsewhere, eventually becoming quarter master general of Wellingtons staff in Spain and Portugal and reaching the rank of General. He was Knighted in 1813, held governorships of several colonies and the military college at Sandhurst, along with leading posts at the Colonial Office (where he helped establish the colony of Western Australia) and served from 1823 as a member of the British parliament. With the bookplate of the German entrepreneur and bibliophile Hans Dedi (1918-2016). Lacking a few half-titles (for example in the bird volumes 1 and 2), but otherwise in very good condition (most of the plates fine), with occasional stains and spots, a few tears and repairs, the binding also with some minor wear and repairs. A splendid copy of a seminal monument of natural history. Landwehr, Coloured plates 45 (and 46, Dutch ed.); Nissen, ZBI, 678.
Related Subjects: