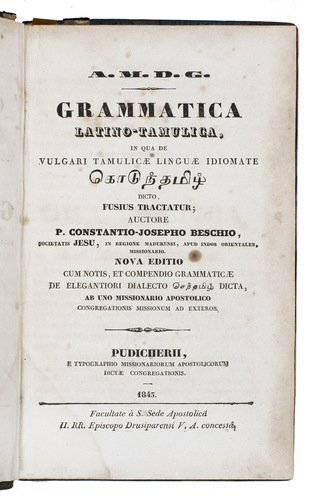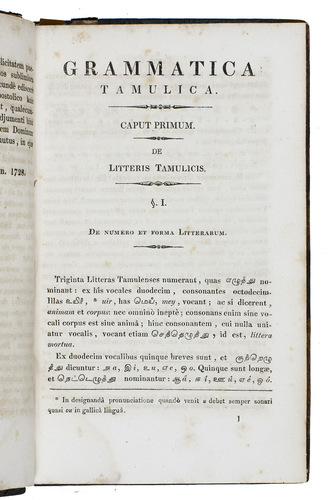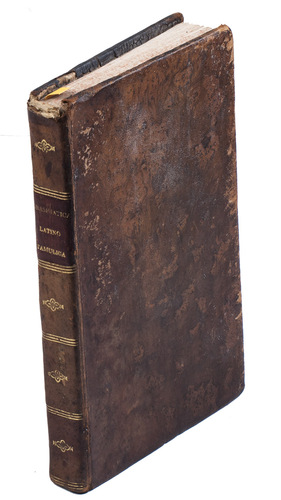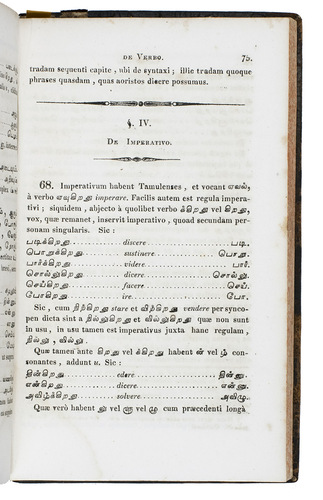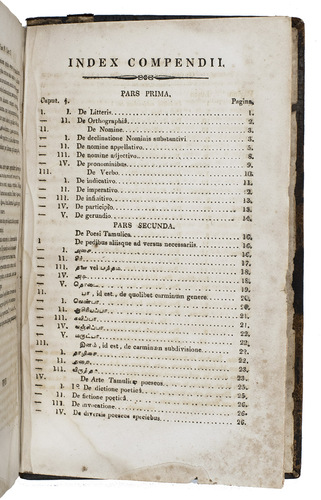 BESCHI, Constanzo Guiseppe.
A.M.D.G. Grammatica Latino-Tamulica, in qua de vulgari Tamulicae linguae idiomate [in Tamil type: kotun tamil] dicto, fusius tractatur .... Novo edition cum notis, et compendio grammaticae de elegatiori dialecto [1 word in Tamil type] dicta, ab uno missionario apostolico congregationis missionum ad externos.
Puducherry, Apostolic Missionary Printing Office, 1843. 4to. Text set partly in 2 sizes of Tamil type. Contemporary tree calf, gold-tooled spine. [4], VIII, 215, [1 blank], 28, [2] pp.
€ 1,250
Rare fourth (first Puducherry) edition of the first Tamil dictionary, a ground-breaking linguistic work by the missionary Constanzo Beschi (1680-1747), first published at Tranquebar in 1738 and 1742 and at Madras in 1813. References to an 1845 Puducherry edition merely misread the 3 as a 5.
The Italian Costanzo (Constant) Giuseppe Beschi, also known by his Tamil name, Viramamunivar, was a Jesuit missionary in South India. Having acquired a great mastery of the Tamil language, and written popular works in the language, he is sometimes regarded as the father of modern Tamil literature. He published 23 works in Tamil. The present dictionary translates the every-day "low" Tamil language used by the common people. The main work is followed by a 28-page compendium.
Small bookplate in Tamil on the front paste-down, stamp on the back of the title-page. Inscription in ink on back paste-down, dated from Rome, 14 December 1947. Some spotting throughout. Top of spine slightly damaged, covers slightly rubbed. Otherwise in good condition. Bibl. Danica IV, 83; Jean-Luc Chevillard, "The challenge of bi-directional translation ... by the first European missionary grammarians and lexicographers of Tamil", in: La traduction dans lhistoire des idées linguistiques, pp. 111-130, item 4 on p. 115; De Backer & Sommervogel I, col. 1402; Missionary linguistics III, 1738 [1728].
Related Subjects: