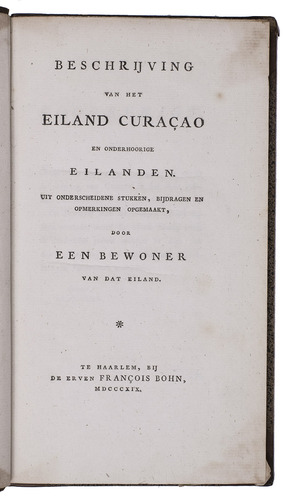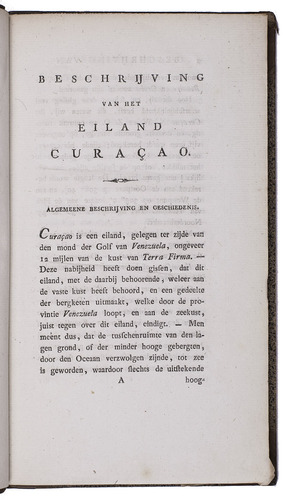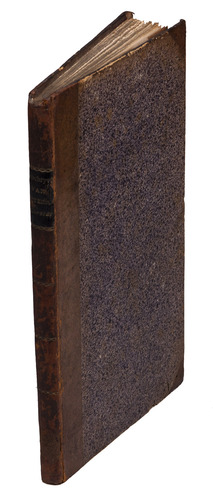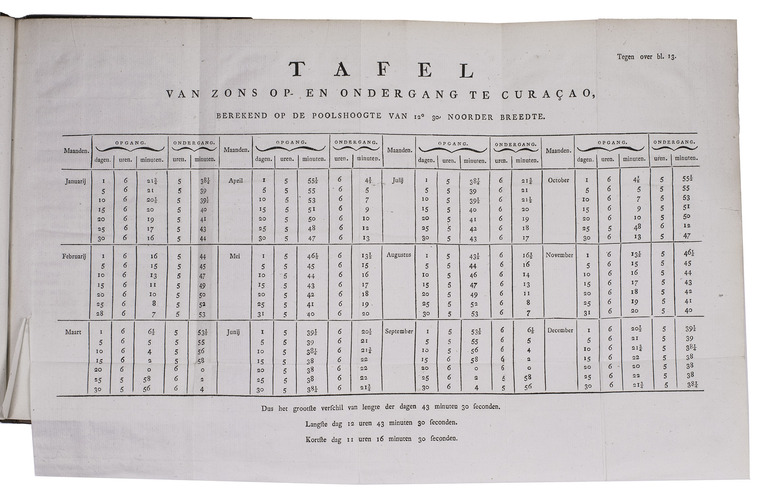 [PADDENBURGH, Gerrit Gijsbert].
Beschrijving van het eiland Curaçao en onderhoorige eilanden. Uit onderscheidene stukken, bijdragen en opmerkingen opgemaakt, door een bewoner van dat eiland.
Haarlem, heirs François Bohn, 1819. 8vo. With folding letterpress table. Contemporary half calf. [4], 90, [2 blank] pp.
€ 1,250
First and only edition of a description of the Dutch colony of Curaçao, by the first Dutch writer who permanently settled on the island. Although the book was written for an audience in The Netherlands, much of the information is of practical use and seems to aim at new visitors or settlers. After a description of the geography and climate of the island, the author describes the various settlements forming Willemstad. The houses of Willemstad are described as being in Dutch style and plastered white, although the government has started painting the houses yellow and dark grey.
The author adresses salvery only when he states that his European reader, "agitated by the growing number of writings by so-called philanthropic authors", should not think that the slaves lead a hard life, especially compared with the common people in Europe. What follows is a description of the so-called easy life of the slaves who, the author believes, have far less needs than a person of European descent. He finds his proof in the increasing number of slaves on the island which, after the slave trade had been abolished in 1814, is entirely due to the high birth rate among slaves, which he considers equal to a good life.
Gerrit Gijsbert van Paddenburgh (1783-1824) was a Dutch teacher and writer who in 1816 settled on Curaçao. After being fired as a teacher due to a drinking problem, he worked as a writer and journalist on the island.
With a shelfmark of the "Bibliotheek van Doctrina & Amicitia" on the paste-down. Binding worn at the sides with light restoration at the edges and a few wormfoles at the bottom of the front. One leaf has a tear in the foot margin (not reaching the text), otherwise a very good copy. Cundall, Bibliography of the West Indies 1481; Kuijk, "Uitgespuugd maar toch gebleven", in Leijnse & Van Kempen (eds.), Tussenfiguren, pp. 95-108; Sabin 58127.
Related Subjects: