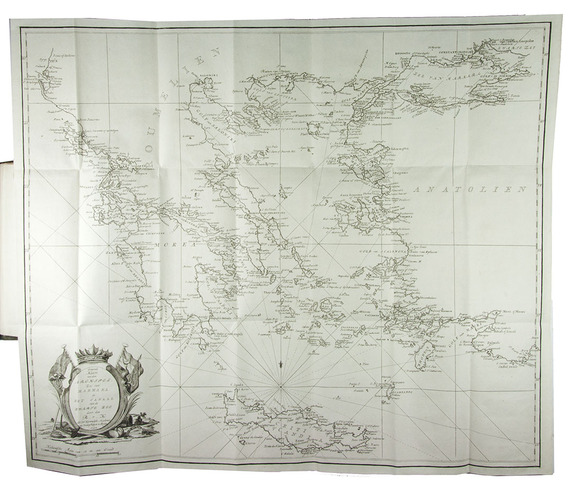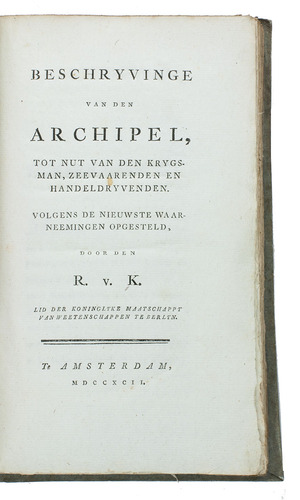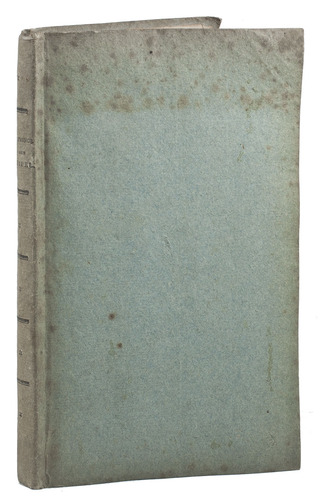 [KINSBERGEN, Jan Hendrik van].
Beschryvinge van den archipel, tot nut van den krygsman, zeevaarenden en handeldryvenden.
Amsterdam, 1792. 8vo. With a large folding engraved sea chart (57.5 x 68.5 cm). Publisher's original flexible boards covered with blue paper, with the title and decoration printed letterpress on the spine. [8], 190, [2 blank] pp.
€ 1,850
Rare first Dutch edition of a detailed account of the Greek islands (the first edition to include the sea chart), by the great Dutch-German Admiral and naval strategist Kinsbergen, known as the Hero of the Black Sea for his successes in battles against the Turks in the 1770s. He gives a detailed description of the region, island by island, with the emphasis on navigation along the coasts, but also with information on fortifications. The book is explicitly directed to military men, seamen and merchants active in the area, and expresses the hope that political changes may in the future lift these islands out of their present state.
The map of Greece and the surrounding seas is in Mercator projection at a scale of about 1:1,400,000, with rhumb lines (with a fleur-de-lis indicating north toward the head), parallels and meridians, and reticulated scales of latitude in the left and right border. Neither book nor map bears Kinsbergen's name, but both give his initials R.v.K. (R presumably for Rik, short for Hendrik).
Some spotting on boards. Otherwise a fine copy, virtually untrimmed and in the original publisher's binding. KVK (5 copies); Sloos, Warfare 15317; STCN (4 copies); cf. Cat. NHSM, p. 195 (1793 ed.); Tiele, Bibl. 599 (1793 ed.); for the author: Biogr. woordenb. Gelderland V, pp. 70-72.
Related Subjects: