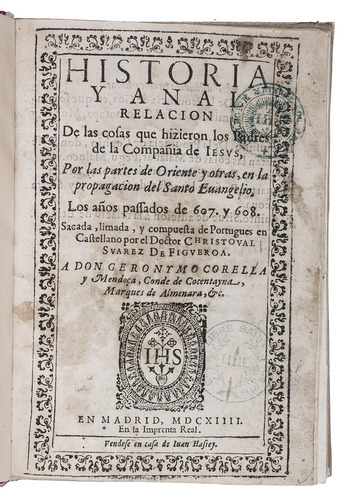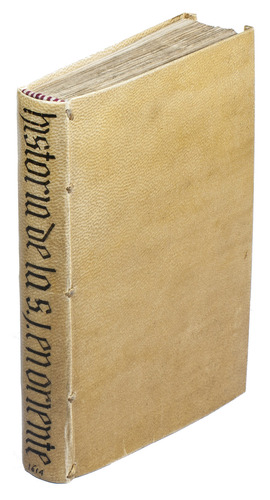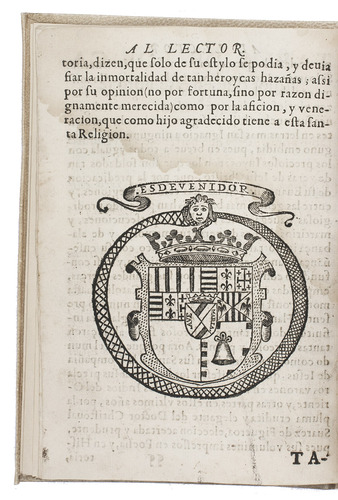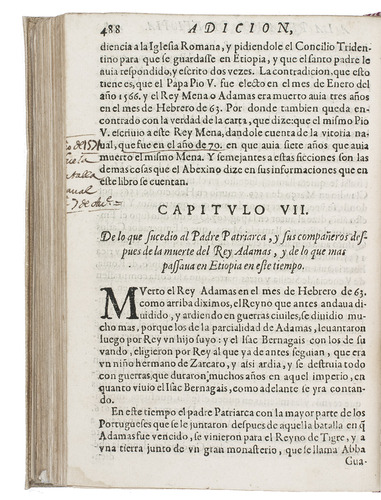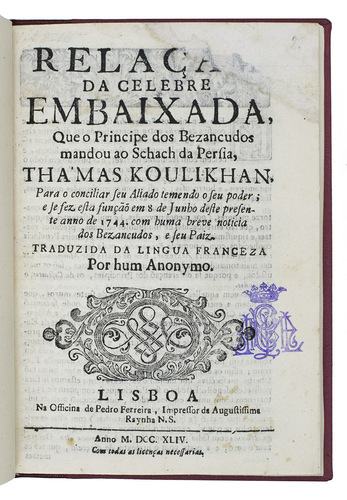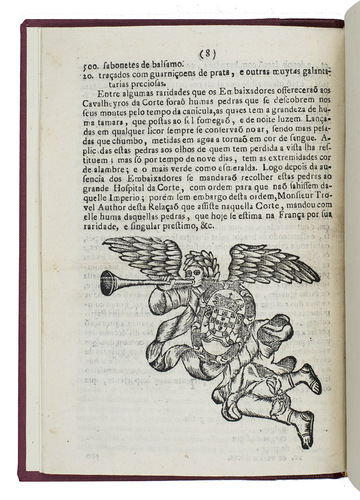 [GUERREIRO, Fernão (ed.)]. and Christobal SUÁREZ DE FIGUEROA (transl.).
Historia y anal relacion de las cosas que hizieron los padres de la Compañia de Jesus, por las partes de Oriente y otras, en la propagacion del Santo Evangelio, los años passados de 607. y en 608.
Madrid, Imprenta Real, sold by Juan Hasrey, 1614 (colophon 1613). 4to. With a woodcut IHS Jesuit device in a decorated cartouche on the title-page, the whole in a border built up from typographic ornaments and acorns; the large woodcut coat of arms of the dedicatee, Don Geronimo Corella y Mendoza; a large woodcut scrollwork tailpiece; 6 woodcut decorated initials (6 series); and headpieces built up from arabesque typographic ornaments. Set in roman types with extensive italic, some cut by François Guyot in Antwerp. 20th-century sheepskin parchment over flexible boards, turned in at the fore-edge, sewn on 3 alum-tawed thongs laced through the joints, with the title in thin textura lettering down the spine. [16], 566, [1], [1 blank] pp.
€ 9,000
First Spanish edition of an extensive account of the missions of the Jesuit missionaries in the years 1607 and 1608 in India, South East Asia, the East Indies and Africa, concerning especially in more detail their efforts in different provinces and places in India. It discusses among others the missions in the province of Goa, including the journey from Father Manuel Piñero from Lahore to Goa and Cambay. Also the missions to the Malabar Coast and Kerala in India are covered in this work, as he describes the missionary efforts in Kodungallur (Cranganore), Kochi (Cochin) and Quilon. Last but not least, the author reports the missions at Madurai (Tamil Nadu) in southern India and at Ceylon (Sri Lanka), more specifically Colombo.
The other books describe the travels of the missionaries to many places in South East Asia, the East Indies and Africa, such as Japan, China, Malacca, the Moluccas, Sierra Leone, Myanmar (Pegu/Begu), Guinea, Mozambique, South Africa (Monomotapa/Mutapa) and Ethiopia and the state of the Jesuits there as well as the news and happenings concerning their missions. The present edition is very rare on the market and seldomly offered for sale, the last time being at auction in 1991.
With the 18th-century library stamp of the Jesuit College in Metz, France (dissolved 1762) and the ca. 1900(?) stamp of the Ecole Libre Saint Joseph in Lille, French Flanders, on the title-page. With a few stains in the prelims, a few tiny holes in the first 4 leaves and the trim at the head just touching the running head on one or two pages, but still in good condition. An important source for the work of Jesuit missionaries in Asia and Africa in 1607 and 1608. Iberian books B4956; Palau 323907; Cat. bibl. Salvá (1872), no. 3343; USTC 5017687; for Guerreiro and the 1611 Portuguese edition: De Backer & Sommervogel III, cols. 1913-1915.
Related Subjects: