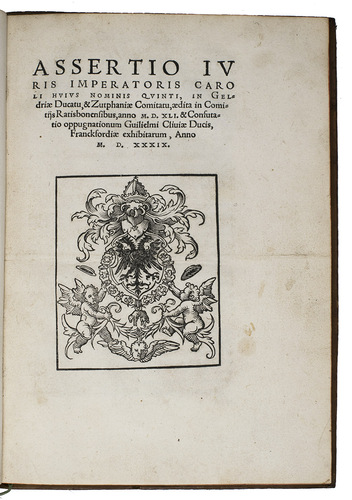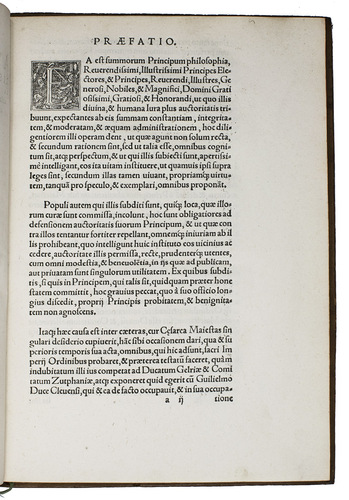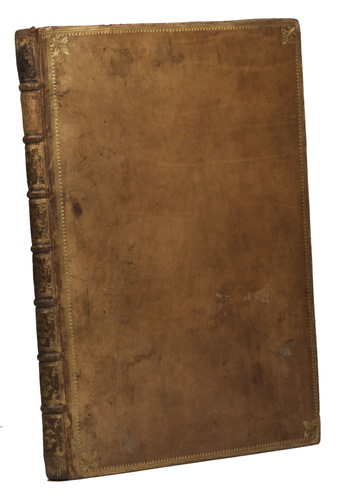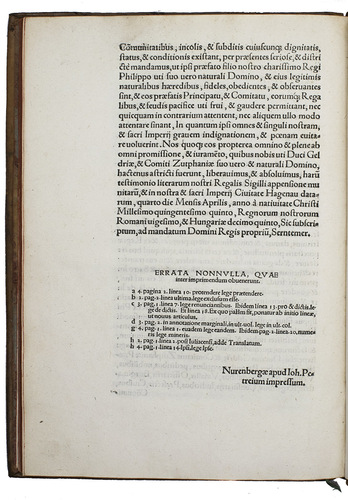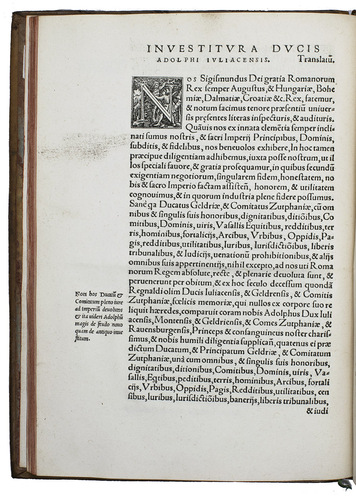 [GELDERLAND - CHARLES V].
Assertio juris Imperatoris Caroli huis nominis quinti, in Geldriae Ducatu, & Zutphaniae Comitatu, aedita in Comitijs Ratisbonensibus, anno M.D.XLI. & confutatio oppugnationum Guilielmi Cliviae Ducis, Franckfordiae exhibitarum, anno M.D.XXXIX.
Nuremberg, Johann Petri, [1541]. Large 8vo. With a large ornamental woodcut coat-of-arms of Charles V, 11 woodcut initials with pictorial decoration. 18th-century gold-tooled calf, richly decorated spine. [45], [1 blank] ll.
€ 3,900
One of the first two editions (order uncertain), in the original Latin, this one published at Nuremberg, of the assertion by the "Reichstag", the meeting of the Imperial Counts of the Holy Roman Empire in Regensburg, of the Emperor Charles Vs rights to the Duchy of Gelre and the County of Zutphen, as well as the rejection of the objections raised by Wilhelm, Duke of Cleve (and since 1538 also Duke of Gelre) at Frankfurt in 1539. It was a loss for the Dukes of Gelre in their struggle against the Emperor Charles V, who wanted to include Gelre in his empire. He actually succeeded in doing so in 1543, two years after the present publication. A short list of errata appears at the end.
The first three editions of the present Assertio in the original Latin (and a German translation) all appeared by 1541. Although the present edition is undated, the colophon of the 1541 Antwerp edition by Martinus Meranus (Marten Vermeere) explicitly notes that it follows Petris present Nuremberg edition ("ad exemplar Joannis Petrei, Nurenbergae impressum"), which therefore cannot be later than 1541 (it is usually ascribed to that year), while the Cologne edition by Quentel is dated August 1541. The texts of the Cologne and the present Nuremberg editions show several differences and each has a list of errata at the end, but the errata are completely different and neither edition incorporates the corrections from the other, suggesting a degree of independence.
In very good condition and with large margins (leaf size 26.5 x 18.5 cm). Traces of the removal of a large bookplate(?) once pasted on the first endleaf. USTC 613601 (14 copies); VD16, A 3911 (8 copies); cf. BMC STC Dutch p. 83 (1541 Antwerp ed.), Tiele, Pamfletten 13 (idem), Barbier IV, col. 1161 (idem); not in Adams.
Related Subjects: