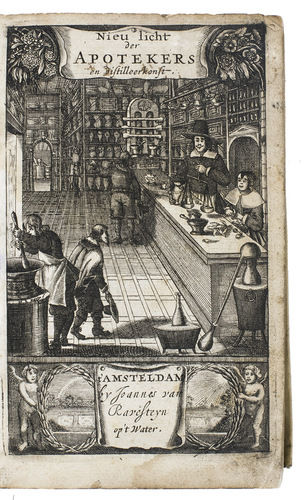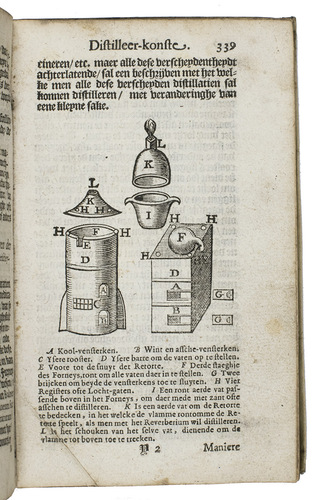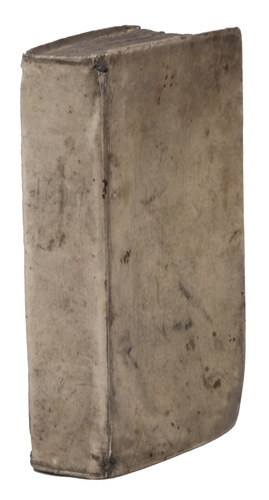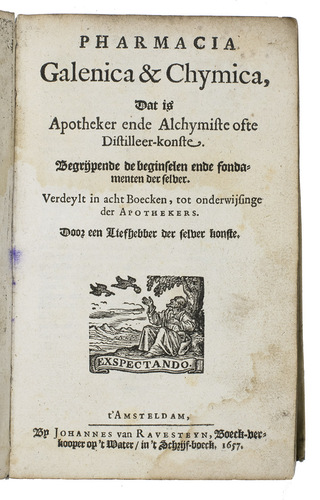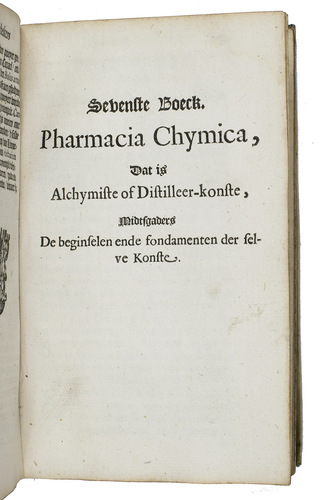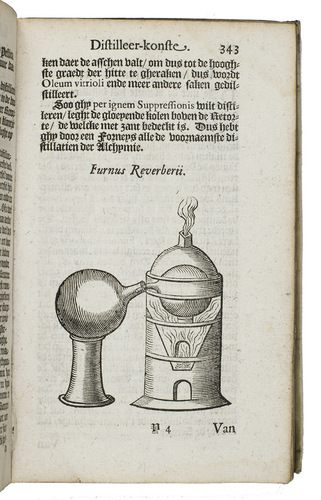 [BISSCHOP, Jan].
Pharmacia Galenica & chymica, dat is: apotheker ende alchymiste ofte distilleer-konste. Begrijpende de beginselen ende fondamenten der selver. [Additional title and imprint on the frontispiece:] Nieu licht der apothekers en distilleerkonst. ... tAmsteldam by Joannes van Ravesteyn op t Water.
Amsterdam, Johannes van Ravesteyn, 1657. 8vo. With an engraved frontispiece showing the interior of an apothecarys shop, Van Ravesteyns woodcut device on title-page (Elijah and the ravens); 3 half-page woodcut illustrations of distilling equipment (pp. 339, 343 and 387); woodcut decorated initials and tailpieces. Contemporary overlapping vellum over boards. [8], 460, [12] pp.
€ 2,500
Rare first known edition of a successful apothecarys manual for students, written in Dutch, mirroring the general knowledge of pharmacology in the middle of the 17th century. The author of this intriguing book long remained unidentified until his initials "I.B.S.I" (fol.*3v of the 1662 "4th" edition, in the Latin note following the Dutch approbation, both signed from Ghent) identified him as Jan Bisschop S.J. (1590-1664) who worked in Bruges as a pharmacist before he moved to Ghent in 1613 to join the Jesuit order. He trained numerous apprentice pharmacists and later served as official pharmacist at the Vienna court of the Holy Roman Emperor Ferdinand II. His book owed its success above all to its extremely practical approach, including its vast collection of medicinal recipes, many involving distillation.
With owners inscription of Carolina van de Poel on paste-down. Small tear in vellum of back board, bookblock somewhat loose in binding, no endpapers; frontispiece and first leaves a bit thumbed. First known edition of a practical apothecarys manual in Dutch. Paul Begheyn, Jesuit books in the Dutch Republic 1657.1 (1 copy); BMN, I, p. 372; P. Boeymans, "Broeder Jan Bisschop en zijn Pharmacia Galenica", in: Pharmaceutisch tijdschr. voor België, 33, 9 (1956), pp. 197-201; Hoogendoorn, Bis 01, 1 (3 copies); Jesuit books in the Dutch Republic, p. 52 ; Notaker 409; STCN (1 copy); L.J. Vanderwiele, "Het Licht der apotekers", in: Kring voor de Geschiedenis van de Pharmacie in Benelux, Bulletin, 27 (1960), pp. 1-8; L.J. Vandewiele, "Enige nieuwe gegevens over apotheker Jan Bisschop, Jezuïet", in: Pharmaceutisch tijdschr. voor België, 51, 9 (1974), pp. 443-449; cf. STCV (1667 Antwerp eds. & possibly a 1660/61 Latin translation).
Related Subjects: