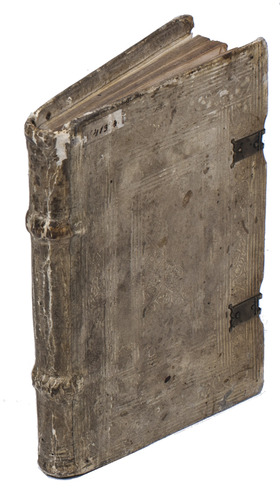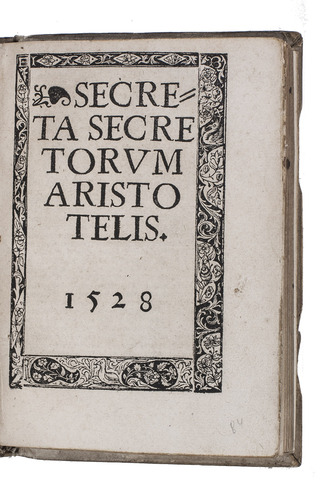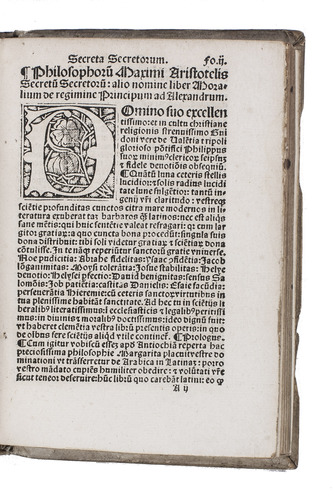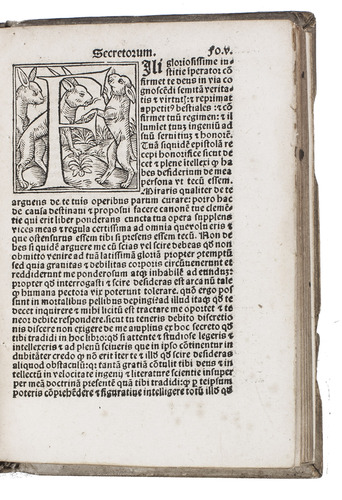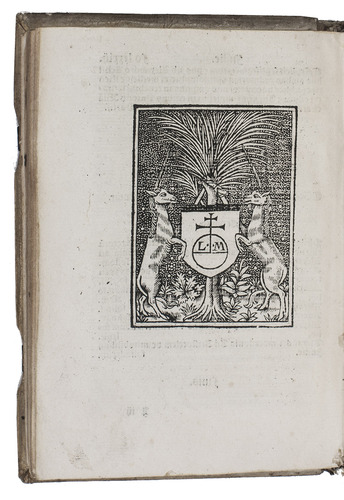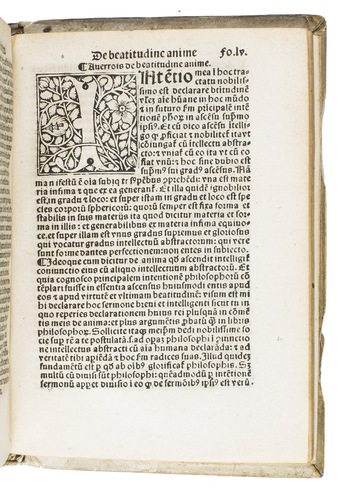 [ACHILLINI, Alessandro].
Secreta secretorum Aristotelis.
Including:
ARISTOTLE [pseudo]. Maximi philosophi ... de signis aquarum: & tempestatum.
ARISTOTLE [pseudo]. Maximi philosophurum ... de mineralibus.
ALEXANDER OF APHRODISIAS. De intellectu.
AVERROES. De beatitudine anime.
ACHILLINI, Alexander. De universalibus.
ALEXANDER THE GREAT [pseudo]. De mirabilibus Indie.
(Colophon: Lyon, Antoine Blanchard, 1528. Small 8vo. With a title-page with a 4-piece decorated woodcut border with flowers, birds and snails, woodcut printer's device on last page, 6 woodcut initials and a leaf ornament. Set in 3 sizes of rotunda gothic types, with the title in roman capitals. Contemporary blind-tooled sheepskin(?) parchment over wooden boards, in a panel design with quadruple fillets and 2 decorative rolls, brass catch-plates and anchor-plates (straps and clasps lost). LXXXIII ll.
€ 11,500
Fourth edition of a collection of seven treatises on medicine and philosophy, edited by Alessandro Achillini (1463-1512), originally published as Secretum secretorum at Bologna in 1501 (perhaps without the second and third works). It first appeared under the present title in 1520. Achillini was one of the greatest anatomists of his time and an influential teacher. He studied philosophy and medicine at the university of Bologna, where he was appointed lecturer of philosophy in 1484 and of medicine in 1495. From 1506 to 1508 he also taught at Padua.
Four of the works in the present collection are pseudo-Aristotelian works that had been well known since the 13th century or earlier. The Secreta secretorum is here present in the translation of Philip of Tripoli; the De signis aquarum, ventorum et tempestatum on weather signs, was translated in the 13th century by Bartholomew of Messina; the third pseudo-Aristotle is De mineralibus on gems; the fourth, Alexandri Macedonis ad Aristotelem de mirabilibus Indie, is a fictitious letter by Alexander the Great to his teacher Aristotle, describing the wonders of India and the East. All four of them were accepted during the later Middle Ages as reliable literary portraits of the Indians, especially of the Brahmans.
The three remaining treatises in the present work consist of a work by Alexander of Aphrodisias on the intellect, another by Averroes on the beauty of the soul, and a work by Achillini himself on universals. Vervliet, Vine leaf ornaments 54, cites the present edition as the first use of its ornament.
Very good copy, with very slight browning and a few marginal spots, lacking the final blank. Binding lacking straps and clasps, and with the (restored?) spine damaged. Baudrier V, p. 104; Stillwell 578; USTC 155810 (8 copies); cf. Lach II, book 2, p. 94 (for De mirabilibus Indie); Thorndike V, pp. 47-48 (1501 & 1520 eds.).
Related Subjects: