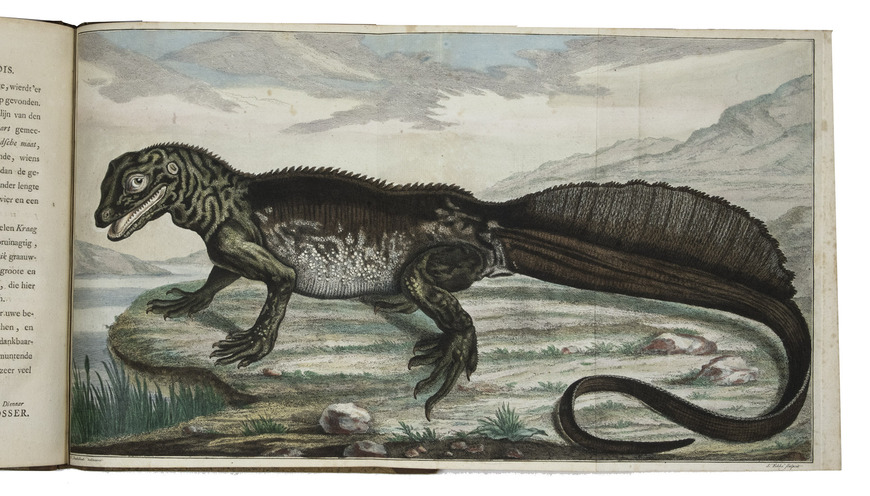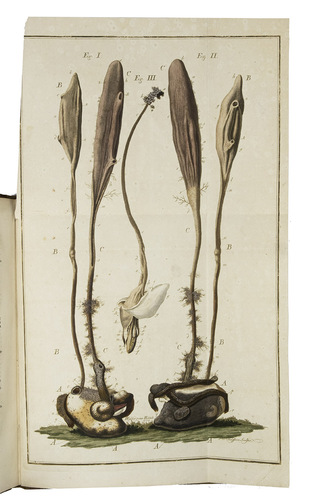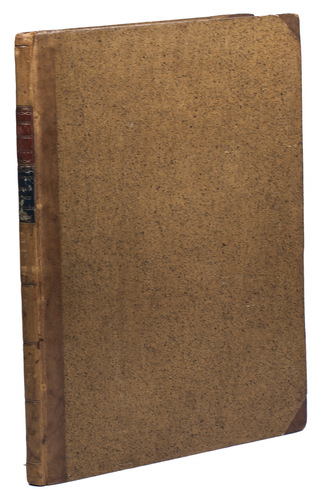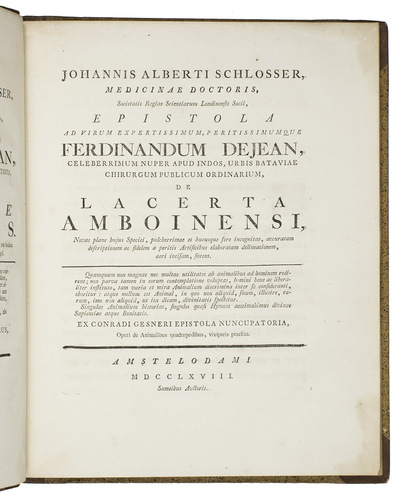 SCHLOSSER, Johan Albert.
Epistola ad virum expertissimum, peritissimumque Ferdinandum Dejean, ... de Lacerta Amboinensi, novae plane hujus speciei, pulcherrimae et hucusque fere incognitae, accuratam descriptionem ac fidelem a peritis artificibus elaboratam delineationem aeri incisam, sistens. - Brief ... Behelzende eene naauwkeurige beschrijving der Amboinsche haagdis. Benevens eene zeer wel-gelijkende afbeelding deezer vostrekt-nieuwe, fraaije en tot heden toe genoegzaam onbekende soort, door bekwaame kunstenaars vervaardigd.
Amsterdam, for the author, 1768. With a beautiful large hand-coloured engraved folding plate (28.5 x 49.5 cm) of an Ambonese lizard by Simon Fokke after Gerrit Dadelbeek.
With: (2) BOLTEN, Joachim Frederick. Ad illustrem sytematis naturae authorem Carolum a Linné ... epistola de novo quodam zoophytorum genere. - Uitvoerige beschryving en naauwkeurige natuurlyk gekleurde afbeelding van een nieuwelyks ontdekt geheel onbekend plant-dier. Uit het Hoogduitsch vertaald.
Amsterdam, Jan Christiaan Sepp, 1771. With a large folding engraved plate (43 x 27.3 cm), hand-coloured and printed in gold, by Franz Nikolaus Rolffsen after H. Fischer. 2 works in 1 volume. Royal 4to (29 x 24 cm). Contemporary calf.
€ 4,500
Ad 1: First and only edition of a rare treatise on an Ambonese lizard, with text in Dutch and Latin on facing pages. The treatise is in the form of a letter to Ferdinand Dejean who had brought the lizard to Amsterdam to present it to Schlosser, the owner of a well-known Wunderkammer. Schlosser argues that the newly found animal is neither an iguana, nor a basilisk but belongs to a previously unknown species. Including a beautiful hand-coloured illustration of the lizard.
Ad 2: With the very rare first and only Dutch and Latin edition of a treatise describing a peculiar newly discovered plant-animal, by Joachim Frederick Bolten (1718-1796). It was originally published in German and Latin in 1770 as Nachricht von einer neuen Thierpflanze.
In very good condition.[4], 18 ll.; [2], 11, [1 blank], 8 pp.Ad 1: BMC NH, p. 1153; Nissen, ZBI 3689; STCN (9 copies); ad 2: Nissen, ZBI 458; STCN (3 copies); not in BMC NH.
Related Subjects: