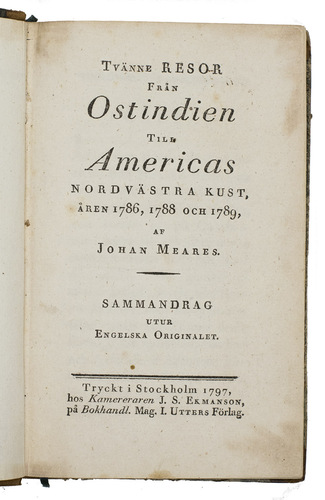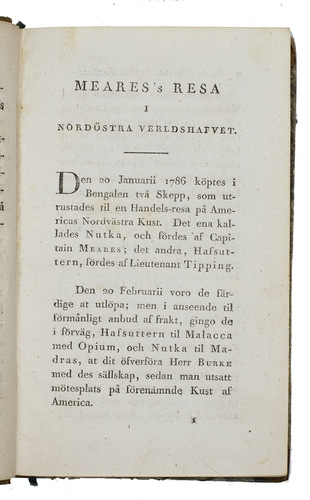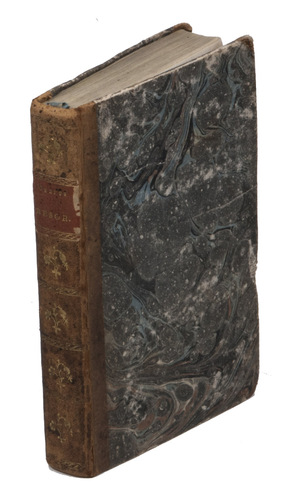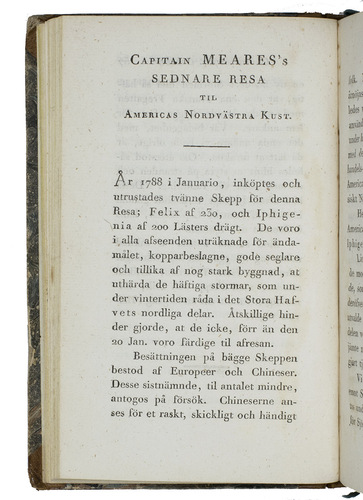 MEARES, John.
Tvänne resor från Ostindien till Americas nordvåstra kust, åren 1786, 1788 och 1789.
Stockholm, printed by J.S. Ekmanson for I. Utters, 1797. 8vo. 19th-century half scheepskin, gold-tooled spine with red morocco title label, marbled sides. [12], 404 pp.
€ 1,250
An abridged Swedish edition of John Meares's voyages, with a preface signed "Samuel Ödmann". John Meares (1756?-1809) is best known for his role in the Nootka crisis, but his account is also of Hawaiian interest. In 1786 he sailed from Calcutta to the North Pacific and after having explored part of the coast of Alaska he sailed for China by way of Hawaii. From China he embarked on a fur trading voyage to Nootka Sound, spending the summer trading furs along the coast of British Columbia and wintering in the Hawaiian Islands. On the island of Kauai he picked up Tianna, a Hawaiian chief, and brought him back to Canton (China).
Owner's inscription on endleaf. The binding shows some wear, otherwise in very good condition. Cordier, Sinica 2104; Forbes 274; Howgego, to 1800, M86; Paul Markham Kahn Collection 3/264; Sabin 47265.
Related Subjects: