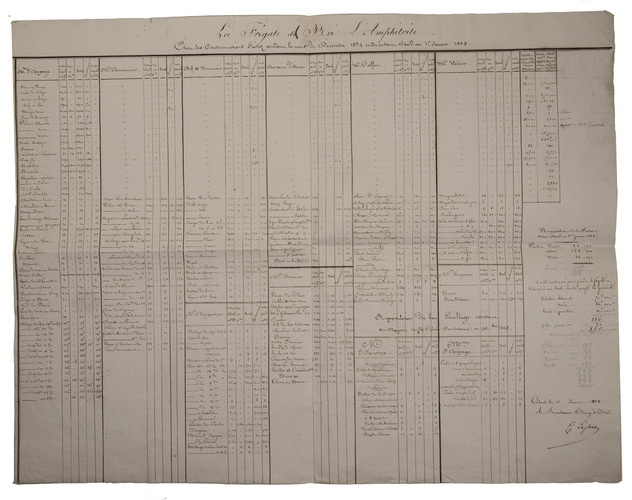 LAPLACE, Cyrille Pière Théodore.
La frégate de Roi L'Amphitrite. États des consommations faites pendant le mois de Décembre 1824 et que restent abord le 1e Janvier 1825.
[On board, December 1824-1 January 1825]. Manuscript table in brown ink on a whole sheet of laid paper (40 x 52 cm), with the title at the head and signed at the foot right by Laplace. Folded twice.
€ 3,500
Manuscript table recording and tallying the supplies and consumptions on board of the French frigate L'Amphitrite during December 1824, signed by its lieutenant C. Laplace, that is the French navigator Cyrille Pierre Théodore Laplace (1793-1832), famous for two of the most important 19th-century circumnavigations of the globe. On the Amphitrite Laplace made several trips to the Antilles. The table gives great insight into the expenditure on board a ship in the first half of the 19th century.
A wormhole at the head, just shaving one letter of the title, but otherwise in very good condition. Cf. Howgego, 1800 to 1850, L12-L13; Mittheilungen aus Justus Perthes' Geographischer Anstalt XXII (1876), p. 69.
Related Subjects: