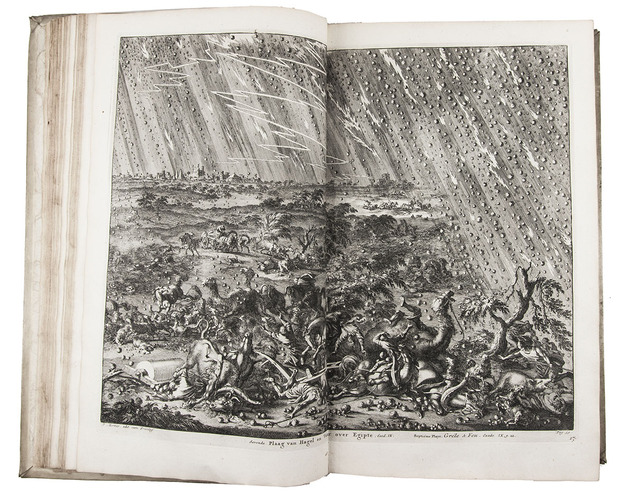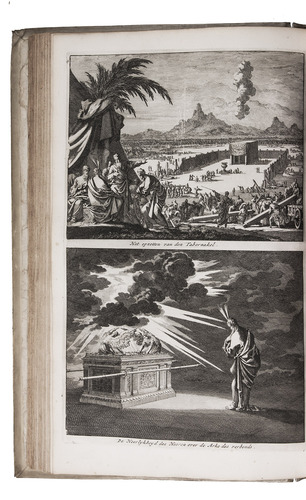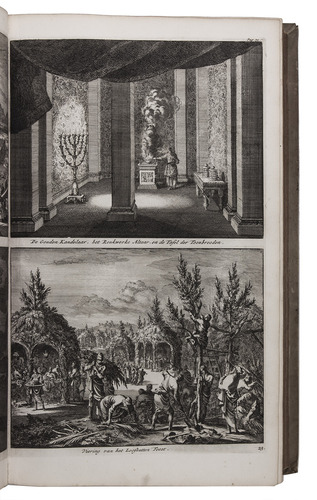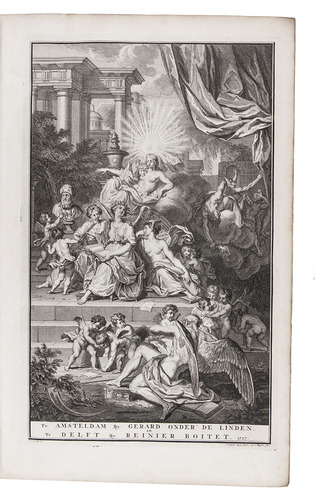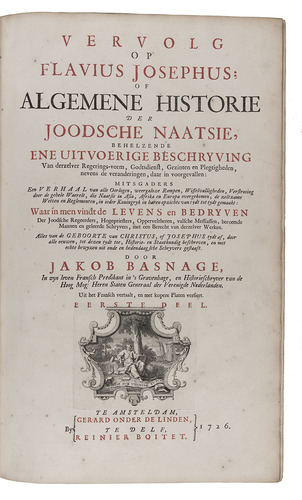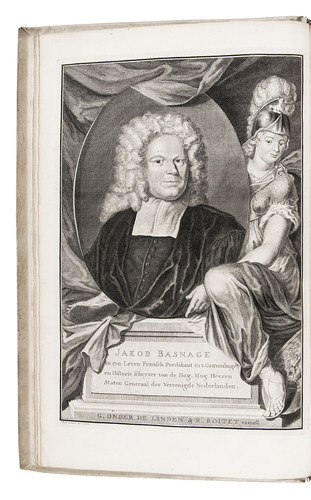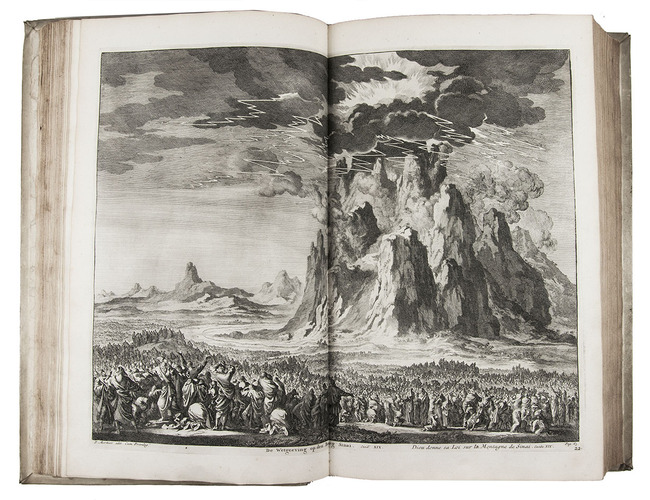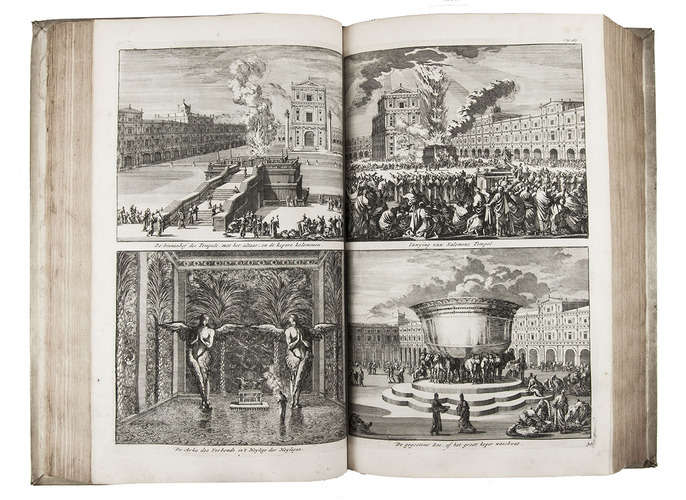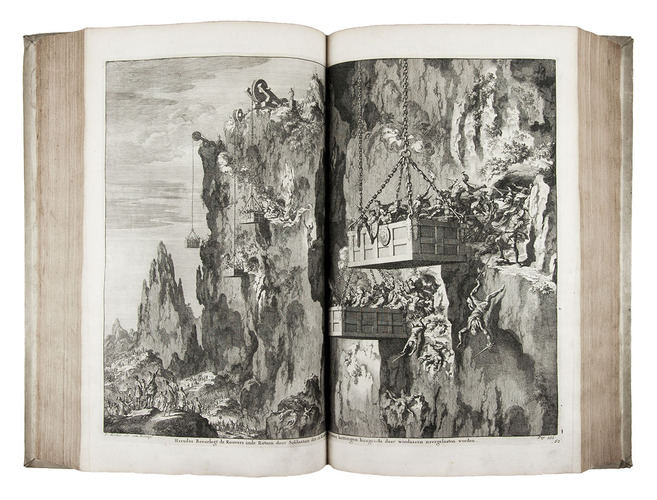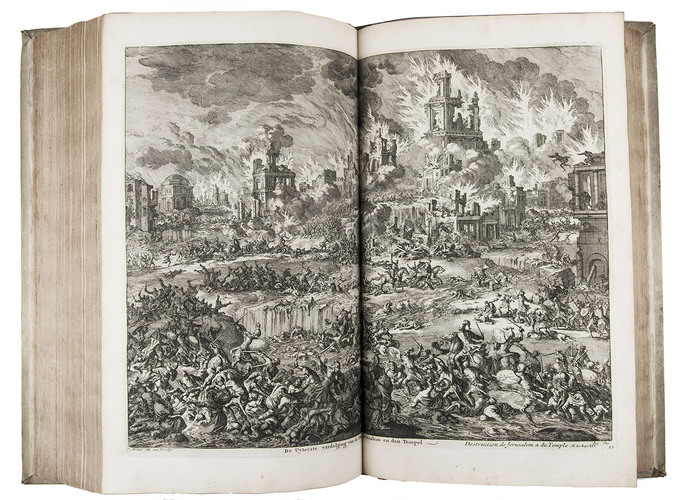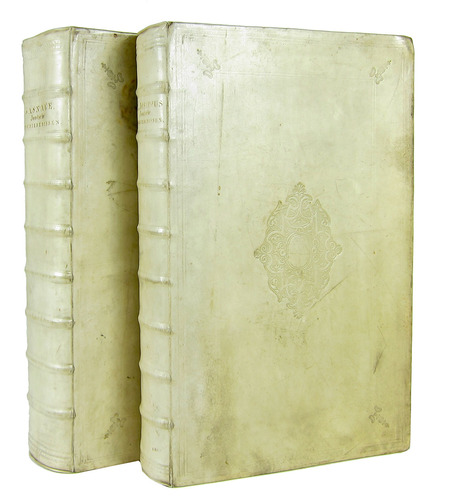 JOSEPHUS, Flavius.
Alle de werken.
Amsterdam, Pieter Mortier, 1704.
With: (2) BASNAGE DE BEAUVAL, Jacques. Vervolg op Flavius Josephus.
Amsterdam, Gerard Onder de Linden; Delft, Reinier Boitet, 1726-1727.
2 works in 3 volumes, bound as 2. Folio. Ad 1 with a richly engraved frontispiece, a title-page in red and black with engraved oval portrait of Flavius Josephus, divisional title, 2 folding maps, 12 double-page plates, 3 plans, and 209 illustrations in text, all engraved. Ad 2 with a richly engraved frontispiece, 2 title-pages, the first in red and black with Onder de Linden's device, the second with Boitet's device, engraved portrait of the dedicatee, dedication plate and portrait of Basnage; 4 folding letterpress genealogical and other tables, 1 engraved illustration plate, and 90 engraved illustrations in text. Uniform contemporary blind-tooled vellum, each board with a large scrollwork centrepiece and 4 cornerpieces in a double frame of fillets, hand-lettered spine titles. [40], 782, [30], 113, [11]; [44], 658, [14], 659-1940 pp.
€ 3,900
First Dutch edition of all the works on Jewish history by the famous classical Jewish historian Flavius Josephus. They were translated from the latest critical French edition by Arnauld d'Andilly. Though this volume was intended to stand on its own, the French Protestant minister Jacob Basnage, who had moved to the Netherlands in 1684 in anticipation of the revocation of the Edict of Nantes, decided to publish the present continuation, carrying the history on to his own time, which grew larger. The present edition is the first complete (in fact the first extensive) Dutch edition, in folio format designed to match the 1706 Dutch edition of Flavius Josephus. The two works therefore form a coherent whole.
The illustrations in the first work include 127 designed and engraved by the celebrated Dutch artist Jan Luyken, 99 specially made for the present edition and the others first used in Mortier's Bible, published a year before. Especially in the homes of the strict Calvinists, works on Jewish history were very popular and much read and studied. With occasional leaves in the second work foxed or browned, but otherwise in very good condition. V. Eeghen & V.d. Kellen 396 (first work only); Klaversma & Hannema 132 & 747; not in Cohen & De Ricci.
Related Subjects: