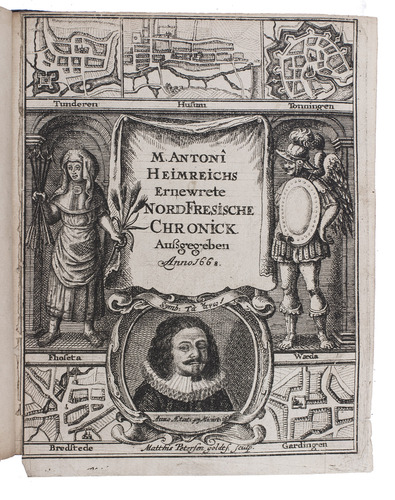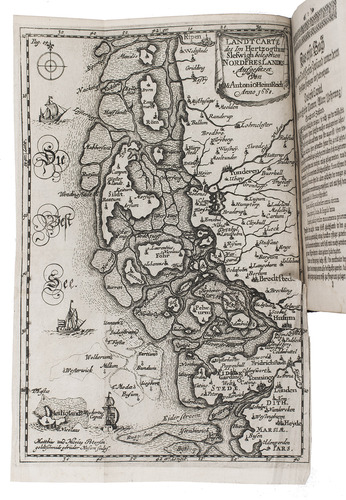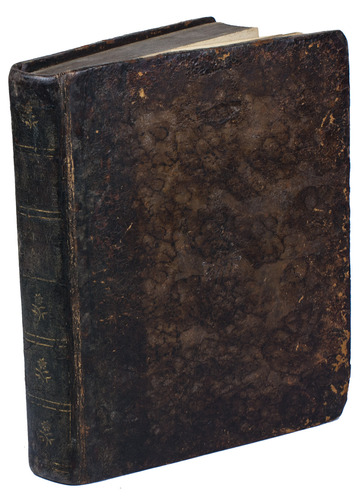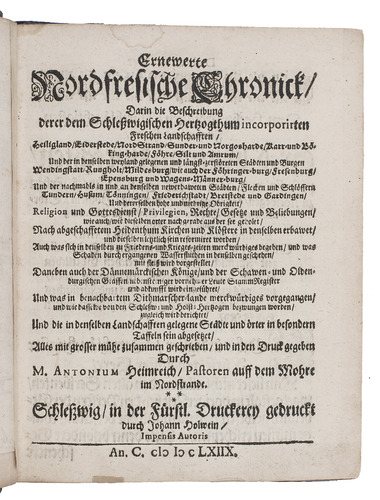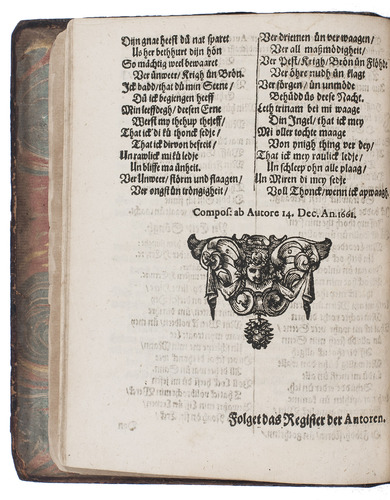 HEIMREICH, Anton.
Ernewerte Nordfresische Chronick, darin die Beschreibung derer dem Schleßwigischen Hertzogthum incorporirten Freschen Landschafften, ...
Schleswig, Johann Holwein for the author, 1668. 4to. Engraved frontispiece (incorporating 5 town plans and a portrait of the author), engraved folding map of North Friesland (at a scale of about 1: 450,000) dated 1668, and a folding letterpress genealogical table. 18th-century mottled calf, gold-tooled spine and board edges. Rebacked, preserving the original backstrip. [32], 410, [18] pp.
€ 6,500
Second (and last early) edition, enlarged by the author, of a rare extensive history of North Friesland (the west coast of the Duchy of Schleswig in present-day Germany) from its mythological origins to 1667, by Antonius Heimreich. The five town plans on the frontispiece depict Tönder (now in Denmark), Bredstedt, Husum, Garding and Tönning. The map was engraved by the brothers Matthias and Nicolas Petersen, goldsmiths in Husum, and the frontispiece by Matthias alone. The present edition includes the author's dedication to Christian Albrecht (1641-1695), Prince-Bishop of Lübeck and Duke of Schleswig-Holstein-Gottorf. Heimreich (1626-1685) was a minister of the Evangelical Lutheran Church and came from a family of Schleswig ministers.
With an 1851 purchase inscription (price in dollars) by A.J. Skilton. Slightly browned and with a small tear in the folding map, but still in good condition. The frontispiece has been folded in at the foot and fore-edge to avoid shaving. The surface of the leather has been damaged, but the binding has been rebacked and restored and is now structurally sound. A rare and important chronicle of North Friesland. Berichten v.d. Rijksdienst v.h. Ouheidkundig bodemonderzoek (1962), p. 263; NCC (3 copies); VD17 23:303854H (4 copies, 1 incompl. and another possibly destroyed).
Related Subjects: