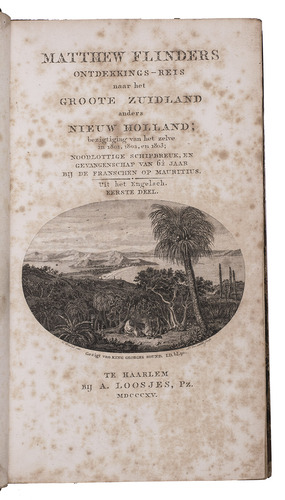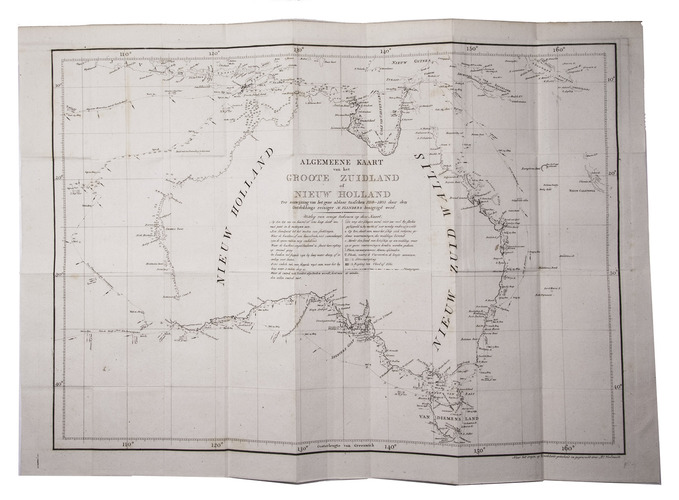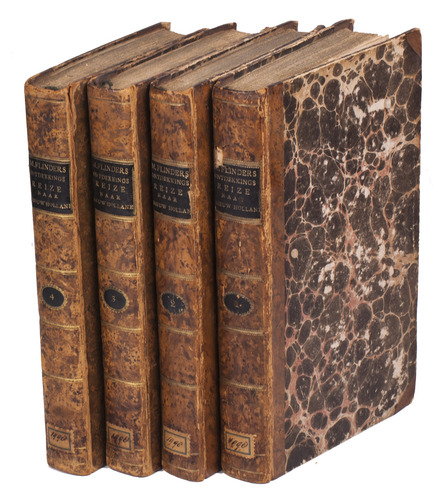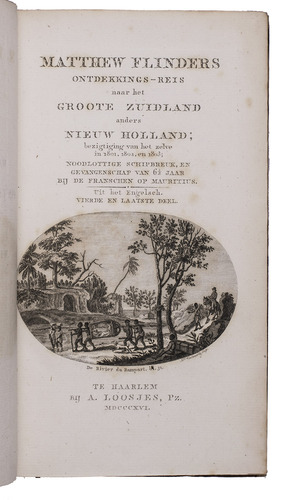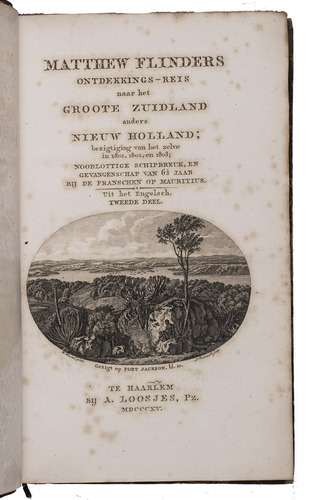 FLINDERS, Matthew.
Ontdekkings-reis naar het groote Zuidland anders Nieuw Holland; bezigtiging van het zelve in 1801, 1802, en 1803; noodlottige schipbreuk, en gevangenschap van 6½ jaar bij de Franschen op Mauritius.
Haarlem, Loosjes, 1815-1816. 4 volumes. 8vo. Each volume with an engraved title-page with a different oval view (King George Sound, Port Jackson, Wreck Reefs and Rempart River), and a large folding engraved map of New Holland loosely inserted. Contemporary mottled half calf, with gold fillets on spine. [4], XVI, 362; [4], 346; [4], 415, [1 blank]; [4], 416 pp.
€ 7,500
Rare first and only edition of the Dutch translation of an account of the first circumnavigation of Australia, by Captain Matthew Flinders, who was the first to give the continent its present name. "The greatest of all the early coastal voyages ... His journal is a highlight of Australiana and in one form or another, should be in every collection" (Davidson). This anonymous Dutch translation contains a new preface and footnotes.
Flinders was appointed commander of the HMS Investigator in 1801 with instructions to explore the coast of South Australia. Almost a year later, in June 1803, he completed the first circumnavigation of the elusive continent. His ship was in such bad condition, however, that he was unable to complete his surveys. He sailed in the HMS Porpoise to obtain a suitable ship to finish his task, but was wrecked on a reef off the coast of Port Jackson. He managed to get back to Port Jackson, where he set sail for England in the Cumberland, which, again, proved to be in rather poor condition. Unaware that a war had recently broken out between England and France, Flinders called at Mauritius to seek repairs. Here he was immediately arrested by the French governor and kept imprisoned for nearly seven years. In June 1810, Flinders was finally allowed to set sail for England. There he struggled to get his journal published, finally succeeding in 1814.
With the labels of the Doctrina & Amicitia library, Amsterdam. Some occasional browning and foxing, especially to the opening leaves of each volume, bindings slightly rubbed, but generally in good condition. Davidson, pp. 120-125; Ferguson 602; Kroepelien 439; NCC (6 copies); WorldCat (9 copies, incl. 6 the same); cf. Howgego, 1800-1850, F11; not in Tiele, Bibl.
Related Subjects: