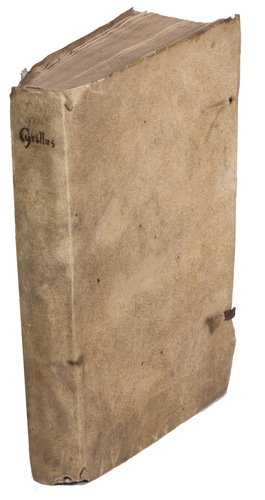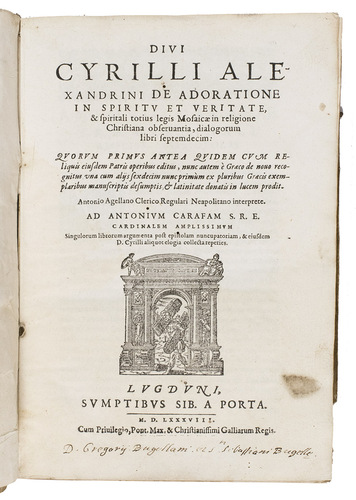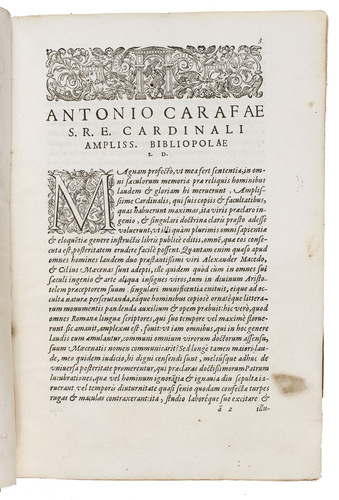 CYRIL of Alexandria.
De adoratione in spiritu et veritate, & spiritali totius legis Mosaicae in religione Christiana observantia, ...
Lyon, Sybille de la Porte, 1588. 4to. With Porta's woodcut device on title-page, a woodcut headpiece, several woodcut tailpieces, numerous decorated woodcut initials (at least 3 series) and decorations built up from cast fleurons. Contemporary limp calf parchment. 24, 454, [25], [1 blank] pp.
€ 3,950
First edition of Agelli's translation (and first separate edition of any version) of Cyril's "the adoration and worship of God in spirit and in truth", a commentary on the Old Testament concerning Mosaic law, written in the form of a dialogue between Cyril and Palladius. It is the first commentary by the patriarch of Alexandria, Cyril of Alexandria (ca. 376-444), whose "precision, accuracy, and skill ... as a theologian has often been remarked" (The Oxford Dictionary of Saints). "St. Cyril uncovers this mysterious, allegorical, and immutable sense of Mosaic Law and adds a coherent sketch of Old Testament foundations of spiritual preparation. In particular he dwells on the Old Testament prototypes of the Church" (Florovsky). It is published by the female printer Sybille de la Porte (1540-1608), widow of the printer Henry de Gabiano.
With 17th-century owner's inscription on title-page. In very good condition with a minor water stain in the outer margin of ca. 20 leaves, some small stains from the ties of the binding through the first few leaves. Binding also very good, only slightly chipped in the lower spine and ca. 10 tiny wormholes. Baudrier VII, pp. 355-356; French vernacular books 63857; USTC 156678; cf. Florovsky, The Byzantine Fathers of the fifth century, p. 186.
Related Subjects: