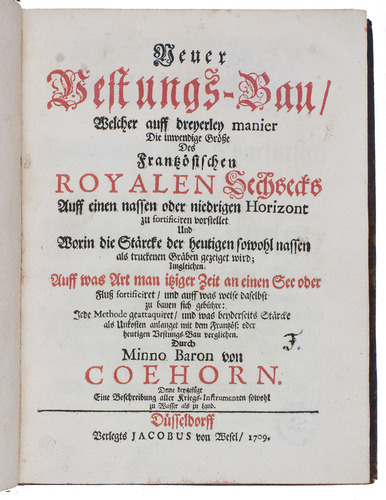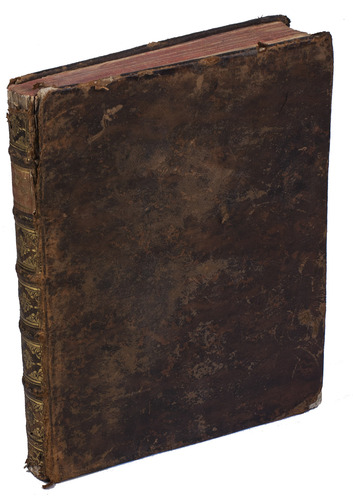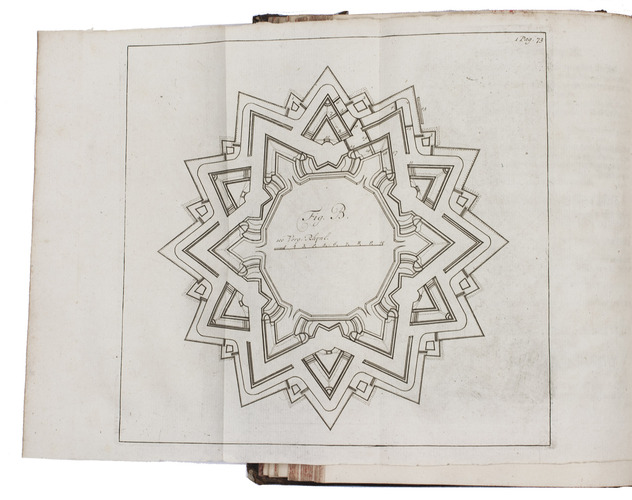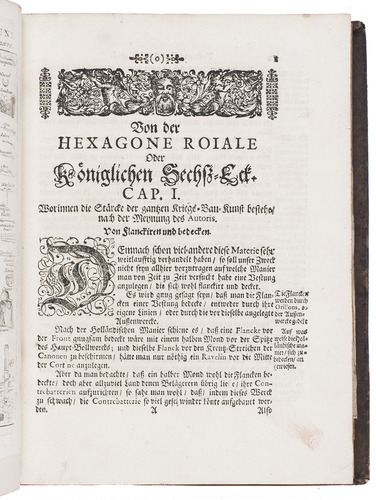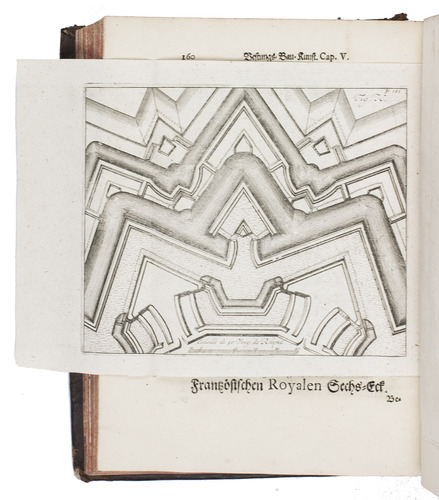 COEHOORN, Menno van.
Neuer Vestungs-Bau.
Düsseldorff, Jacobus von Wesel (colophon: printed by the heirs of Johann Kattepoel), 1709. 4to. With 14 (of 15) folding engraved plates. Contemporary tanned sheepskin. [38], 203, [1] pp. plus plates.
€ 2,250
First German edition (second issue) of one of the greatest classics of the art of fortification, by the Inspector General of Dutch fortifications and Master General of the artillery, Menno van Coehoorn. While the Dutch had established themselves as the greatest masters of fortification during the Eighty Years' War for Dutch independence from Spain, the art did not stand still after peace came temporarily in 1648. Although a few Dutch engineers spoke out for reform, the Frenchman Sébastien Le Prestre de Vauban (1633-1707) was to dominate the field with his fortifications, defensive and especially offensive strategies, and publications on the subjects from the 1670s. Van Coehoorn (1641-1704), Vauban's only major rival, took a very different approach, more practical than theoretical, with his great fortification manual in 1685. He deployed troops more actively in the defence of fortifications and tailored his designs and strategies to the particular features of the site. This made them especially important for fortifications and siege warfare in the marshy flat lands of the Low Countries, circumstances less familiar to Vauban.
With library stamp. With a blank leaf pasted over the instructions to the bookbinder on )(4v. The plates are quite lightly inked, so that they show a great deal of detail. Lacking 1 folding plate, with a small tear and some wrinkles in 1 folding plate (fig. I) and an occasional minor spot, but otherwise in very good condition. The binding is scuffed and shows some worm damage, with the head and foot of the backstrip chipped and the front hinge cracked, but with the sewing structure still sound. First German edition of a classic of Dutch fortification. Jähns, p. 1383; Jordan 745 (3 copies); cf. Sloos, Warfare 8076.
Related Subjects: