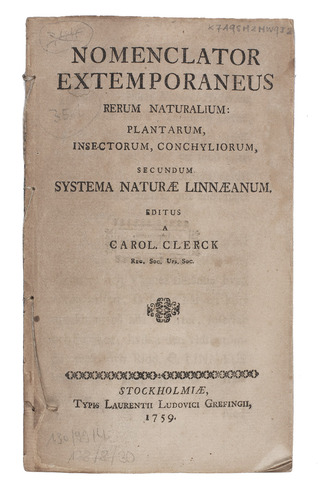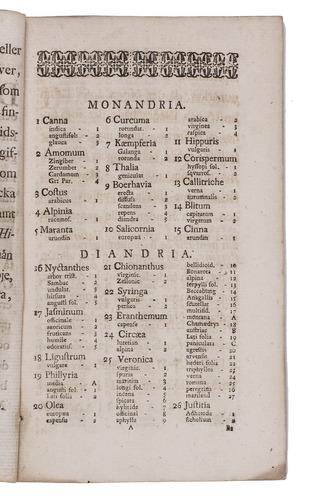 CLERCK, Carl Alexander.
Nomenclator extemporaneus rerum naturalium: plantarum, insectorum, conchyliorum, secundum Systema naturae Linnaeanum.
Stockholm, Lorentz Ludewig Grefing, 1759. 8vo. Disbound. [4], 67, [13] pp.
€ 600
First edition of a nomenclator of Linnaean taxonomy, according to the 10th edition of the Systema naturae, by the Swedish entomologist and arachnologist Carl Alexander Clerck (1709-1765), also a good friend of Linnaeus. It lists Linnaeus's classification for plants, each class followed by several flowers of plants, followed by an index; and Linnaeus's classification for insects and shellfish. The 10th edition of the Systema naturae, was the first to introduce binomial nomenclature for animals. In this edition, the insects are divided according to the form of their wings. Among the order of the aptera ("wingless") can be found many creatures which are no longer considered insects, including springtails, spiders, scorpions, crabs, lobsters, centipedes and milipedes.
Browned, otherwise in good condition. Bradley I, p. 76.
Related Subjects: