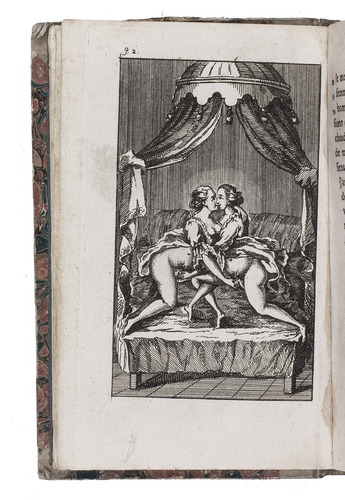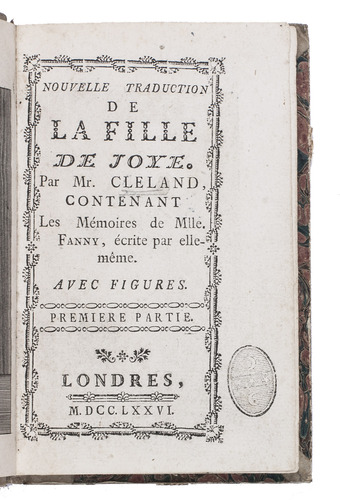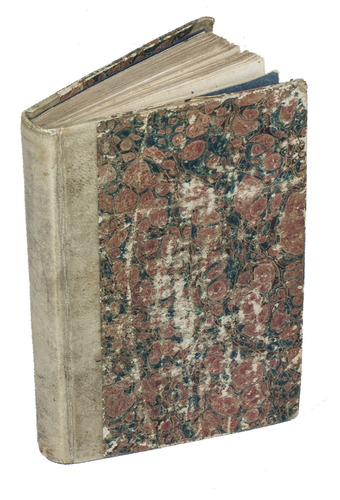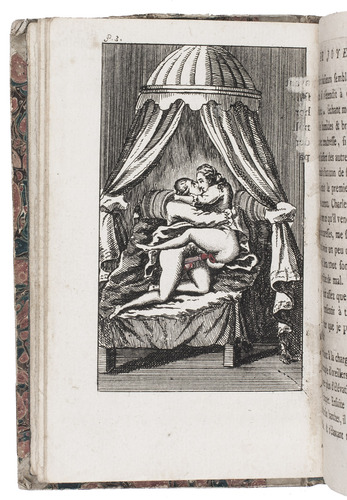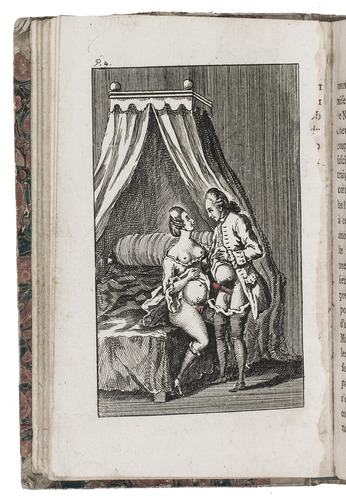 CLELAND, John.
Nouvelle traduction de la fille de joye. Par Mr. Cleland, contenant les mémoires de mlle. Fanny, écrite par elle-même.
London [= Bern?], 1776. 2 parts in 1 volume. 12mo. With 4 engraved plates. Half sheepskin parchment (ca. 1810?), shell-marbled sides. 101, [1 blank]; 116 pp.
€ 4,500
Extremely rare pirated edition of the Memoirs of a woman of pleasure, or Fanny Hill, probably printed in Switzerland. The first, "very much abridged" (Ashbee) French translation of the book was published anonymously in 1751 and is commonly attributed to the erotic novelist Jean-Louis Fougeret de Montbron (1706-1760). An expanded edition appeared in 1770 and the title-page called it a "nouvelle traduction" (new translation). Six editions of the 1751 text appeared in 1776. Four of these bear the original title, but the richly illustrated edition published by Cazin in Paris, "the most desirable of all the French editions", falsely claims to be the "nouvelle traduction". The current copy is probably a pirated edition following the Cazin edition, since it also falsely claims to be a "nouvelle traduction". Although the title-page states that the book was published in London, the watermarks in the paper (which contain the Bern coat of arms) suggest that the paper was produced in or near Bern, making a Swiss printer and publisher much more likely.
With unidentified collector's stamp on half title and first part-. The frontispiece is partly coloured and it and two other plates have parts of the genitals highlighted in red, plate 4 reattached and it and plate 3 with paper from the facing page stuck to their gutter margins, and an occasional small tear, otherwise in very good condition. Marbled sides rubbed. Ashbee, Catena librorum tacendorum, pp. 74-75; ESTC T139059 (1 copy); Gay II, 304; Rose 919.
Related Subjects: