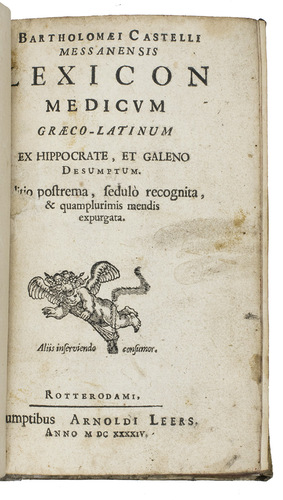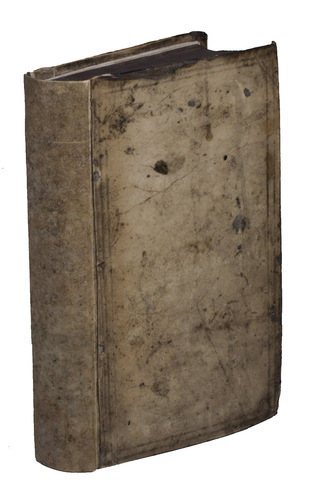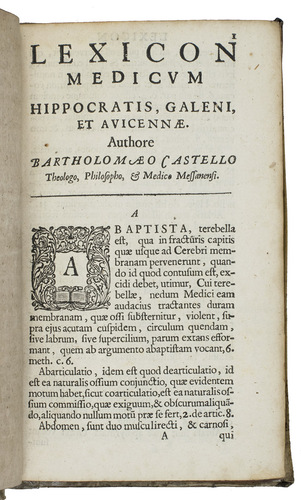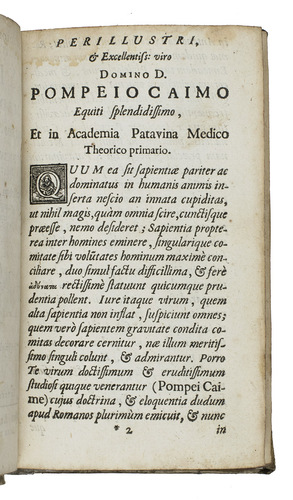 CASTELLI, Bartolomeo.
Lexicon medicum Graeco-Latinum ex Hippocrate, et Galeno desumptum.
Rotterdam, Arnout Leers [printed in Amsterdam by Paulus Matthijsz], 1644. 8vo. With Matthijszs(?) woodcut device on title-page. Contemporary vellum. [14], "315" [=353], [19, last page blank] pp.
€ 4,500
Rare first Netherlands edition (1644) of a medical dictionary first published in 1598 but expanded in later editions, giving a description and symptoms of various afflictions. "Many medical dictionaries were published in this period. The most remarkable were ... and the Greek and Latin lexica of Bartolommeo Castelli" (Garrison). Castelli (d. 1607) based much of his information on the works of Galen and Hippocrates. The main text is followed by a small dictionary translating some Arabic words into Greek and Latin, which can subsequently be looked up in the main text. Altogether an important and influential medical dictionary, functioning as main entry for doing research upon various diseases.
Some small spots and thumbing throughout, and a few occasional user's marks in ink in the margins. Binding slightly damages and with some minor stains. Good copy. Garrison, p. 279; Krivatsy 2221; STCN (3 copies); WorldCat (2 copies).
Related Subjects: